Wakeup Call: And so I'm offering this simple post, to kids from 1 to 92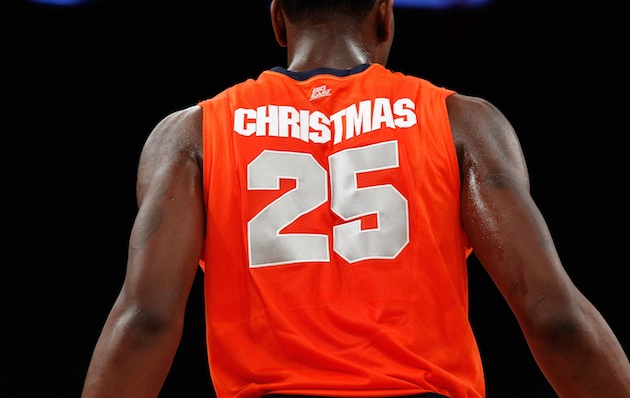 Thank you, Rakeem Christmas, for making it so easy. Everyone have a good holiday. (Getty Images)
Good morning, everyone. Thanks for stopping by. Here's our litany of gifts to you, mostly of the basketball variety. We'll still have posts up on Christmas Day, by the way, and expect more from us here throughout Monday. Feel free to stop by in between the family time and stuffing your face with too many cookies. Happy Holidays to you and yours.

Around the World
I want a white Christmas as much as anyone, but not like this. || And now, we've found it. The most ridiculous hypothetical Christmas headline in history. || When Christmas decorations backfire into the creepy realm. || Absolutely existence-defying: the best shots of space from this year. || Famous writers and the famous books they disdain. || Scientists are trying to create better/perfect Christmas trees.
Layup Line
Moving Pictures and Music
»» We've seen Marquette "sing" before, but this time the team is back not to croon, but to sooth you right into Christmas. Love you, Marquette.
On Christmas Eve, there can be no other choice than this. For this is the perfect Dec. 24 song, particularly to be played between the hours of 8 p.m. and midnight. If you happen to have a warm beverage, all the better. If there's a fire nearby, get to it. Wearing a sweater only enhances the experience, as does being around a room lit only by a Christmas tree. It is all the good and warm of this holiday, defined through song. I hope you're grossed out enough to wanna puke by now. Merry Christmas, readers!
---
For more college basketball news, rumors and analysis, follow @EyeOnCBB on Twitter, subscribe to our RSS Feed and college hoops newsletter. You can follow Matt Norlander on Twitter here: @MattNorlander.