Poll Attacks: What up, Michael Hunt?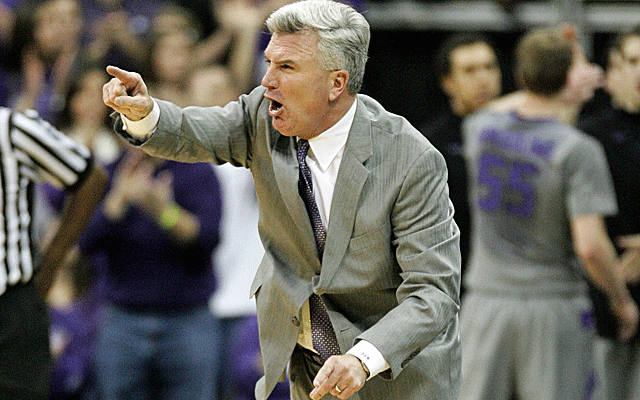 Bruce Weber has Kansas State rolling, yet the Wildcats are unranked in the coaches poll?
(US Presswire)
You remember Michael Hunt, don't you? He's the writer from the Milwaukee Journal Sentinel who's spent the first half of this season trying to set a record for appearances in the Poll Attacks, and he decided to address as much on Monday in an unintentionally hilarious way.
Here's what he wrote in his blog:
After the LSU game Saturday, a Louisiana writer told me some web site had been ripping both of us for our AP top 25 college basketball ballots. The thought amused me. First, it's just a vote, my vote, somewhat subjective and way emperical. It can't be right or wrong, just one of 50-something opinions. Second, it means very little this time of year. You could argue it means nothing any time of the season except right before the teams settle amongst themselves which is No. 1. But for some reason, people seem to be drawn to rankings of any sort. The ballots are due each Sunday night and I typically don't give mine a lot of thought until the time I spend trying to make sure I write down 25 teams without duplication.
Michael went on from there, and you can read his post in its entirety at this link, if you want. But that paragraph covers the good parts -- the best being his claim that he only found out about the Poll Attacks after Marquette's game with LSU on Saturday even though countless readers have tweeted links at him for the past month. So Michael is either fibbing or he's Milwaukee's most unplugged and technologically challenged writer, and I betcha a pint of eggnog that it's more the former than the latter. Also: There's nothing more irritating than AP voters who justify laziness by claiming their vote means nothing. Because it so clearly means something. Do college basketball rankings decide championships? No. But they are a source of pride for programs and fans, and they do determine which teams get on tickers on television, which teams show up on certain scoreboard pages on websites, which teams get featured in roundups in newspapers and lots of other things, too.
So, yes, college basketball rankings do matter.
To argue otherwise is dumb.
But what I really don't understand is why writers who insist on arguing otherwise volunteer to take part in the AP poll in the first place. How stupid is that? Why would anybody agree to do something every week that they think doesn't matter? Why waste the time? And the vote? If the best you can do is spend a few minutes each Sunday night "trying to make sure [you] write down 25 teams without duplication," why bother? A writer so uninterested in the sport he covers should probably just decline the AP's opportunity to participate, and he might ought to try to find a new sport to cover, too. Regardless, I'll end with this: Michael, if you're reading this post because some writer from some state happens to tell you that you made the Poll Attacks again, try to remember your vote is not "just one of 50-something opinions." It's actually one of 65 opinions. Details matter, man. As do results. As do rankings.
Anyway ...
Merry Christmas!
Now let's get to this week's Poll Attacks ...
Associated Press poll: North Carolina is a great brand with good players who are having a terrible season to date. The Tar Heels are 9-3 with blowout losses to Butler, Indiana and a Texas team that lost to Chaminade and Southern California. Meantime, UNC's best win came against ... um ... I don't even know. UAB? East Carolina? Maybe Gardner-Webb? Either way, the point's the same -- that North Carolina doesn't have a good win if I'm spending Christmas Eve trying to decide whether North Carolina's best win is against UAB, East Carolina or Gardner-Webb.
And yet Scott Wolf of the Los Angeles Daily News ranked UNC 18th.
Seriously, 18th.
Scott has the Tar Heels ranked higher than San Diego State, UNLV, Oklahoma State, Minnesota, Georgetown and Butler -- yes, the same Butler that handled UNC by 11 points before later beating the same Indiana that had previously crushed UNC. Put another way, Butler has better wins than North Carolina, fewer losses than North Carolina, a win over North Carolina and a win over the Indiana team that crushed North Carolina, and yet Scott has Butler ranked behind North Carolina on his latest AP ballot.
How is that even possible?
Coaches poll: Kansas State is 9-2 with a win over No. 11 Florida and losses to No. 2 Michigan and at No. 13 Gonzaga. That means the Wildcats have a great win and no bad losses, yet Bruce Weber's team remains unranked in the coaches poll in late December.
Why is that?
Is there any other team who can't get ranked even though their resume features a great win and no bad losses? (Wyoming is close, I guess. But the Cowboys' home win over Colorado probably can't be considered "great." At the very least, it's not as great as KSU's neutral-court win over Florida.) What's hilarious is that KSU is third in the "others receiving votes" category, one spot behind ... North Carolina! That means the coaches collectively think more of a North Carolina team with no great wins and at least one bad loss than they do of a Kansas State team with one great win and no bad losses, which suggests Scott Wolf might have a future in coaching if his writing gig ever goes the wrong way.