Phil Pressey's notable night ends with a loss at UCLA's Pauley Pavilion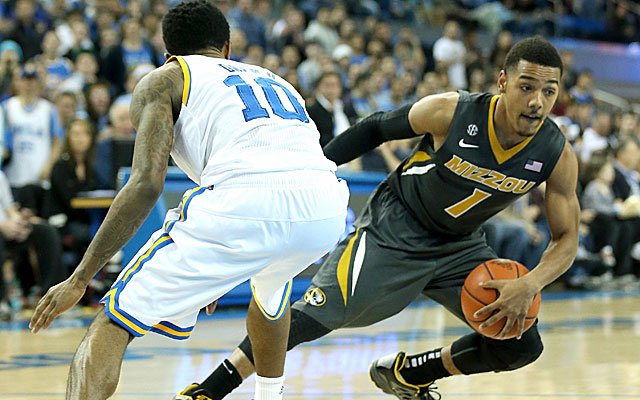 Phil Pressey stars for Missouri with 19 points and 19 assists, but his late miscues prove costly. (US Presswire)
Phil Pressey got 19 points and 19 assists against UCLA late Friday, and for a while it looked like he would be the story. But the Missouri point guard's three turnovers and airball in the final three minutes of regulation are precisely what allowed the Bruins to force overtime and ultimately win 97-94, and so I guess Phil Pressey is still the story.
But now it's a different story.
Now it's a story about a player who recorded more assists (19) and turnovers (five) than any other player on the court -- a story about how the first of those numbers is what allowed Missouri to lead by nine with less than five minutes remaining in regulation, a story about how the second of those numbers is what allowed Jordan Adams' late bucket to tie the score and produce an overtime period in which Shabazz Muhammad got seven of his 27 points to help UCLA record its first signature victory.
Yes, UCLA finally has a signature victory.
The heralded Bruins who started the season ranked 13th but lost three of their first eight games -- including one to California Polytechnic State University -- are now 10-3 with a win over a Missouri team that's ranked seventh and was coming off a win over an Illinois team that had previously topped Gonzaga and Butler. Consequently, the Bruins are up to No. 31 in the KenPom.com rankings, which places them second in the Pac-12 behind only Arizona. So Ben Howland's team will enter the new year with momentum and hope, and that they'll do it in the most un-Ben-Howland way ever is interesting and hilarious.
Howland's three Final Four teams ranked third, second and third in defensive efficiency. This team ranks 121st. Howland's three Final Four teams ranked 300th, 266th and 217th in tempo. This team ranks 59th. Translation: Howland's best coaching years featured teams that guarded like crazy on one end and played really slow on the other. This team can't guard at all and runs at every opportunity, and it's why UCLA might be college basketball's most compelling story.
The Bruins are a national brand.
Their coach is coaching for his job.
Their star might be the No. 1 pick in June's NBA Draft.
And they're good enough on offense to beat a team ranked seventh and bad enough on defense to lose to a team called California Polytechnic State University, and, really, what's wilder than that? Answer: Phil Pressey's decision-making in the final minutes of regulation, but that's another story for another day. For now, let's just celebrate UCLA's final win of 2012 and first big win of this season. How many more the Bruins get is likely to be determined by whether Larry Drew III (12 points and 10 assists against Missouri) continues to show he's way better than the guy who transferred out of North Carolina as a punchline, by whether Muhammad develops into a face-of-the-sport star, and by whether UCLA figures out how to consistently get stops. And all of those things combined will likely determine if Howland returns for an 11th season or if UCLA becomes the highest-profile job to open since Kentucky opened in 2009.
My guess?
Howland and his Bruins will be fine.
My guarantee?
They'll be fascinating, either way.