Kevin Ollie receives five-year deal at UConn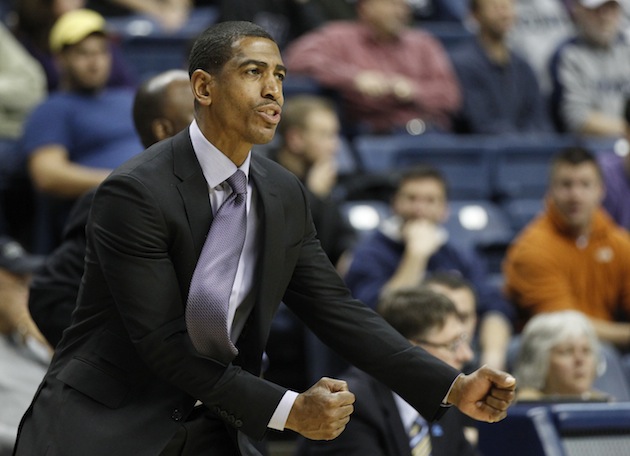 Ollie was long Jim Calhoun's pick to be the next UConn coach. He got the job, and now he's got a long deal. (US Presswire)
First-year Connecticut men's basketball coach Kevin Ollie will enter 2013 with a five-year deal.
The school announced a press conference for 5 p.m. Saturday, prior to a night home game against Washington. In the immediate wake of that news, multiple outlets reported the 40-year-old Ollie would be rewarded with a new, restructured contract. The school confirmed that news shortly before the press conference.
Ollie, who is a '95 alumnus of UConn, will have a deal that extends from Jan. 1, 2013, to April 15, 2018.
"I am incredibly impressed with the way Kevin has led our program and his interaction with the administration, his coaching staff, the student-athletes and our donors and fans," UConn Director of Athletics Warde Manuel said. "His team has performed incredible on the floor and in the classroom. All these factors contributed to my thinking that the time was right to come to this agreement with Kevin."
Ollie was named head coach of the Huskies on Sept. 13 after Hall of Famer Jim Calhoun retired. Ollie, Calhoun's pick to succeed him, was initially given a seven-month contract. The deal was made quickly by Manuel, who insisted on not rushing a long-term deal despite the fact Ollie was a fan favorite and Calhoun's guy.
Ever since Ollie was named coach, he's had many rally for him to be given a long-term deal.
"I am happy to be the head coach at Connecticut for an extended period of time," Ollie said in a statement. "As I said in my first press conference, I want to be here for a lifetime and this is a step, hopefully a great step, in the program moving forward. I am very excited and thankful for this opportunity."
According to UConn, Ollie will make $400,000 per calendar year, plus $800,000 for "institutional speaking engagements and media related appearances" for 2013. That totals $1.2 million. The following years break down as such:
2014: $1,250,000
2015: $1,300,000
2016: $1,350,000
2017: $1,400,000
2018: $502,500
Connecticut, which cannot play in the postseason in 2013 due to academic penalties stemming from Calhoun's final seasons, is off to a 9-2 start. Ollie's new deal has Academic Progress Rate stipulations written into his contract, a tone Ollie wanted to set that he will take responsibility for this program in every facet possible. The insistence of academic progress -- something UConn has performed well in through one semester under Ollie -- is a dramatic shift in tone, at least proactively, from the reputation that grew in Calhoun's later years.
The news comes two days after Ollie and the entire Huskies program made good on a promise to take a trip to visit the children of Newtown, Conn.