Podcast: Goodbye, 2012; Hello, 2013!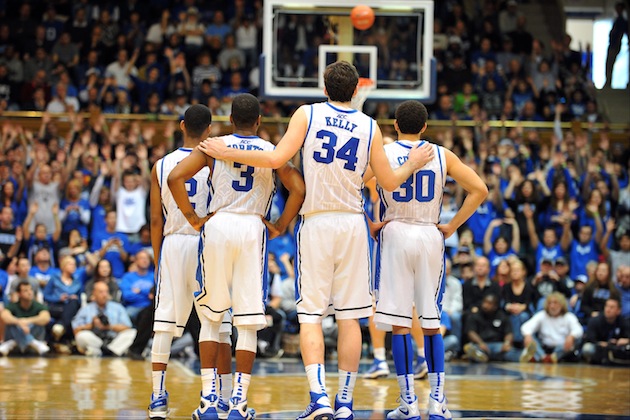 Duke is clearly the ACC's best. Will it even be challenged in league play? (Getty Images)
It's our year-end podcast, one with a lot of hoop talk, specifically about the ACC. But some New Year's plans and best-of music chatter, too. Two of the smartest and sharpest guys in ACC territory join me for 2012's ultimate episode. Jim Young and Joe Ovies (follow these fellas; they are great) have a great rapport -- one that might even rival Goodman and Parrish's Wednesday editions? You be the judge. Joe's a clear talent for radio/podcasts, while Jim ... hey, he's a smart dude who likes Seinfeld.
Seriously, though, this is a good one. I think you'll engage with the dynamic at play. Enjoy talk on all things Duke, UNC, Maryland, NC State, Jack White, Japandroids, Frank Ocean, Grizzly Bear and ... giant acorns?
Plus, is anyone up for a game of Trivial Pursuit?
Resolutions to discuss:
From the beginning: Thank-yous for 2012, then off to the ACC races. Literally.
4:45: The frustrations and temptations of NC State.
9:40: This you gotta hear. Some sort of new ACC rule regarding sports coats.
12:15: Looking at what the ACC has done and why it's so enigmatic, plus Maryland. How good are the Terps?
19:10: The odd test case that is Miami. Think about the injuries. How will this team even flirt with the NCAAs? Florida State is Miami's odd cousin, too.
23:00: Just for fun, before league play starts, I ask the guys how many teams they think the ACC winds up with in this year's tournament. And they name them.
25:40: And now: Carolina. Just what is this team? Confidence is needed. The UNLV win game gave it that. But should UNC be a top-three ACC team this year?
31:50: We wrap up the podcast with a few minutes talking New Year's plans, which apparently involves a massive nut -- literally -- in the Raleigh area. Just listen. And then Joe and I get into our favorite records of 2012. It gets geeky in a hurry; don't worry.
--> MP3: download the episode here.
--> Popout player: to play pod in a separate window on the Web.
--> If you're not already subscribed via iTunes, please do so now.