Illinois dominates Ohio State at Assembly Hall -- from start to finish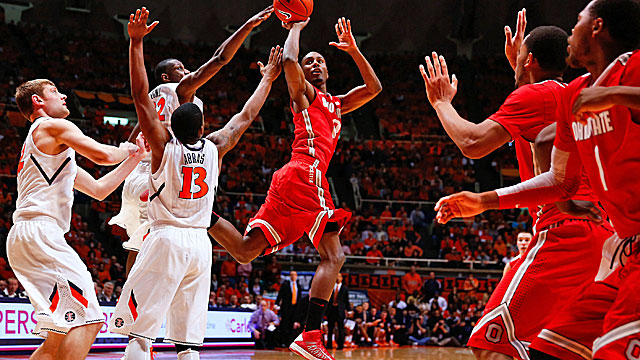 The Buckeyes, a team that typically takes care of the ball, commits 16 turnovers. (Getty Images)
Illinois already had topped Butler and Gonzaga. So it shouldn't have surprised anybody when the Illini recorded another big win Saturday. And Ohio State entered having lost its only true road game this season -- at Duke. So it shouldn't have surprised anybody when the Buckeyes dropped their second one Saturday against a quality opponent.
Illinois over Ohio State at Illinois?
Sure, that makes sense.
But Illinois over Ohio State by a 74-55 margin in a game that was never close or even competitive still fits the description of a Saturday afternoon surprise considering OSU is ranked three spots ahead of Illinois in the Associated Press poll and 42 places ahead of Illinois at KenPom.com.
So how did this happen? How did a team that just got worked at Purdue turn around and three days later work Ohio State from start to finish?
Answer: Not how you would've expected?
Illinois usually wins by taking a lot of 3-pointers and making a high percentage of them -- proof being that the Illini were 10 of 25 (40 percent) from beyond the arc in their November win over Butler and 11 of 26 (42.3 percent) from beyond the arc in their December win over Gonzaga. But Illinois was just 8 of 27 (29.6 percent) from beyond the arc in this January win over OSU, and its top three 3-point shooters (Joseph Bertrand, Tyler Griffey and Brandon Paul) combined to make just 2 of 13 3-point attempts.
And yet Illinois still won by 19 points.
That's because Ohio State was really, really bad.
OSU let Illinois make 64 percent of its 2-point attempts, and the Buckeyes -- a team that typically takes care of the ball almost as well as anybody in the country -- committed 16 turnovers, which is six more than their average.
It's unfair to pin that on Aaron Craft because the junior point guard actually finished with zero of those 16 turnovers. But Craft again came up small in a big game on the offensive end, and he's now gone just 9 of 34 (26.5 percent) from the field in Ohio State's three losses to Duke, Kansas and Illinois. His field goal and 3-point percentages both represent career-lows through 14 games, mostly because he's being asked to do more offensively -- and getting more focus from opposing defenses -- in the absence of Jared Sullinger and William Buford.
Bottom line, the Buckeyes are still gonna win a lot of games.
They'll still make the NCAA tournament.
They'll still likely advance.
But there's no hiding from the fact that they're now 0-3 against the top 100 at KenPom.com, and that their best win is probably against a Washington team that's 8-5 with losses to Albany and Nevada. Those two things alone suggest there might be a ceiling on this team that Thad Matta's previous two teams never had because the Buckeyes appear to be missing a legitimate second option on offense who can serve as Deshaun Thomas' sidekick and create a scenario where Craft is asked to do a little less.