McDermotts have become improbable father-son success story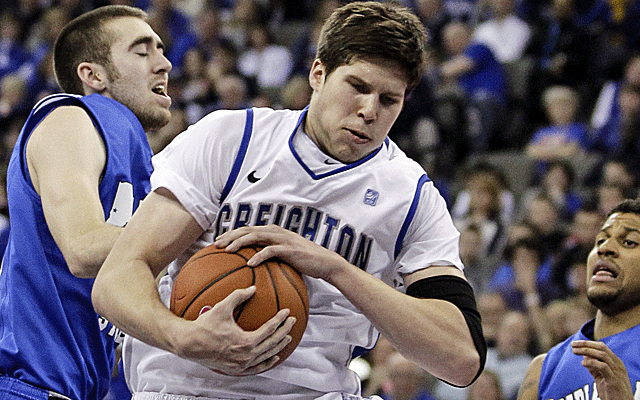 There was a time when Greg McDermott didn't think his son, Doug, was good enough to play for him.
(AP)
OMAHA, Neb. -- Greg McDermott isn't the emotional, sensitive type. He's an intimidating 6-foot-8, 270-pound former player who isn't one to get all sentimental. In fact, his son can't even recall the last time he shed a tear. However, as he stood next to his middle child, Doug, moments after the Creighton Bluejays got past Alabama in the NCAA tournament last March, it hit him.
More on Creighton
Related links
"We were standing at halfcourt waiting to do the CBS interview," the elder McDermott said. "I looked over and thought, 'How did this happen?' It was really cool to win my first NCAA tournament game and be able to enjoy it with my son."
There was Pistol and Press Maravich, Homer and Bryce Drew, Dick and Tony Bennett and Wade and Allan Houston. The McDermotts, though, are an unlikely duo. Just a few years back, Doug was coming off the bench as a junior at Ames High and his father, then the head coach at Iowa State, had determined his son wasn't talented enough to play for him in the Big 12. Greg was struggling and miserable at Iowa State, and wound up getting out of Ames a year or so before he was likely to be asked to leave.
Father and son were united at Creighton after Greg took the job in Omaha, Doug was released from his letter-of-intent at Northern Iowa and followed his father to Creighton. It's been a fairy tale for the first 2 1/2 years.
"You couldn't have scripted it any better," said Theresa McDermott, who is the wife and mother in the equation. "Winning is fun. It's even more fun with them doing it together."
Doug McDermott was set to redshirt his freshman season, but injuries forced him to play immediately -- and it quickly became apparent the vertically-challenged (he has three dunks over the past two seasons), ultra-skilled forward would be difficult to keep off the court. McDermott and his father had their issues, though, as the two clashed at times while they began to figure out how to co-exist as coach-player and father-son.
"It was tough that first year," Greg said. "It was hard at first for Doug to distinguish between his coach's voice and his father's voice and I was consistently on him."
But the pair has figured it out and it helps when you are winning. The 6-foot-7-and-change junior forward is the key reason why this team has spent most of last season and this year in the top 25. He was a first team All-American a year ago after averaging 22.9 points and 8.2 rebounds, and has established himself, along with Duke's Mason Plumlee and Michigan's Trey Burke, as one of the leaders for National Player of the Year honors through the first half of this season. He's third in the country in scoring at 23.1 points per game, is averaging 7.3 boards and is shooting 49 percent from beyond the arc.
"There won't be anyone else that ever wears that number," Creighton athletic director Bruce Rasmussen said prior to the Bluejays' win over Indiana State on Saturday. "I'm just hoping we wait at least another year until we retire his number."
McDermott is a throwback. His game isn't flashy. There won't be any high-flying dunks or deep 3-pointers, but his game is fun to watch for those who truly appreciate the game. He moves as well as anyone without the ball, is shooting more than 45 percent from beyond the arc in his career and is extremely effective around the basket.
A year ago at this time, his mother was optimistic he'd be an overseas player when his four-year college career concluded. Now there's certainly speculation that he will leave after this season -- especially with this year being deemed such a weak draft. When talking to numerous NBA scouts, though, there's a large gap in terms of where they project McDermott -- anywhere from the mid-first round to mid-second round.
"As well as he's played this year, it's going to be tough for him to pass up," Creighton senior guard Grant Gibbs said. "But he's a different kind of kid in this era."
The McDermotts don't talk about the NBA. Sure, Doug's pipe dream has now developed into a reality, but despite the fact he's not a huge fan of the academic component of college, he's got a 3.0 GPA and loves being a college kid.
"It's a win-win for me either way," Greg said.
"I don't think about it," Doug added. "I was shocked that people were even saying I had a chance after last season. I know I needed to get better, and honestly didn't really ever consider it after last year."
McDermott finished with 25 points and nine rebounds in the win against Indiana State and Gibbs graded his teammate a "B" after the victory. McDermott wasn't ecstatic with his individual performance, either, but was all smiles as the Bluejays got out to a 3-0 start in Missouri Valley Conference play.
Two nights earlier, Doug McDermott celebrated his 21st birthday and was forced to cancel dinner because he wasn't feeling well. Nowadays, the younger McDermott is the focal point when he goes out in Omaha with his father -- and he doesn't mind it at all.
"I grew up with Harrison [Barnes] getting all the attention," McDermott said of his former high school teammate. "I thought it was so cool and and wished I was that guy. I was the wing man."
Now McDermott is the star. He doesn't get the attention of Plumlee or even Burke because Creighton is in the Missouri Valley and doesn't receive near the television exposure of Duke or Michigan, but McDermott considers himself fortunate just to be in the equation.
"It's surreal," he said. "It all still doesn't feel real."
Not for the son -- or for his father.