Guest blogger: Wisconsin's Zach Bohannon on Bo Ryan's greatness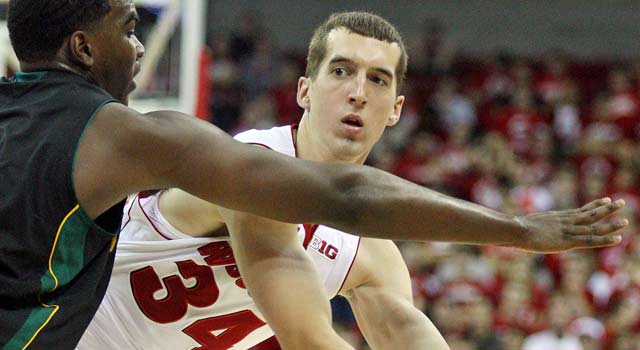 Zach Bohannon and the Badgers are sitting on top of the Big Ten standings.
(US Presswire)
What's more exciting than beating the No. 2 Hoosiers in Assembly Hall? Blogging about it for CBSSports.com. We're just joking (kind of). Wisconsin junior forward Zach Bohannon returns to the Eye on College Basketball blog fresh off the Badgers' big victory over Indiana, and he has plenty of praise to spread around, starting with his coach:
---
It's amazing how much disrespect one team can get just by winning. Season after season, Wisconsin basketball continues to be written off by sports writers, including CBSSports.com's own Gary Parrish earlier this year after our devastating blow to then-starting point guard Josh Gasser.
Trust me. I knew we were going to have our struggles early on. Like I wrote previously in my first blog after Josh's injury, we all needed to find and define our new roles. I did not know how or when it would happen, but one thing I did know: Somehow, Coach Ryan finds a way to make us competitive regardless of the situation.
He turns what media call "down" or "rebuilding years" into seasons competing for the Big Ten title. He squeezes all of the potential out of each one of us and turns us into a team that competes against ourselves, each day trying to play up to our potential, not our opponents.
Some of our fans say simply, "Bo Knows." After two years playing under Coach myself -- and my older brother, Jason, played under him -- my Dad has always said, "Never doubt Bo."
I find it quite humorous that people are now saying Coach Ryan knows how to coach. He knew how to coach long before he was competing for Big Ten titles, back in the days when he was winning national titles at the Division III level at the University of Wisconsin-Platteville.
With our recent victory over Indiana, he has amassed his 664th career victory, tying for 38th place on the NCAA all-time wins list with a guy named John Wooden. Have you heard of him?
The funny thing is, the media throws out all of these crazy numbers like how Coach Ryan has won more road games than any other Big Ten coach or that he's 17-3 against Indiana in his career now. But none of that matters to him. I can pull out a bunch more amazing numbers like that, including the fact that Wisconsin has never finished worse than fourth in the Big Ten under Coach Ryan. But, once again, the numbers don't matter to him and he makes sure they don't matter to us as well.
Coach Ryan cares about one thing: Are we better as a team today than we were yesterday? He gives us hope that tomorrow's dreams will always be better than yesterday's disappointments. That was the attitude we had when the non-conference season concluded, and that is the mindset we took into our game against Indiana at Assembly Hall.
For us, our secret to success is we don't look at our schedule. We worry about the current day, the current lift, the current practice and, most importantly, our current state and ask ourselves each and every day one simple question: what can we do to get better now? We understand better than most what Abraham Lincoln said long ago, "The best thing about the future is that it only comes one day at a time."
This is where we find ourselves: a game day on the road vs. Indiana, the next game on the schedule.
We recently had come off of two low-scoring affairs against Penn State and Nebraska, and then we were fortunate to catch red-hot shooting Illinois on an off night. This led to what the media labeled a "mythical" showdown between us, then 3-0 in the conference, against Indiana, undefeated as well. However, to us, the past was the past, non-conference and conference alike, and we were ready to play to our potential. The one thing that you are always promised when playing for Coach Ryan is if you do exactly as he says, then you will have an opportunity to be successful. That is what each person inside the visiting team locker room believed before we took the court against Indiana. We might have been the only 15 people in that building who believed, but that's all that mattered. We believed in not only ourselves but in each other.
Our "secret" game plan against Indiana was actually the same that we have every game. This game was the biggest game on our schedule because it was the game before our next and the game after our last. In other words, it was not any bigger than any other game we had played thus far. The three secrets Coach Ryan said pregame were the same that have become ingrained through repetition: give them nothing easy, make them guard and get more on our possessions than they get on theirs (a statistic that Ken Pomeroy calculates as points per possession).
Some media members scrutinize this style of play as "slow down" or "hurting college basketball," but I would like to say differently. We are playing the game how it was meant to be played when Dr. James Naismith invented it. Coach Ryan doesn't deliberately slow down the game; he dictates the terms. Although I have no doubt in my mind if Coach was playing against a bunch of antelopes, he would somehow find a way to slow them down, but only to make them uncomfortable and play at a pace that suits us.
Coach Ryan is not the first one to utilize this strategy, either. Ironically, Assembly Hall was built by a guy named Bob Knight, who dictated games better than most. That is what made him successful and what has made us successful in the building that Coach Knight built.
As the game was about to tip, the deafening capacity crowd of 17,472 inside Assembly Hall -- which I can only describe as playing inside of a prolate spheroid -- was electric. This was my first experience at the Hall and I made a bold statement to my bench mate and good friend, Dan Fahey, that, "There are going to be more than 17,000 fans in here dead silent before the game's over."
Little did I know, not only was I right, but I also failed to realize the thousands of disappointed students who had to go to class the next day at Indiana University who were at the game! We each knew the game was going to be ours from the opening tip, even with a barrage of baskets by Cody Zeller at the start. As I sit down to write this a few hours after getting back from Indiana, my ears are still ringing from one particular surge. I can still hear the uproar by the capacity crowd after Yogi Ferrell swished in an uncontested three to cut our lead to one with a few minutes to play. At that point, we were back on the ropes in a do-or-die situation.
Our 10-point lead had dissipated to a one-possession battle. On the ensuing play, we ran down the shot clock and heaved up a desperation three-pointer with seconds to spare. It clanked off the rim and landed in Ben Brust's hands on the left baseline. He took one dribble backwards. He was indecisive about whether or not to milk the clock but realized he was wide open. So he did what he always does when he's in doubt -- he pulled the trigger on the mid-range jumper. As I saw the ball glide through the net, I breathed a sigh of relief.
Over the next few offensive possessions, I found myself holding my breath again. As Ryan Evans heaved a 19-foot fade-away jumper as the shot clock was expiring I thought for sure we would have to get another offensive rebound to keep the possession alive. However, this time it dropped in.
Coach Ryan always jokes with Ryan that his fade-away percentage in games is "zero for infinity." I guess Coach will have to change that zero to one!
All kidding aside, many people saw these late plays in the game, including another pullup jumper at the left elbow by Traevon Jackson with less than 2 1/2 minutes to go, as plays that bounced our way. To us, they were routine basketball plays that we practice every day. Coach told us if we listen to him, we will be put in a position to be successful. That's where our team was with five minutes to play vs. Indiana. Each individual's role became a crucial element necessary for us to close out the game.
Let's take a look at the individual stars of the game. Mike Bruesewitz probably had the only game in history where you air ball a 3-pointer, then make a 3, air ball another and then calmly swish in a 25-footer. And, yes, Mike, we all saw you purposely dive into the scorer's table and "tackle" Samantha Steele and her television set.
Jared Berggren, who had the first-half handed to him by All-America candidate Cody Zeller, shut him down and made him almost non-existent in the second half. By the way, Jared also made the SportsCenter Top 10 with his own monstrous dunk. Not a bad night at all.
Ben Brust was typical Ben. He made huge plays when they mattered, including a stretched-arm dunk in the first half like Michael Jordan had in Space Jam.
Traevon Jackson was calm, cool and collected throughout the game and showed that all of his hours in the gym had paid off. He stepped up his leadership tremendously when it mattered the most, and his teammates listened.
Ryan Evans made one big play after another including his fall-away jumper that most likely iced the game for us. Let's not forget about Frank Kaminsky's unbelievable night, sinking six points in three minutes of play before getting poked in the eye. Maybe Mr. Pomeroy should start calculating a new statistic -- points per minute played? Frank definitely defied the odds with that performance.
Lastly, Sam Dekker, our freshman phenom and my roommate on the road, was continuously a pain in the butt for the opposition. I don't know how he does it, but I wouldn't be surprised if he sang Justin Bieber lyrics to the opponent to annoy them like he does to me in the room!
This was one of the games that we will always remember for the rest of our lives. It is a lot of fun doing what others deem impossible. It is fun when no one gives you a chance and you prove them wrong, anyway. This is exactly what we did on Tuesday night, when we took the crowd at Assembly Hall and turned them to mute.
To us, however, the victory was expected. We never go into a game hesitant with Coach Ryan in charge. After four games in the Big Ten conference slate, we are the last of the unbeaten. Some are still writing this team off and calling our victory a fluke. To us, it does not matter. Writers have to write about something. That's their job. Our job is to continually believe that what lies ahead may be far better than anyone ever thought possible. But to truly understand this, we must get over our past, like we are in the process of doing.
"Bruiser" is back to full health, and we are finally adjusting to the loss of our floor general Josh Gasser. We are getting better each and every day that we take the court, and we are becoming closer as a team. We finally realized that it was time for us not to be defined by what is behind us, but what is ahead. We have unshackled the chains so we can fly into the future, a place where no one continues to give Wisconsin basketball a chance, except us.
Quite frankly, we are the only ones that matter, anyway.