Syracuse didn't foul up three points late ... and lost at Villanova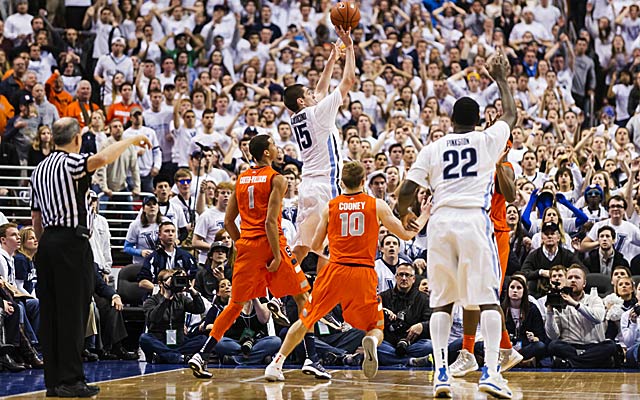 The non-fouling Orange have a fantastic view of Ryan Arcidiacono's tying three-pointer. (US Presswire)
Jim Boeheim became the head coach at Syracuse the year before I was born. He has won 908 games in his career, more than all but one Division I men's basketball coach in history. So he's experienced, accomplished and generally great at his job. And yet he still hasn't learned -- just like so many other coaches haven't learned -- that refusing to foul when ahead by three points late is stubborn, silly and (at times) costly.
Seriously, why is this still a debate?
Villanova beat Syracuse 75-71 in overtime on Saturday to move to 13-7. It was the Wildcats' second win over a top-five team in five days. So life is nice for Jay Wright, who suddenly finds himself coaching a hot team with legitimate at-large dreams. Good for him.
But I don't want to spend another word on that.
Not now.
More on Big East
Related content
Because I'd rather focus on the sequence that led to Villanova even having a chance to win this game in overtime, specifically the Wildcats' final possession in regulation. They came out of a timeout down 61-58 with 13.5 seconds remaining. Syracuse did not foul. So James Bell launched a 3-pointer with 8.7 seconds remaining. It missed. Then Mouphtaou Yarou grabbed the offensive rebound with 6.4 seconds remaining. Syracuse did not foul. So Yarou passed it to Ryan Arcidiacono, who caught the ball and was not fouled or even challenged. In fact, Michael Carter-Williams was so focused on not fouling that he moved out of Arcidiacono's way. That gave the freshman guard, who made seven 3-pointers against St. John's last month, the cleanest look in history. He let it fly with 4.2 seconds left. It swished and forced overtime. Syracuse's eight-game winning streak was snapped.
Now, let me be clear: This sequence wasn't perfect for a late foul because Bell's initial jumper was shot with more than eight seconds remaining. I understand that. But the Orange still could've fouled him. Or Yarou on the offensive rebound. Or Arcidiacono on the catch. Any of those things would've put Syracuse in a statistically advantageous position, and I'll let Sports Illustrated's Luke Winn explain why from an article he wrote in 2010.
Here's the statistical picture of what happens when a team up three correctly executes a non-shooting foul in the waning seconds of a bonus situation: A 70-85 percent free-throw shooter needs to make his first attempt in a high-pressure situation. Then the odds turn against him. To create a long rebound on shot two, he needs to miss artfully -- a skill that's rarely practiced because it's rarely required in games. How often can a player throw up that perfect brick? One in five times? One in 10? His teammates then need to get an offensive rebound, and this is when they're at an even bigger disadvantage. Teams, on average, only grabbed 32.7 percent of available offensive boards in 2009-10 -- under normal circumstances. But ... free-throw rebounding is an abnormal situation. [So] let's generously assign the odds of getting that offensive board at 30 percent. After that, the team would still need to make a two (a 47 percent shot, on average) to tie, or a three (a 34 percent shot, on average) to win. The odds of that tie sequence playing out are around 2 percent, and odds of a different tie sequence (with an unintentionally missed first free throw, an offensive rebound, and a three) are also around 2 percent. That's a rough total of 4 percent.
So the foul is the smart play.
And I know what you're thinking: But what if you foul the player in the act of shooting?
Answer: That usually doesn't happen.
Winn estimated teams only get caught fouling a player in the act of shooting about one out of every eight times it tries to foul up three points late, then explained that the odds of even an 85-percent free-throw shooter making three in a row are just 61 percent.
So we're talking about 1/8 odds of putting the guy on the line, and then only 6/10 odds, at best, that he ties the game -- which means there's only a 7.5 percent chance of that doomsday scenario. Would you rather take that risk or let a 35-40 percent three-point shooter attempt a long-range shot while you're being careful not to foul?
You know my answer to that question.
Seems the only people who disagree with me (and math) are old-school coaches, which is strange. But whatever. If the arithmetic is too complicated for you, consider the following: When was the last time you can even remember watching a college basketball team foul late while up three points and lose?
I asked that question on Twitter.
Most of the responses referenced the Kentucky-Mississippi State game from the 2010 SEC Tournament, which kind of proves my point, doesn't it? I mean, if the last time most fans can recall a team fouling late while up three points and losing was three years ago, that suggests you're generally OK doing it unless the other team has somebody as athletic as John Wall and as strong as DeMarcus Cousins.
"So the last time was three years ago?" Vermont assistant Matt O'Brien asked me on Twitter. "The no-foul-losing happens four times a week."
Indeed it does.
Or at least it feels like it.