Pittsburgh had to make statement vs. Syracuse -- and it did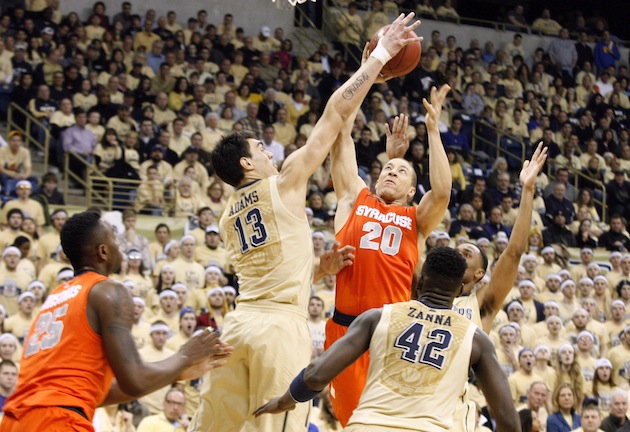 Steven Adams came up big at both ends of the floor in Pitt's win over Syracuse on Saturday. (US Presswire)
Pittsburgh has been a difficult team to evaluate this season. The Panthers went 12-1 in the non-conference season, but the best win was over Detroit, so we don't really know how good they were during the first two months.
Two losses to start the Big East campaign -- and 1-3 in the first four games -- didn't help matters. When watching Pittsburgh, it looks good at both ends of the floor, and the rankings at KenPom.com agree (No. 6 in the country).
Despite heading into the weekend winning four of their last five games, the Panthers needed a statement win after falling just short at Louisville earlier this week.
Syracuse provided that chance -- and the Panthers took advantage, knocking off the No. 6 Orange 65-55.
Ten players scored for Jamie Dixon's bunch, although Tray Woodall was the only one to reach double figures. The Panthers were highly effective against the Syracuse zone, finding openings via dribble penetration and crisp passing. A shorthanded Orange bench seemed especially tired in the second half, unable to keep up with the half-court passing of Pittsburgh. Talib Zanna and Steven Adams were also solid down low, helping the Panthers get key second-chance opportunities.
Defensively, Adams and Zanna made life very difficult around the rim for Syracuse. C.J. Fair was solid in the mid-range, but the Orange's bigs simply couldn't do anything inside. Jerami Grant, who had come into the game playing very well, never got going, either. Pittsburgh also was solid on the glass, limiting the offensive rebounding of Syracuse.
This win was more than just beating the No. 6 team in the country or knocking off Syracuse for the sixth time in the last eight tries. It gave the Panthers a marquee win to put on their ledger and also gave them a nice trump card when compared to the rest of the Big East. The top 10 spots in the Big East standings were separated by just 2 1/2 games heading into Saturday, and it's not easy to differentiate many of them by resume.
Pittsburgh has the pieces to be a top-five seed come March, and the Panthers are good enough to win a couple games in the NCAA tournament. But they simply didn't have the profile to be in the conversation for that type of high seed yet. There were wins over Connecticut and Villanova and a very nice road victory at Georgetown in the midst of the difficult stretch to start Big East play.
But the win over Syracuse is the big one. Heading into a week in which Pittsburgh needed to make statement, it did just that.
For more college basketball news, rumors and analysis, follow @EyeOnCBB on Twitter, subscribe to our RSS Feed and subscribe to our College Basketball Newsletter. You can follow Jeff Borzello on Twitter here: @jeffborzello