Creighton & Saint Mary's highlight BracketBusters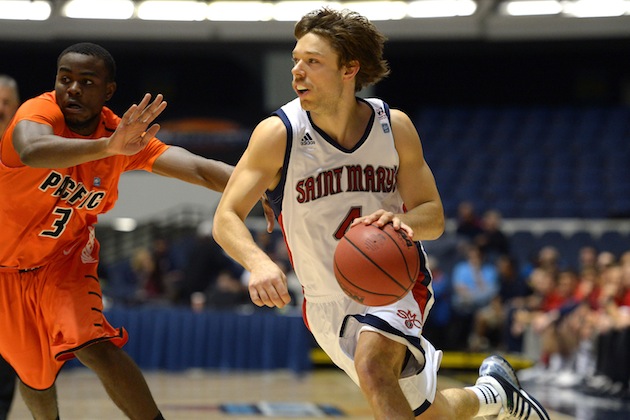 Matthew Dellavedova and Saint Mary's will face a must-win when it faces Creighton during BracketBusters. (US Presswire)
BracketBusters isn't what it used to be, as it has become something of a random non-conference game for most of the teams involved. As a result, this will be the final season of the event -- after 10 years of mid-major battles. Before it ends, though, it will feature some highlights. Need a chance to see potential March Cinderellas? There are plenty in the mix.
Friday, Feb. 22
Saturday, Feb. 23
Best game
Creighton at Saint Mary's
What's at stake? Creighton has the best resume of any team in the event, and the Bluejays are comfortably in the field. Meanwhile, Saint Mary's will essentially need to win this game. The Gaels don't have any good wins outside of BYU, and a victory over Creighton would be a resume-booster.
Must-wins
North Dakota State at Akron
What's at stake? Akron owns the nation's longest winning streak, winners of 13 in a row. The Zips have a decent win over Middle Tennessee on the resume, but the strength of schedule is in trouble. North Dakota State has solid power numbers, but the Zips can't slip up.
Iona at Indiana State
What's at stake? Indiana State is quietly developing a decent at-large profile, with wins over Miami (Fl.), Wichita State and Ole Miss comparing favorably against most teams. However, the Sycamores also have four sub-100 losses -- and a loss to Iona could add another one to that category.
Worst draws
Ohio at Belmont
What's at stake? Belmont might be non-Missouri Valley team in this field, as the Bruins will certainly get at-large consideration if they keep playing as well as they have. With that said, a win over Middle Tennessee (sounds familiar) is the lone top-50 victory. Ohio has some good pieces, but Belmont could have really used Creighton in this event.
Detroit at Wichita State
What's at stake? There aren't too many ways that Wichita State could play itself out of the NCAA tournament, but there is nothing great that can come out of this game for the Shockers. Of course, there weren't many resume-builders that are playing on the road in this one, but Wichita State needed a better win to improve its potential NCAA seeding.
Other storylines
Lack of great road teams: One of the main problems with the at-large hopefuls this season is that they are all hosting games. Outside of Creighton, there just aren't any potential resume-boosters in the lineup.
Best individual matchup: Two of the best guards in the country will go head-to-head with South Dakota State's Nate Wolters taking on Murray State's Isaiah Canaan.
Defensive battle: Denver and Northern Iowa are two of the slowest-paced teams in the country, and both are excellent on the defensive side of the floor. It won't keep you awake on Saturday night, though.
Star-studded affair: Will Cherry, Jake Cohen and De'Mon Brooks are three of the best mid-major players in the country -- and they will all be on display when Montana plays Davidson.
Lighting up the scoreboard: Northwestern State is the fastest-paced team in the country, and Niagara routinely scores 75 or 80 points per night. Can the Purple Eagles keep up?
Game not to overlook: Stephen F. Austin has been one of the best defensive teams throughout the season, and Long Beach State is starting to round into form now that all its transfers are eligible.
Big vs. small: Valparaiso has been carried this season by the frontcourt duo of Ryan Broekhoff and Kevin Van Wijk, but it will be tested by Eastern Kentucky guards Mike DiNunno and Glenn Cosey.
Conference contenders: Canisius had a midseason slump after beating Temple, but it has now won five of its last six. Meanwhile, Vermont is only one game out of first-place in the America East.
Championship-week sleepers: Neither Pacific nor Western Michigan is a favorite to win its conference tournament, but both teams can get some momentum with a late February win.
For more college basketball news, rumors and analysis, follow @EyeOnCBB on Twitter, subscribe to our RSS Feed and subscribe to our College Basketball Newsletter. You can follow Jeff Borzello on Twitter here: @jeffborzello.