Unlikely moments from unlikely stars are what make March Madness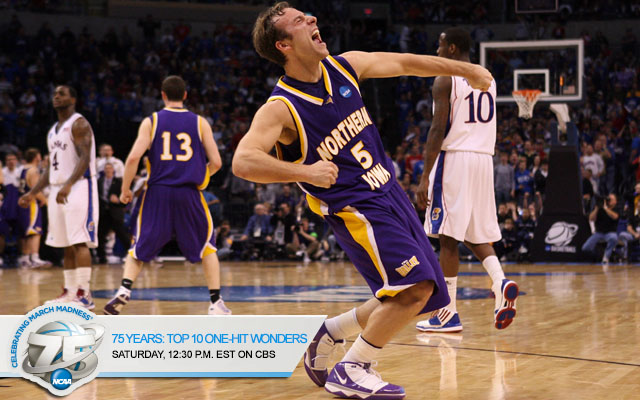 Ali Farokhmanesh? Not a college star and didn't play for a big-name team. But his shot? Unforgettable. (US Presswire)
Ali Farokhmanesh's college career ended on March 26, 2010, and odds are that's the last time you saw him on TV or anywhere else. But you still know his name. And you still remember that shot. And those last two sentences are probably true regardless of whether you're reading this in America or Austria, where Farokhmanesh now plays professionally.
"My first year in Austria, all of my teammates knew my name from the NCAA tournament," Farokhmanesh said. "They'd always say, 'Oh, you're that guy who made that shot, right?' So there's still a little recognition that comes with it."
More on March Madness at 75
Related links
More college hoops coverage
The NCAA tournament is synonymous with John Wooden and Mike Krzyzewski, North Carolina and Indiana, Carmelo Anthony and Mario Chalmers. But those people and schools are household names for a variety of reasons, only some of which are rooted in March Madness.
Farokhmanesh is different.
You know his name neither because he attended a traditional power nor because he now plays for the Knicks or with King James. You know his name because of one moment, because of one shot. You'll never forget his name because of one moment, because of one shot.
And isn't that really what makes the NCAA tournament great?
More than 300 teams and 4,000 players start each year with a hope of participating in our nation's most exciting postseason event. Sixty-eight schools eventually make it. They're seeded based on things that happened during the previous four months. Then we throw a ball in the air, settle things in increments of 40 minutes, and unlikely stars are created.
Farokhmanesh is a perfect example.
"You can't be serious with that shot!" yelled CBS Sports broadcaster Dan Bonner. But Farokhmanesh was serious with that shot. He launched it from the right wing with 38 seconds left in regulation and 30 seconds remaining on the shot clock even though his Northern Iowa Panthers were leading top-seeded Kansas by a 63-62 margin in the Round of 32, point being that conventional wisdom would have him and them run the clock.
Yes, Farokhmanesh had a clean look.
But coaches everywhere cringed when he took that shot.
He was just 3-of-9 from 3-point range before he took that shot.
"And that's the weird thing -- that I was feeling really good about my shot even though I think I had missed my last six shots before that shot," Farokhmanesh told me by phone this week from Austria, roughly three years after that shot secured the upset of Kansas and sent Northern Iowa to the Sweet 16 for the first and still only time. "I just went into the shot thinking it was going to go in. I really didn't think about anything else, at that time."
So is it the best bad shot ever?
"I get that now more than ever," Farokhmanesh said with a laugh. "When it happened, people were like, 'Yeah, I would've shot it, too.' But now people are like, 'What were you thinking? That was the stupidest thing ever!'"
Either way, it now doubles as one of the greatest things ever.
An unlikely hero from an unlikely school hitting a shot that some insist should've never been taken to upset a traditional power and top seed. It's a moment that cemented Farokhmanesh's place in March Madness history, which is something he never could've imagined when he was just a kid in Iowa reenacting Bryce Drew's similarly famous shot.
"We used to joke around and somebody would be like, 'OK, I'm Bryce Drew,' Farokhmanesh said. "Then somebody would throw the ball to halfcourt, somebody would catch it and you'd run up behind him, catch his pass and launch a 3-pointer. So the Bryce Drew play is the play I think of most when I think of a shot from the NCAA tournament."
That story made Drew laugh when I relayed it to him.
"For me, it was the Christian Laettner shot," said Drew, who is now the coach at Valparaiso but still most famous for hitting a buzzer-beater against Ole Miss in the opening round of the 1998 NCAA tournament that helped Valpo advance to what remains the school's only Sweet 16. "We were just so thrilled that we'd won that game that by no means did we have an inkling that they'd be showing that play for years to come."
But now they do show it -- every year since and probably forever. It was a terrific moment just like Farokhmanesh's moment in part because it was an improbable moment that lifted an underdog to something that had never happened before and hasn't happened since.