Night Court: Wisconsin looking more and more dangerous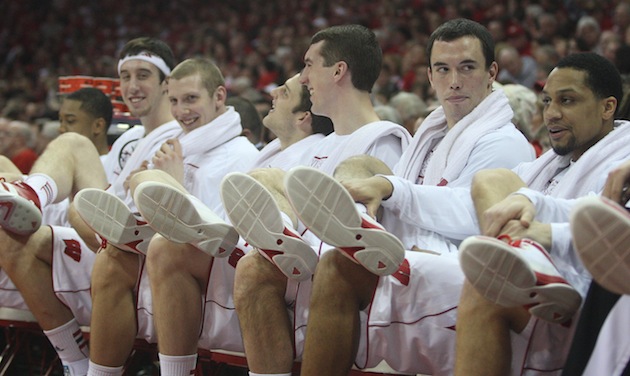 Wisconsin's bench had some fun during its dominant win over Ohio State on Sunday afternoon. (US Presswire)
We always hear about Wisconsin winning because of its hard-nosed defense and its system-based offense. No matter what players that Bo Ryan has on his roster, the Badgers are going to be ranked in the Top 25 and stay near the top of the Big Ten standings. Ryan normally doesn't have the most talented squad in America, but their discipline and basketball IQ is enough to beat many teams.
This year, though, I'm starting to think we've been underestimating Wisconsin's talent and personnel. Sunday's performance against Ohio State showed that the Badgers are hitting their stride at the right time -- and are looking more and more dangerous heading down the stretch.
Wisconsin welcomed the Buckeyes to Madison and had them packing their bags within minutes. The Badgers went on a 26-2 run early in the first half to take a 19-point lead that they would never come close to relinquishing. The final was indicative of Wisconsin's dominance, a 71-49 drubbing. They completely shut down Ohio State players not named Deshaun Thomas with the rest of the Buckeyes going 13-for-39 from the field. Offensively, Ohio State had no answers for Wisconsin's multitude of weapons.
Yes, we said "multitude of weapons" in regards to Wisconsin. There is no true star for the Badgers to lean on this season, like they have had in the past with guys like Jordan Taylor, Jon Leuer, Devin Harris, Alando Tucker and others. But there are several options, and they're becoming increasingly difficult to guard.
Jared Berggren is a solid post player while Ryan Evans can create matchup problems. Freshman Sam Dekker might be the most talented player on the team, and Ben Brust can knock down shots. Big man Mike Bruesewitz is another inside-outside option, and we can't forget about Traevon Jackson, who has become the de facto go-to-guy down the stretch of games. Throw in its consistent lockdown defense, and Wisconsin is positioning itself as a tough out in March.
A third straight Sweet 16 could be in the offing -- or the Badgers could go even further.
__________________________________________________________________________
Here's a look at the rest of the action from Sunday's slate:
-- Two of the teams that we compared often during the mock selection exercise were Illinois and Minnesota. They are going in completely opposite directions. Illinois won its fourth in a row by obliterating Northwestern on the road, a win that included a 26-1 run that spanned both halves. On the other side, Minnesota followed up its win over Wisconsin with a loss at Iowa -- by 21. And that margin of loss came after the Gophers initially led by 16. Minnesota is 3-7 in its last 10 games, heading into back-to-back games at Ohio State and vs. Indiana.
-- California is really playing itself into the at-large discussion, coming from behind against USC to win its third in a row. Allen Crabbe continued to establish himself as one of the best scorers in the country, despite a severe lack of national attention. With road tilts coming up against Oregon and Oregon State, Cal has a great chance to state its case as an NCAA tournament team from the Pac-12. However, this was the talking point at the end of the game: coach Mike Montgomery pushing Crabbe.
Just saw the Mike Montgomery-Allen Crabbe discussion. This does not not end well. vine.co/v/brlnvrth1MJ

— Ray Ratto (@RattoCSN) February 18, 2013
-- I was all set to write a post about the Missouri Valley preparing itself to be a one-bid league come Selection Sunday, as Wichita State was down seven to Illinois State with 36 seconds left. Instead, a flagrant foul called on Jackie Carmichael for essentially jump-kicking a Wichita State player led to a game-finishing 8-0 run for the Shockers. That's three wins in a row for Wichita State, which needed a win as it heads on the road to Indiana State and Creighton in the final four contests.
-- Remember when South Florida went to the NCAA tournament last season and won two games? The Bulls dropped to 1-12 in Big East play (10-15 overall) after scoring 41 points in a loss to Louisville. The Cardinals held South Florida to below 25-percent shooting from the field and have won five of their last six games.
-- Miami and Clemson didn't have the most aesthetic performance of the season, as they combined for a total of 10 points after 10 minutes of playing time. A 7-0 run by the Hurricanes in the final 61 seconds helped them overcome a four-point deficit down the stretch and eke out a 45-43 win. Miami is 12-0 in the ACC and has not lost since Christmas. When will the Hurricanes suffer their first league loss?
-- Arizona nearly blew a 13-point lead in the second half against Utah but managed to hold on down the stretch. If the Utes were able to make shots inside the arc, they might have pulled off the upset. Sean Miller shuffled the Wildcats' lineup, going with four perimeter players and bringing freshman forward Brandon Ashley off the bench. Ashley responded with 10 points in 22 minutes.
-- Penn State didn't look like a team that hasn't won a Big Ten game this season, but Michigan pulled away down the stretch for a 79-71 win. Trey Burke had 29 points and five assists while Glenn Robinson III snapped out of his slump with 21 points and 10 boards. Nik Stauskas also chipped in with 18 points.
-- Niagara stayed in first place in the MAAC by knocking off Manhattan behind 18 points from Juan'ya Green and 20 turnovers from the Jaspers. The MAAC tournament could be one of the most wide-open in the country.
-- Delaware missed a chance to cut Northeastern's CAA lead to one game in the loss column, falling at home to James Madison by one point when Devon Moore threw an inbounds lob to Andre Nation for a game-winner with 0.6 seconds on the clock.
For more college basketball news, rumors and analysis, follow @EyeOnCBB on Twitter, subscribe to our RSS Feed and subscribe to our College Basketball Newsletter. You can follow Jeff Borzello on Twitter here: @jeffborzello