Once considered a college bust, Larry Drew II is flourishing at UCLA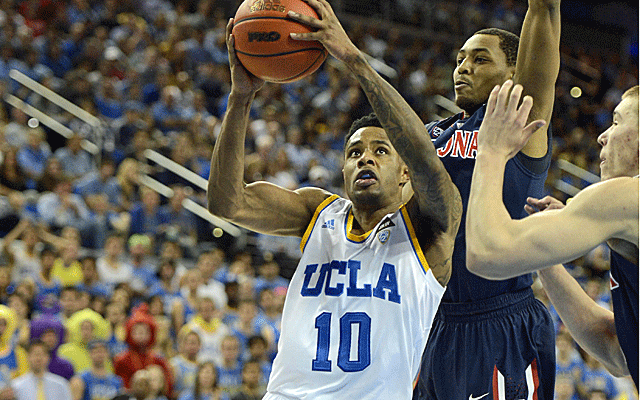 LOS ANGELES -- He was a joke when he left North Carolina -- a bad point guard and even worse rapper. And a quitter. Don't forget that part. The kid was a quitter, too. All smiles and team-first long as he was in the starting lineup. But when Roy Williams benched him, he bolted. And so Larry Drew IIreturned home with a damaged brand.
More on UCLA-Arizona
Related links
Some folks even mocked UCLA coach Ben Howland for taking him.
"I got some snide remarks," Howland said, "but I thought it was a no-brainer."
Sure looks that way now.
A sellout crowd of 13,727 filed into Pauley Pavilion on this gorgeous Saturday evening and watched UCLA complete a regular-season sweep of No. 11 Arizona with a 74-69 victory that launched the Bruins into a tie with Oregon atop the Pac-12 standings. Freshman Shabazz Muhammad, whom Howland acknowledged is definitely on his way to the NBA Draft, deserves a lot of credit because of his 18 points and big rebound in the final minute; fellow freshman Kyle Anderson was also strong with 17 points, 15 of which came in the first half.
But the star was UCLA's only senior for this Senior Day.
His name is Larry Drew II.
And that he's gone from the kid whom I described in the opening paragraph of this column to a key figure for a nationally relevant program and team in a span of two years is one of college basketball's nicest stories. Drew took 12 shots against Arizona, made six and finished with 14 points and nine assists in 38 minutes. He's now averaging 7.8 assists, which ranks third nationally. He's the only Bruin who has started all 29 games this season.
So the Larry Drew II story has turned into a story of success.
Of overcoming.
Of bouncing back.
And did you predict it?
I know I didn't predict it because, long as I'm being honest, I was one of the people who made snide remarks about Howland taking Drew after two-and-half seasons of mediocrity at North Carolina. I couldn't understand why a man who had achieved greatness at UCLA with guards like Jordan Farmar, Arron Afflalo, Darren Collison and Russell Westbrook would think he needed to try to return to greatness (or even goodness) with a guard like Drew. But Howland believed in the California native and even regretted missing on him when Drew initially signed with UNC. ("It was one of my many recruiting mistakes," Howland said.) So the 10th-year UCLA coach decided early on that he'd hand the keys to this team to Drew even if that's what helped send Williams and North Carolina to the 2010 NIT, and it's a decision that's helped enhance the reputations of both coach and player.
Suddenly, Howland's seat doesn't seem as hot as it did in early December.
And Drew?
He has gone from somebody labeled among the most overrated McDonald's All-Americans ever because of a lackluster tenure at UNC -- and it didn't help when the Tar Heels got better the moment that Kendall Marshall replaced Drew in the lineup -- to somebody who is respected and can now reasonably be called a reliable floor leader.
But that doesn't mean that overrated label and all the criticism didn't hurt.
Yes, it hurt.
Drew heard it and told me that he even started to question himself.
"Doubt starts to creep in," Drew said. "You hear [all the negativity] so often that you start to think, 'Am I really that weak? Am I really not as good as I think I am?'"
Can you imagine what that must be like?
To be pegged to run one of the biggest and best college basketball brands and fail? On that stage? To get replaced by a younger player and watch the team excel in your absence? To transfer and become the target of jokes and ridicule? To go from a heralded recruit to somebody most think is probably better-suited for a mid-major?
How could doubt not creep in?
How close would you come to giving up?
As I was wondering about this and talking to Drew late Saturday just off the court here at this renovated arena and underneath UCLA's 11 national championship banners, several kids were yelling Drew's name, begging for an autograph, asking for shoes. The fifth-year senior spent about an hour with the fans, scribbling his signature and posing for pictures. About midway through the process, a lady walked up and didn't seem to want anything. But when she got Drew's attention, she looked him right in the eyes and simply said, "I'm proud of you and want you to know I'm wishing you luck in all of your future endeavors."
Drew smiled.
This was so different than what he'd heard for most of his college career.
"Thank you," he responded to the stranger. "You saying that really means a lot to me."