Arizona gets another shot at UCLA, seeks revenge in semis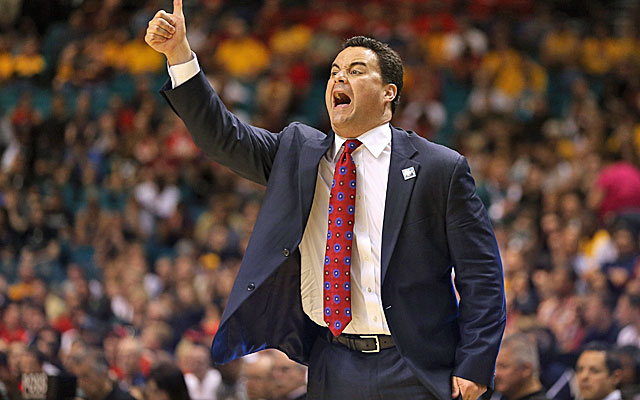 LAS VEGAS - It was supposed to take place on Saturday night, and not a day earlier in the Pac-12 semifinals. Arizona vs. UCLA. Two teams with high expectations entering the season, the flagship programs of the league.
The Bruins enter Friday night's semis with bragging rights. They own the Pac-12 regular-season crown and also lay claim to a regular-season sweep over the Wildcats. Across town at exactly the same time there will be another heavyweight bout taking place. No, not a fight between a couple of fighters. But the Mountain West will also have its league semifinals, at Thomas & Mack, between top-seeded New Mexico and San Diego State.
More on Bracketology
Related links
More college basketball coverage
Terrific, compelling matchup. But it's not Arizona vs. UCLA.
"This is big," Arizona guard Nick Johnson said of the matchup. "Really big."
The first meeting came in Tucson in late-January and UCLA won by double-figures. The Wildcats wanted revenge and entered Pauley Pavilion on March 2 with an opportunity to win a share of the regular-season title. However, the 'Cats came up short again.
"We want to prove something," Wildcats senior Kevin Parrom said. "We want to prove the last two games were a fluke. We don't want to lose to them three times in a row."
It's a contrast of styles. You've got a UCLA team that can look like a well-oiled machine on the offensive end with their ball movement and crisp passing. The Bruins' achilles heel is their defense while that was Arizona's bread and butter back when the Wildcats were rolling early in the season. Arizona coach Sean Miller threw a stat on the board prior to Thursday afternoon's contest against Colorado. The Wildcats were 22-0 when holding their opponents to fewer than 70 points.
Now the streak is up to 23-0 after Arizona knocked off the Buffaloes, 79-69.
There's no star in Tucson, unlike when Derrick Williams carried Arizona to the Elite Eight a couple years ago. Now it's just a a blend of youth and experience, and no shortage of depth.
"They're the deepest team in the league," Colorado coach Tad Boyle said after the game. "And they are tough because you don't know who's going to hurt you."
Solomon Hill has the the most consistent, and Boyle said he would have been his pick for league MVP if the Wildcats had come out on top in the regular-season standings. Mark Lyons is incredibly inconsistent and unreliable, but brings a much-needed element of toughness to the team. The freshman big men - Brandon Ashley, Kaleb Tarczewski and Grant Jerrett -- have all had their moments this season. Parrom has been invaluable this season after dealing with incredible adversity a year ago.
Against Colorado, it was Johnson -- who was arguably Arizona's top player for the first two months of the season -- filling the starring role. Johnson was 6-of-7 from the field, finished with 18 points and was stellar in frustrating Spencer Dinwiddie on the defensive end. In fact, Dinwiddie was so frustrated that he refused to give Johnson credit after the game.
"They just played solid team defense," he said. "Nothing special."
But Johnson was special. When he's locked in on both ends of the court, Arizona is a different team. When he's not, as was the case for a two-week stretch recently, this team becomes mediocre. Miller needs consistency from Johnson because he understands by now not to expect it from Lyons -- or even the freshmen bigs.
"He lost confidence in his shot," Miller said of Johnson's recent slump. "It started to affect him in other phases of his game. He's back on track now."
And so are the Arizona Wildcats.
One more time. Arizona vs. UCLA.
"Our defense against their offense," Johnson said. "We're polar opposites."