Louisville on the verge of No. 1 seed with one more win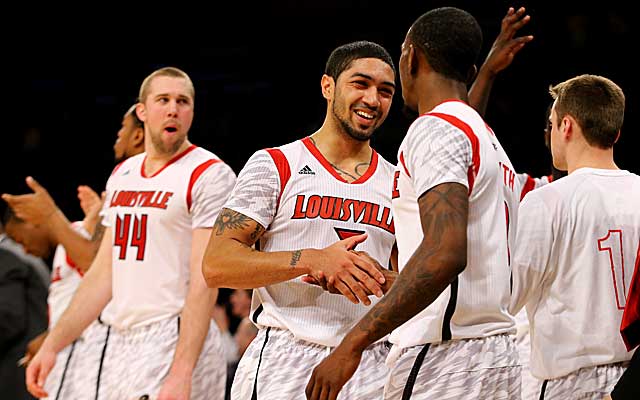 NEW YORK – When Louisville lost three games at the end of January, it seemed like a best-case scenario for the Cardinals in the NCAA tournament would have been a top-three or top-four seed.
Now, the Cardinals head into Saturday night's Big East title game against Syracuse with the chance to win a conference championship – and also get a No. 1 seed.
More on Louisville-Notre Dame
Related links
More college basketball coverage
"It definitely helps us a lot," senior guard Peyton Siva said. "Today, we just tried to go out there and take care of business. A lot of teams today lost, and we just wanted to be a team that didn't get knocked out."
Louisville beat Notre Dame in Friday's semifinals, 69-57, forcing 16 turnovers and shooting 50 percent from 3-point range. That's now 12 wins for the Cardinals in their last 13 games, with the lone loss coming in five overtimes against Notre Dame back on February 9.
With Duke and Georgetown both losing on Saturday, a Louisville win on Saturday night could mean they end up on the top-seed line come Selection Sunday.
"We don't have any pressure," big man Gorgui Dieng said. "It means a lot in the first two games. But after that, once you get into the Sweet 16, it doesn't mean anything. You play a good team anyway."
Indiana seems likely to get a No. 1 seed, while Kansas, Gonzaga and Duke are the other teams truly in the hunt to be atop a region in two days. Louisville is right there with that quartet, though.
The Cardinals have the No. 3-ranked RPI in the country, with a top-10 SOS to pair with the solid computer numbers. They are now 10-4 against the top 50, and 14-5 against the top 100. Another plus is the lone loss outside the top 35 is a road game at Villanova, which has beaten seemingly every good team in the Big East on its home court.
A win over Syracuse would mean a share of the Big East regular-season title and a Big East tournament championship. Throw in the outstanding play in recent weeks, and it's hard to see Louisville not getting a No. 1 seed with a victory.
Moreover, the Cardinals are playing their best ball at the right time – which isn't surprising for a Rick Pitino-coached team.
Louisville has played for the conference title four of the past five seasons, and Pitino always seems to have his players hitting their stride in early March.
"What I love about these tournaments . . . is that you get three days to really prepare," he said. "It gets the guys to understand film and watch it in a very condensed period of time. You guys are used to focusing and being in high-pressure situations.
"I think it's great preparation for the NCAA. I always wanted to win the conference tournament at the end of the year, peak at the right time."
And one more win could have Louisville with a target on its back heading into the NCAA tournament.
---
For more college basketball news, rumors and analysis, follow @EyeOnCBB on Twitter, subscribe to our RSS Feed and subscribe to our College Basketball Newsletter. You can follow Jeff Borzello on Twitter here: @jeffborzello