Florida GIF Coast Vol. II: The most enjoyable team wins another
Real-time highlight: FGCU with a monster dunk to take a two point lead.#marchmadness - snpy.tv/15IScCG

— NCAA March Madness (@marchmadness) March 24, 2013
Well, Florida Gulf Coast is the biggest story right now in sports: the first No. 15 seed to reach the second weekend of the NCAAs. FGCU beat No. 7 seed San Diego State 81-71 Sunday night, rising up a nation in the process and continuing the highlight show that started with the win over Georgetown Friday.
That's Eric McKnight proving some smooth R&B to the proceedings, up above.
And, hilariously, Dunk City is now its own province and probably territory. Heck, it's Dunk Nation now. See more below, including the postgame celebration. This all seems too much fun and good to be true.
Real-time highlight: FGCU slams it home and has a chance for a three point play. #marchmadness - snpy.tv/YBt0uM

— NCAA March Madness (@marchmadness) March 24, 2013
The party has begun in Fort Myers.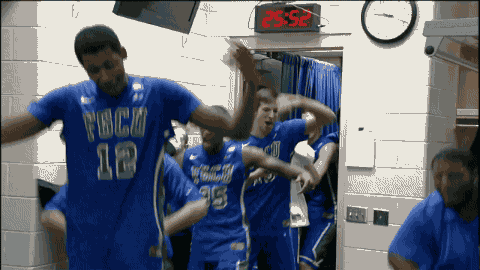 ---
GIFs via SB Nation, Big Lead Sports and Bleacher Report. And if you missed it, Florida GIF Coast Vol. I, from Friday.