Scouting the Final Four: Syracuse
Watching a game, we all think we know the best way to score on Louisville or a couple of strategies to slow down Michigan. But what about the guys who get paid to figure out that stuff -- what do they think?
Over the next few days, the CBSSports.com college basketball staff will examine the Final Four teams and attempt to answer that question. For each team, we will talk to four or five coaches who played those team this season and get in-depth insight into each title threat. How should you attack Syracuse's 2-3 zone? What's Wichita State's biggest weakness? We'll find answers to those questions and many more.
First up, we take a look at Syracuse.
Style of play
"All you worry is about the 2-3 zone, the 2-3 zone, scoring on the 2-3 zone. No one ever talks about how good they are in transition. They're phenomenal. Michael Carter-Williams, Brandon Triche. Before we talk about the zone, we have to talk about their transition offense. Sixty-five percent of their offense comes from that."
"There's two things about them that makes them hard to guard. When you have the ball, they do a great job of slowing you down. Once they get the ball, whether it's a rebound or blocked shot, they are flying down the floor. Something that's really underrated about them is their pace and tempo. They don't run a ton of stuff, but they execute."
"They play the 2-3 zone that's really extended. Offensively, they don't run a lot of stuff; they have one-on-one offensive players. They run stuff to get guys isolated. They run ball-screens, and Carter-Williams is 6-5 and he's able to find shooters. You have to figure out that zone, with that length. It's something you haven't seen before. They're so good in defensive transition, too; we had no fast-break points. They don't give up any easy baskets."
Offensive strength
"They space the floor so well when [James] Southerland is on the floor because you can't leave him. It opens up lanes for Carter-Williams and Triche. In the half-court, it's very simple. They only have about five to 10 plays, and a lot of it depends on when Southerland is in the game."
"They're extremely unselfish. They make the extra pass, they move the ball, they play inside-out. You couple that with the pace they play, you don't get a chance to rest defensively. And Carter-Williams is so good in transition."
"Southerland is a really good shooter, Carter-Williams is a good penetrator, but their bigs don't get thrown to at all. They're a good offensive rebounding team. That really hurt us. C.J. Fair is long, and he's probably their best offensive player at creating his own shot. They isolate him on the wing. They're not a great offensive team, and Triche can shoot them in and out of games. They don't run a lot of stuff."
Key player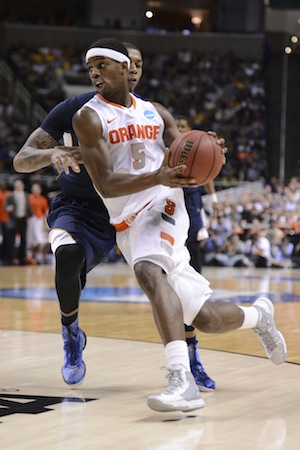 With his skillset, Fair is nearly impossible to guard. (USATSI)
"I think it's Triche. He's their X-factor. What it comes down to, when Triche gets going, he can take over. That's why they lost games before. Look at their losing streak; he was invisible. Every game it's a different player, but their most consistent X-factor is Triche."
"Carter-Williams. There are times when you can limit his looks, but he's finding open teammates. Then he can also get 15 points, 17 points. When he's scoring and passing, it's tough."
"I think Carter-Williams. He makes them go. If he's penetrating and finding shooters, they're hard to beat. He's the guy."
Primary weakness
"We all know how loose of an operation it is, and sometimes you can use it to your advantage. Sometimes you can catch them when they're not as prepared or mentally into it as some of the other teams in the league. It works both ways. The loose operation works for them because they don't get tight. Also, the lack of a dominant inside presence. [Baye] Keita hangs around the rim, gets dunks, but they can't throw the ball down there and get a bucket."
"They don't have inside scoring. If you can shut down their perimeter guys, it's not like they can say, 'OK, we're going inside to Derrick Coleman.' But it's hard to just shut them down. Carter-Williams causes so much attention, so all those guys get open shots. You can beat them by getting offensive rebounds against them. As good as they are on the offensive glass, you're able to get to the glass. Maybe it's the accountability of the zone."
"There are some holes in the zone. If you get the ball to the middle, you can beat it. Offensively, they don't always take the best shots. They can go through spurts where they're stagnant and stand around. If you contest the jump shots, they can go through dry spells. But the zone keeps them in it."
How to stop them
"You have to make shots against them, so you can switch your defense, press them a bit, get them off rhythm. That zone takes on a life of its own. It becomes a mental thing: 'We can't score against the zone, they've got all that length.' In order to beat them, you have to make shots, because sometimes you just can't score on them. From a defensive standpoint, pick your poison. You can't let Triche, Carter-Williams and Southerland all go off."
"They'll come in with their high ball-screen package and their pin-down package. Once they see that you're struggling to defend that, they keep going to it. There is no gimmick. It's just relentless. You have to play harder than them. If you want to mix in trapping Carter-Williams off those ball-screens a little bit, be careful of who he's throwing to. If I think my four-man can stay in front of Carter-Williams, then every time Southerland sets that screen, I switch, because Southerland isn't a threat in the paint or on the glass."
"Transition defense is the number one key in terms of stopping them. And you have to keep them off the offensive glass. Even when they're not making shots, they get offensive rebounds. You have to keep Carter-Williams out of the lane. Go under the ball-screens because Carter-Williams and Triche aren't great shooters. Take away Fair's left hand; he's all left-handed. And you have to be there on the catch with Southerland."
Best way to score on them
"You've gotta go inside-out and hit the high post in the zone. They work on guarding the pick and roll all the time, but they're vulnerable in the teeth of the zone. Look at Louisville, they killed them with [Gorgui] Dieng. When he's looking high-low or to the wing, the defense has to decide which to leave open. It helps to have a big guy who can make a 15-foot shot. You can't just pass the ball around the perimeter."
"You've got to get the ball into the middle of the zone. You can't drive, you have to pass it. I'm talking foul line area or just below. He has to turn and make the shot or make a decision out of there. Using ball-screens, running guys baseline isn't going to work. You don't need a whole bunch of guys running around. We look at it like it's a press. You beat it -- and where's your next pass? If you screen, you're getting Carter-Williams or Triche -- you're not getting Rakeem Christmas 30 feet from the basket like you would in man-to-man. Pass it, move it, quick ball reversal, get rid of it on the baseline. You're moving it at light speed and you'll get an open shot."
"Get the ball into the high post. It's like a 2-2-1. They invite the ball into the short corner and then they trap. Louisville did a very good job of it. It's really hard to get the ball into the high post from the top. Bring both posts to the elbow, hit one and we dove the other. Then you can skip it across or turn and shoot. The high post is the vulnerable area, but it's not easy to get in there. But once you get in there, you can have your way with them."
Ultimate concern
"Figuring out how to score on them. Because eventually they're going to score. It's a combination of figuring out to score against the 2-3, and then slowing the game down and making them score in the half-court. They don't have back-to-the-basket scorers, but they can beat you off the dribble."
"It's definitely scoring. If you take bad shots, or you're turning the ball over, it's NBA going down the other end. It's that fast in transition. I say this with the utmost respect, but they're not running anything really complicated. They don't have a lot of set plays. They have great personnel and you have to play hard. How you attack them, and how you transition from offense to defense. If you can do that, you can be competitive."
"Scoring against the zone. You can defend them, but the biggest thing is trying to figure out how to score against that zone. And not many people have done it, especially in the tournament. It's really hard to prep for because it's really hard to emulate. You can run it in practice, but you can't show your team that sort of length."
What has changed over the past eight games?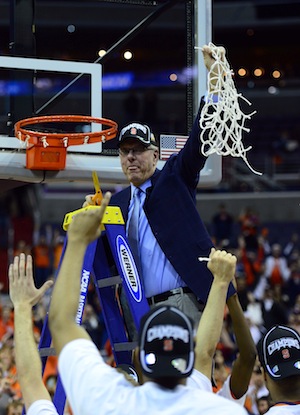 Boeheim has his guys hitting on all cylinders. (USATSI)
"They've got a pep in their step, and winning does that. When you win, you get going. They have confidence on the defensive end. They've taken on the notion that, 'No one can score on us.' And they've got one of everything. They have a guy who can guard the ball in Triche, a shot-blocker in Keita, and long wings in Southerland and [C.J.] Fair. They're kind of like Noah's Arc. They're no one-trick pony."
"They're not physically beat up with their defense. They don't chase you around screens or press you. And if you're a team that hasn't seen them, you have a day or two to prepare. They haven't seen that zone. You see them on tape and you think you can get to a spot, but you can't press pause in a game."
"Those guys in the Big East play against the zone so much. And the Big East has the athletes to emulate it and prep for it. On a one-day prep, it's hard to show exactly what is going to cause issues. You can play against a 2-3 zone, but it's not the same as Syracuse's 2-3 zone."
On the go-to-guy
"Triche because he's their veteran. Southerland has come on and Carter-Williams is great, but when the game's on the line, at the Final Four, Triche is going to take that shot."
"How you play the ball-screen with Carter-Williams. No matter where they position the other guys, you have to be concerned with him."
"They usually set a baseline screen for Fair to isolate him on the wing. In the tournament, they haven't been in a close game. They either set a ball-screen for Carter-Williams or isolate Fair on the wing."
Leftovers
"Fair flies under the radar a little bit. He plays effortlessly, but he's one of the most gifted and talented players on the team. Inside-outside game, he can handle it. He's probably their best athlete. He's content being the third or fourth guy."
"Fair makes them win. He's awesome. He's their most valuable guy. He might be their fourth option, but he's their second-hardest guy to guard. Teams don't respect him enough. He's a 1970s, 1980s 3-man. He scores in unique ways. Most teams don't have anyone that can play like him in practice, so he's hard to prepare for."
"[Jim] Boeheim is the best role-identification guy in the country."
"Seventy-five percent of our practice was offense. Everything we did was to score. If you take bad shots, it's layups at the other end for them."
"Late in games, you have to know what you are running to get a shot. I've seen teams have them beat up the floor, and call timeout. Don't call timeout against that zone. If we're up with 53 seconds to go, or if it's a tie game, most of us don't practice that stuff against a zone. So what are you going to do in the final minutes? Timeout gives them time to set. The best shot you're going to get is getting it up the court before they can get set up. I would let my team play."
"They have moments when they go into games or go through stretches when they lose concentration. But at this time of year, I don't think that will happen. You're not going to get a moment of unfocus with them now."
"They want you to shoot contested, deep 3s. And that triggers their break. They're really good on the break. Triche doesn't go to the glass, he just leaks out. Carter-Williams gets an outlet at half-court, so they get a lot of easy baskets. That was the biggest thing we prepared for."