2013 NCAA Tournament: Twitter previews the title game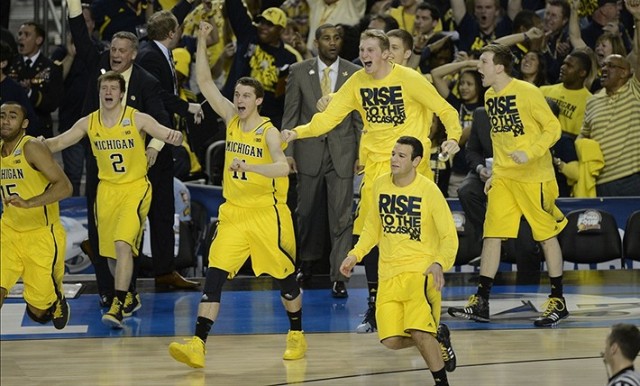 ATLANTA-- How would you sum up Louisville vs. Michigan in a sentence?
What's the biggest storyline in Monday's national title game?
When in doubt, ask Twitter.
In 140 characters or less, here are some of our favorite tweets previewing the Cardinals-Wolverines championship game.
"Right game at right time. 2 teams peaking that play up-tempo basketball. Should be one of the best finals in a long, long time." -Jim Nantz

— Tim Cary (@TimCary) April 8, 2013
If Pitino vs. Beilein 2013 is as good as Pitino vs. Beilein 2005, Monday is going to be a whole lot of fun.

— Thomas Beisner (@thomasbeisner) April 7, 2013
"I picked the Cards from the beginning and haven't wavered all year. Speed. Experience. Hall of Fame coach." -@goodmancbs.

— CBSSports.com (@CBSSports) April 8, 2013
This is the first Big East/Big Ten title game in 24 years. Hard to believe given how successful those leagues have been.

— Brian Otskey (@botskey) April 7, 2013
"Spike Albrecht? Spike Albrecht." –Michigan's Jon Horford.

— Tim Cary (@TimCary) April 8, 2013
So, who's calling the timeout to lose it all Monday for Michigan?

— Russell Payne (@Coach_Payne) April 7, 2013
Hardaway and Burke vs. Siva and Smith #BackCourtBattling #ThankYouBasketballGods

— Jake Salter (@JakeSalter3) April 7, 2013
"Beilein's brilliant offense vs. Pitino's nasty defense. And I have no idea who has the edge." –@greggdoyelcbs.

— CBSSports.com (@CBSSports) April 8, 2013
"Potential for a close game...this has the capacity to be every bit as good as a game as the ones we saw Saturday night." -Greg Gumbel

— Tim Cary (@TimCary) April 8, 2013
Beilein said he used to buy Rick Pitino's coaching tapes years ago...obviously, he means on Betamax.

— Rod Beard (@detnewsRodBeard) April 7, 2013
"Best offense, best defense. Trey Burke vs the press. Pitino win = could make the case as perhaps best coach in the country." -@jeffborzello

— CBSSports.com (@CBSSports) April 8, 2013
It's the University of Louisville's world for the next 24 hours.

— Richard Deitsch (@richarddeitsch) April 8, 2013