PHOTO: FIU paints beach-themed basketball court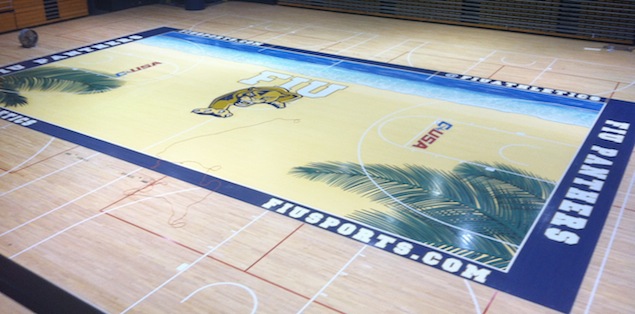 Yes! They actually went through with it.
FIU and then-coach Richard Pitino, who is now at Minnesota, floated the idea of radically redesigning the school's home court about three weeks ago. The vote was made in late March, the re-paint project began on March 28, and here we are, a beach embossed on the boards down in Miami. The paint job cost approximately $25,000, according to FIU's athletic office.
It's still not entirely done; school officials said it'll be about a week more before everything is fully finished and furnished.
Who came up with it? Athletic director Pete Garcia, in fact. He wanted "to have a court that reflected Miami. He wanted something that would attract recruits and provide a home-court advantage," according to an FIU spokesperson.
The calm (and way too blue?) ocean tides crashing into the upper crust of the floor are a nice touch -- I just hope the baseline and 3-point line are clear for players. From the angle we have, it doesn't look like a stark difference. You can't be watering down the line definitions like that.
Some other tweets:
Your daily FIU court update, Tweeps twitter.com/ChicagoCRB/sta…

— Chris Bultinck (@ChicagoCRB) April 9, 2013
And at one end of the court? Cabana style. This is going to be the chillest arena in all of college hoops next year.
Cabanas-to-be at the end of the new #FIU court. twitter.com/DavidJNeal/sta…

— David Neal (@DavidJNeal) April 4, 2013
(H/T, SB Nation)