Allegations surrounding Kansas star McLemore will be tough for NCAA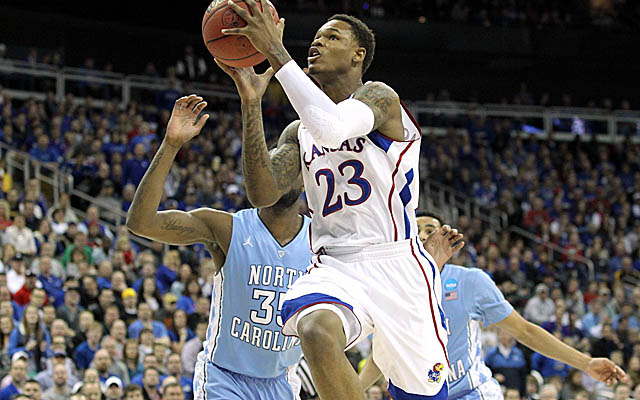 The gist of the story is that Ben McLemore's former AAU coach acknowledged accepting cash and gifts from a man acting as something of a freelance runner for agents while the one-and-done star was enrolled at and playing for Kansas.
But what that means, exactly, is up for debate.
And where it goes from here is anybody's guess.
Either way, it's a fascinating piece authored by USA Today's Eric Prisbell, and it's sure to lead to criticism of the NCAA regardless of how the NCAA handles the situation. To punish Kansas would be to punish a school for something it apparently neither participated in nor benefited from because, just so we're clear, the allegations are that the former AAU coach, a man named Darius Cobb, accepted cash and gifts to help guide McLemore to an agent and/or financial advisor, not to KU, and it's unclear how much McLemore himself knew about what was allegedly happening, if he knew anything at all. But to let it slide, so to speak, would be to essentially disregard allegations of people close to (and even related to) McLemore benefiting from his athletic ability, which is in violation of Bylaw 12.3.1.2. The rule states "an individual shall be ineligible ... if he or she (or his or her relatives or friends) accepts transportation or other benefits from, A) any person who represents any individual in the marketing of his or her athletics ability, or B) an agent, even if the agent had indicated that he or she has no interest in representing the student-athlete in the marketing of his or her athletics ability or reputation and does not represent individuals in the student-athlete's sport."
So, like I said, this is complicated.
And it's also pretty common, as long as we're being straight with each other.
When I read the story I was impressed by the reporting but not really surprised by the details because, well, this stuff goes on. It's why prospects often have agents within days, if not hours, of announcing their decisions to turn pro, because those agents have typically been in place for a while. The only difference here is that somebody involved talked on the record, which suggests Cobb must have realized at some point that he's on the outs with the family and without the influence to deliver on what this so-called "sports mentor" Rodney Blackstock hoped he could deliver. Now the NCAA will likely try to talk to Cobb, ASAP. But don't be surprised if Blackstock or any number of people quickly pay Cobb to zip his lips because, just trust me when I tell you, that's usually how this stuff goes.
And if Cobb doesn't talk to the NCAA, then what?
Then it's probably another Duke/Lance Thomas situation.
Because the NCAA just made it clear it can't do much sans willing talkers.
So I guess what I'm saying is stay tuned. It seems pretty obvious McLemore could, in theory, be ruled retroactively ineligible, according to current NCAA bylaws. But there's no guarantee anybody involved will talk to the NCAA, and there's no guarantee the NCAA would actually retroactively rule a player ineligible if there's no evidence the school or player knew the violations were happening. Bottom line, at this point, all we think we know is that a two-bit runner was paying an AAU coach who might've been taking care of a cousin who likely doesn't have much say in anything anyway. Meantime, Ben McLemore continues to train for the NBA Draft. He'll probably be picked second, maybe even first.