SEC teams taking steps to strengthen nonconference schedules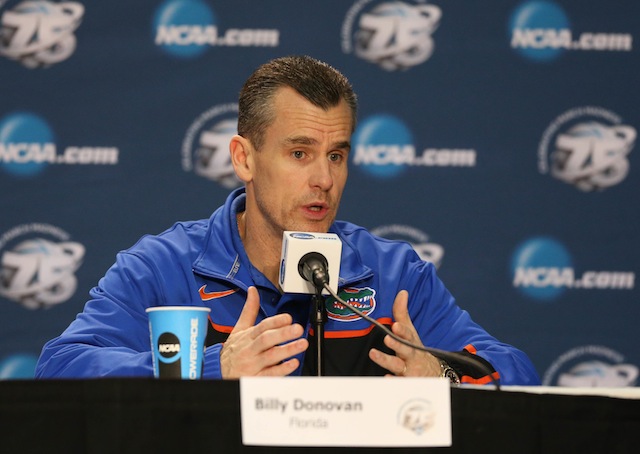 The SEC spring meetings are understandably football-centric, as the league has won every BCS Championship game since Vince Young and Matt Leinart were throwing footballs in college. Naturally, the gridiron moves the needle when it comes to the South.
But our national college football writer Jeremy Fowler passed along this note Tuesday evening:
"SEC men's basketball teams will submit nonconference schedules to league office for review. Clear they want to beef up there."
Then came a story from Yahoo Sports' Pat Forde, who wrote that SEC commissioner Mike Slive hired former NCAA tournament czar Greg Shaheen as a scheduling consultant.
"It's not only who you play," Shaheen said, "it's where you play them. They need to be serious about this from the first game to the last. If they don't go on the road and don't play quality competition, it will be reflected at the end of the year."
This past season, the SEC only received three bids to the NCAA tournament -- one of them given to Ole Miss, which won the conference tournament and would have been one of the final teams on the bubble had it been an at-large candidate. There was Florida as a No. 3 seed, Missouri as a No. 9, then Ole Miss with a 12 seed -- and that's it.
The league finished eighth in the conference RPI, behind every other BCS league as well as the Mountain West and the Atlantic 10. It was an appalling 2-16 against the top 25 of the RPI, and 5-13 against teams 25-50. Even more alarming, the conference had seven losses against teams ranked 201-plus, and another 13 losses against teams ranked 101-200.
People wonder how the Mountain West was No. 1 in the RPI last season -- the answer is no bad losses. The entire league had just one loss against teams ranked 201-plus, and 13 total losses against teams ranked 51-plus. Yes, there were fewer teams in the Mountain West than the SEC, but the formula is fairly simple. Don't lose to terrible teams -- and schedule better teams.
Here were the nonconference strength-of-schedule numbers for the SEC teams:
That's a lot of bad schedules, especially when there aren't any elite teams in the mix. The Big Ten was able to get away with having some questionable nonleague schedules, because everyone's schedule was boosted during conference play -- but the same couldn't be said for the SEC.
According to Forde, Slive compared the nonconference schedule approval process to a stoplight.
Last season, too many teams would have received a red light. With Shaheen on board, the SEC is hoping there are fewer triple-digit numbers next to each team's nonconference SOS. Teams need the SEC's approval.
And the SEC is hoping for the selection committee's approval.