Notebook: Myles Turner continues ascent into top 10 nationally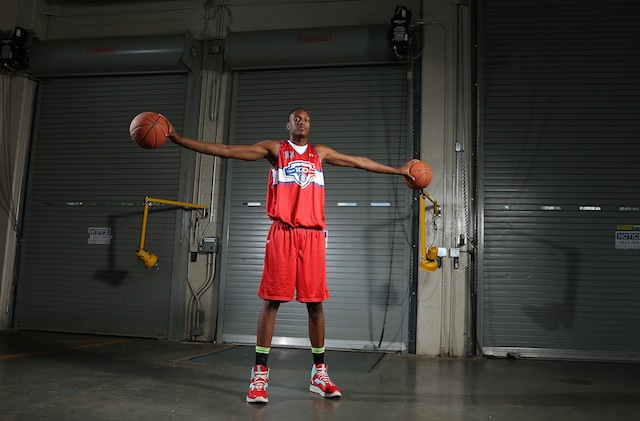 By all accounts, Myles Turner had his breakout event at the Under Armour Invitational in Dallas back in May. The 7-foot Trinity (Texas) product has suddenly burst onto the scene as a potential five-star prospect.
If that's the case, his performance at NBPA Top 100 camp was one heck of a second act.
Turner was named to the camp's all-star team, averaging 12.4 points and 4.8 rebounds. He was one of the most impressive players at the event, dominating on the defensive end of the floor on a consistent basis. He is also an adept offensive player from a face-up perspective, knocking down perimeter and mid-range shots with effectiveness.
He has skyrocketed to No. 12 in the 247 Sports ranking, and that number could be too low.
"Last summer, I was more of a -- I don't want to say weaker link -- but I was not the strongest kid on the floor," Turner said. "So I didn't get the ball much. I wasn't able to make my moves as fluid."
Since the camp ended, Kentucky coach John Calipari reached out, and Turner planned an unofficial visit to SMU.
Ohio State, Arizona and Louisville all recently offered, joining a list that includes Kansas State, Kansas, Texas, Baylor, Texas A&M, UCLA, Oregon, Oregon State, Miami, Oklahoma State and others.
"I'm definitely making my moves much stronger now, more aggressive, and improving parts of my game," Turner said. "And, of course, more people are seeing me now."
Expect that number to increase as well.
Kansas State, Oklahoma State standing out for Burton
Another player who has blossomed over the past couple of months is Joe Burton, a 6-foot-5 small forward from Lutheran High North (Texas).
Burton has a solid body and is effective at scoring in the mid-range and from the perimeter. He can create matchup problems for opposing defenses, and he's too strong for two-guards, and can drag bigger players to the perimeter.
Right now, Kansas State and Oklahoma State are making the biggest move for his commitment.
"I love coach [Chris] Lowery from Kansas State. He's a real good coach," Burton said. "I haven't taken my visit down there yet, so once I do that, I think I'll have a better relationship with the coaches, players, staff and stuff."
He plans on also checking out Missouri, Oklahoma State and Western Kentucky in the next couple of weeks.
Trayvon Reed contemplating high school destination
As Trayvon Reed enters the final July live period of his high school career, picking a college isn't the first thing on his mind.
He needs to pick a high school, too.
"I haven't made my decision yet," Reed said. "I know my options are still open. I don't know if I want to go back yet, but I'm just looking at other schools."
The 7-foot center from Shiloh (Ga.) only mentioned Huntington Prep (W.Va.) when asked.
In terms of colleges, Georgia Tech, Georgia, Florida, Maryland and Miami are in pursuit, with Kansas recently showing interest. Reed has no visits planned but wants to take official visits before the summer ends.
"I want a school that's going to get me better, and a school that's going to win," he said. "Take my game to the next level."