Time overseas helped four-star Khadeem Lattin on and off the court
A couple of years ago, Khadeem Lattin made a life-altering decision: instead of spending his sophomore year of high school in Houston, he was going overseas. Lattin was heading to Canarias Basketball Academy in Spain.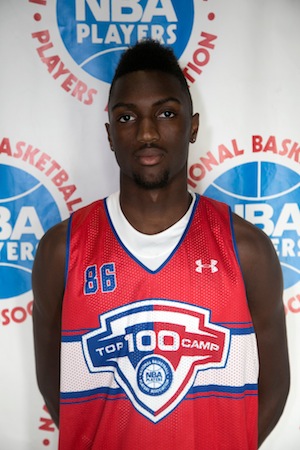 Khadeem Lattin has a high ceiling. (Davide De Pas)
As a result, Lattin faced plenty of criticism in the States and also saw his status drop a bit because few American scouts saw him during his time over there.
Yet he doesn't regret the decision one bit.
"It was amazing," Lattin said. "I grew so much. I matured in so many different ways."
More than just advancing his game and getting more court time, Lattin said he grew personally.
"It taught me how to be myself and how to grow as an individual," he said. "It taught me about making the right decisions off the court, because my mom and my father weren't there to watch me. I was on my own. I had to do my own laundry. I had to take care of myself. I had to get my own food. It was a great learning experience because I had to grow and I had to be the adult in my own life."
After spending his junior year back in Texas, Lattin is focused on getting his game where it needs to be before college.
At No. 58 in the 247 Sports Composite ranking for the class of 2014, Lattin wants to regain a spot back among the best at his position.
"Before I left to leave the country, my ranking shouldn't have dropped," he said. "I really am still top tier in my class."
USC, Louisville, Georgetown, Oklahoma, Texas A&M, Texas, Baylor, SMU, Marquette and Villanova are all in the mix for Lattin's commitment, with USC, Georgetown, Louisville and Oklahoma making the biggest pushes.
While he wants to take an official visit to Oklahoma, Lattin has already tripped unofficially to Georgetown and Louisville.
"They're both really good at developing bigs," he said. "They're great coaches above all other things. I love the family environment, and they're basketball powerhouses."
As for the allure of going abroad again? Lattin will be home schooled for his senior season.
"I'll be here until I graduate college," he said.