Are we really sure that the NCAA tournament is safe forever?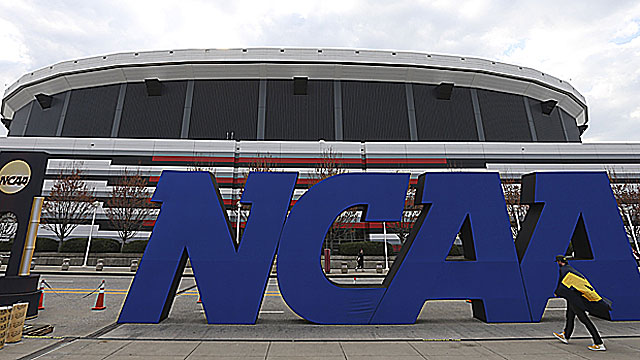 Nobody of importance has publicly suggested that the plan is for the ACC, Big 12, Big Ten, SEC and Pac-12 to form a new division within the NCAA that will drastically affect the annual men's basketball tournament. So there's no need to panic quite yet.
But I wouldn't dismiss noticeable change as a long-term possibility.
Nobody should.
"It is a concern," said Jacksonville coach Cliff Warren. "We're at the mercy of whomever."
Change is coming to the NCAA.
You've undoubtedly read about it by now.
At best, we're about to have a new tier -- Sports Illustrated's Pete Thamel suggested it could be called a "super division" -- in which the five power conferences are allowed to play by their own set of rules and, presumably, offer a "cost-of-attendance" stipend to student-athletes that would enhance the gap between the haves and have-nots while providing a tangible recruiting advantage, though it should be noted that the so-called playing field has never really been level. (Speaking of, have you seen Oregon's new football facility?) At worst, who knows? And that's the scary part for those of us who cherish March for the madness created when a Butler, a VCU or a George Mason makes an improbable run to a Final Four that's typically reserved for more traditional powers.
Again, nobody is publicly suggesting drastic change as a realistic possibility in the short term. In fact, Thamel wrote this just last week.
There is zero momentum to break from the NCAA and start a whole new organization. Whatever changes will be made will likely be under the NCAA's umbrella. There's also little chance for significant change to the NCAA tournament. The one thing the NCAA does well is run championships, and unwinding the $10.8 billion CBS-Turner deal would be thorny.
So, like I told you earlier, there's no need to panic quite yet. But the concern among some coaches, particularly those at the mid-major and low-major levels, is that what's about to happen will merely be the next step in a constantly evolving process, and that there are more steps to come. In other words, nobody is too worried about what the power conferences might do in January 2014. But what about January 2019? Or January 2024? Just because the power conferences aren't interested in breaking away now doesn't mean they won't be at some point, because if there's one thing the past 15 years have taught us it's that there's always a next step, and that it's almost never a step backwards.
Beyond that, there's this: The power conferences could probably make more basketball money in isolation than they can as part of an inclusive tournament that offers a dream to 300-plus different universities. "In theory, sure, they could," said Greg Shaheen, the former NCAA executive vice president who was instrumental in securing the organization's current $10.8 billion television contract for its men's basketball tournament.
That reality should be terrifying.
The power conferences could, in theory, make more money without Butler and VCU -- and more than 250 other schools -- than they can with them, and money is the one thing the power conferences value over all other things. For proof, consider that every significant change in college athletics over the past two decades has been rooted in an ability to make more money. It's why the BCS was scrapped in favor of a four-team playoff the powerbrokers insisted would never happen. They didn't change their position because they finally realized it's absurd to let a computer award championships. They changed their position because they finally realized they can make more money with a four-team playoff than they could with the BCS, and it's why you would be wise to roll your eyes when these same power brokers now insist they'll never move to an eight-team playoff.
Because an eight-team playoff is worth more money than a four-team playoff.
So that's coming, too.
I promise.
"Many of these coaches are left to try to connect the dots or draw conclusions because it isn't certain what the end game is," Shaheen said. "That leads to speculation and fear and ... many coaches may wonder why they should be confident it will all be OK."
Shaheen added that he doesn't believe there's a "compelling reason" for the power conferences to run their own men's basketball tournament, and I agree. But I also don't believe there were many compelling reasons for Missouri to leave the Big 12 or Maryland to leave the ACC ... outside of their ability to make more money. And that's why I would never completely dismiss the dreaded breakaway in men's basketball, because, like Shaheen said, the power conferences could, in theory, make more money that way.
"There are so many small schools out there," Drake coach Ray Giacoletti said. "Would they really want to eliminate all the small schools and all those great stories?"
I hope not.
And probably not.
But an extra dollar has made smarter people do dumber things.