College Basketball Conference Previews: Mountain West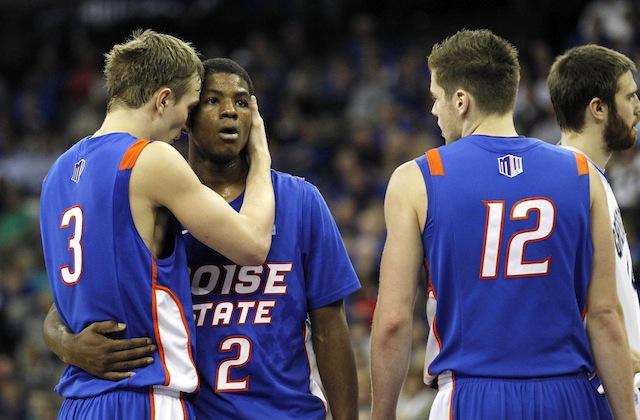 There are going to be plenty of eyes on the Mountain West heading into the 2013-14 season. The league is coming off a banner season, in which it was ranked atop the conference RPI and sent five teams to the NCAA tournament. Moreover, four of those tourney teams received No. 8 seeds or better.
Two other teams won at least 18 games. On the flip side, none of the five teams made it out of the first weekend, which brought out the Mountain West doubters.
Don't expect a repeat this year. The league takes a step back, talent-wise, with several of the top teams losing most of their lineup.
Consider:
•New Mexico loses first-round pick Tony Snell
• UNLV bid farewell to No. 1 overall pick Anthony Bennett
•San Diego State loses three starters
•Colorado State saw all five starters finish their careers in Fort Collins and
•Air Force lost four starters.
Despite the losses at the top of the league, it will still be competitive in the standings – especially with the addition of Utah State (and San Jose State). Plus, there are still a couple of teams capable of winning games in the NCAA tournament.
Here's a preview of the Mountain West:
Coach's Take
"Finishing the regular season as the No. 1 RPI conference, the second-most teams by percentage made the NCAA tournament, the draft picks, the largest attendance increase of any conference. All these highlights are making waves across the country. It truly has outperformed a down Pac-12 the last few years as the best conference in the west. I think the league will be as strong at the top as ever. New Mexico and Boise State return most of their teams. There is good young talent in the league ready to step up. Our league may have the toughest home environments, when you talk about The Pit, UNLV, San Diego State, Utah State, the altitude Colorado schools and then the brutal trip to Wyoming. Utah State will be a problem more so than Nevada was. Their homecourt environment really is one of the best in college basketball and coach [Stew] Morrill's teams always defend and play disciplined, system basketball."
Projected Order of Finish
Only two seasons removed from a 13-win campaign, Boise State has the pieces to compete for a conference championship in 2013-14. Head coach Leon Rice brings back all five starters from an NCAA tournament team, including all-conference guards Derrick Marks and Anthony Drmic. Both players are high-level scorers, and allow lights-out shooter Jeff Elorriaga to have wide-open shots from behind the arc. Rice has plenty of perimeter depth, but the key will be in the post. Last season, the Broncos struggled to defend inside the arc and were often shorthanded against bigger teams. Senior Ryan Watkins is a terrific offensive rebounder, and the incoming newcomers bring size. Winning on the road will be key, too – Boise went just 2-6 away from home in conference play.
After winning the regular-season and conference tournament titles, the Lobos received a No. 3 seed – and were promptly upset by Harvard in the round of 64. Shortly after, head coach Steve Alford left to become Ben Howland's replacement at UCLA. Despite the disappointments of the spring, New Mexico is unlikely to miss a beat in the Mountain West. Tony Snell is gone, but all-conference performers Kendall Williams and Alex Kirk are both back. Williams is the conference Player of the Year, while Kirk is one of the better big men in the country. Power forward Cameron Bairstow was excellent down the stretch. Who will replace Snell's scoring on the wing? Junior college guard Deshawn Delaney could be the answer. In Alford's place, longtime assistant Craig Neal will continue to preach the defensive mindset that made his predecessor so successful.
Despite finishing three games back of New Mexico in the standings, it wasn't a stretch to say that UNLV had the most talent and depth in the Mountain West. Five players are gone, including starting backcourt Katin Reinhardt and Anthony Marshall, No. 1 draft pick Anthony Bennett, and transfer Mike Moser. This year, Dave Rice is again counting on a crop of newcomers in order to stay in the mix. UConn transfer Roscoe Smith and returning wing Bryce Dejean-Jones will make an impact, while big man Khem Birch should be more confident inside. All eyes are on the backcourt, though, where junior college transfer Deville Smith and freshman Kendall Smith will battle for point guard duties. Meanwhile, talented wing Jelan Kendrick can make a difference – if he is able to keep his composure and stay on the court. The talent is there.
The Aztecs didn't exactly live up to expectations a year ago, but they were still able to win 23 games and reach the NCAA tournament. Unfortunately, several key pieces have moved on – mainly perimeter players Jamaal Franklin and Chase Tapley, who combined to average more than 30 points per game. Xavier Thames and JJ O'Brien are back as starters, but Steve Fisher will be looking at a few newcomers and breakout candidates to be difference-makers. Sophomore Winston Shepard is a difficult matchup and a terrific defender, while Tulane transfer Josh Davis put up monster numbers in Conference USA. Someone needs to step up and fill Franklin's shoes – Shepard and Davis can be the answers.
The Aggies were the class of the WAC for most of the past two decades, winning at least 20 games in 17 of the past 20 season – including nine NCAA tournament appearances. Now, Stew Morrill and co. are stepping up a bit in competition in their first year in the Mountain West. Last season, Utah State had numerous injuries, including a broken wrist suffered by all-conference guard Preston Medlin. With Medlin back, the Aggies have a good place to start. Jarred Shaw is a double-double threat inside, and Spencer Butterfield is an efficient scorer on the wing. Morrill has plenty of depth on the roster, and the homecourt advantage in Logan is another aspect to which Mountain West teams won't be accustomed.
The Cowboys started off last season with a 13-0 record – and ended it by going 7-14 in their next 21 games. They weren't as good as the unbeaten opening, and weren't as bad as the injury-riddled finish. Expect something in between for the 2013-14 campaign. The team's top three scorers from last season are gone, including forward Leonard Washington and Luke Martinez, who was suspended after a Dec. 30 bar fight. Head coach Larry Shyatt will look toward junior Larry Nance Jr. and transfer guards Charles Hankerson (Alabama) and Jerron Granberry (North Florida) to pick up the slack. The defense was stellar for most of last season, and the Cowboys need to repeat that effort.
Back in the spring, the Bulldogs looked like a prime candidate to make a move in the standings. The biggest cause for optimism was in the frontcourt, where talented big man Robert Upshaw would have a year under his belt and forward Braeden Anderson was going to be eligible. Since then, Upshaw has transferred to Washington and Anderson was hurt in a serious car accident and could miss the season. Head coach Rodney Terry faces another difficult year, although he has some pieces. Starting guards Tyler Johnson and Allen Huddleston are both back, while sophomore Cezar Guerrero is fun to watch. Newcomers like Paul Watson and Karachi Edo will have to anchor the frontcourt.
Since Tim Miles took over Colorado State in 2007, the Rams have steadily improved. They went from seven wins in 2007-08, to nine, then 16, 19, 20 – and then 26 in Larry Eustachy's first season in Fort Collins. This season might see the Rams take a step back. They lose all five starters from a year ago, including double-double machine Colton Iverson. Moreover, senior guard Jesse Carr suffered another ACL injury and won't suit up for the Rams. That leaves Daniel Bejarano as the leading scorer – at 6.3 points. Navy transfer Eustachy will lean upon J.J. Avila up front, but they will need to find more reinforcements. On the bright side: Eustachy has won at least 19 games in six of his last seven seasons; can he keep the wins coming?
The Wolf Pack were supposed to contend for a top-four finish in their first season in the Mountain West – but the wheels fell off during the first few weeks of the season, and David Carter's troops never recovered. By the time the dust settled, Nevada had lost its final eight games of the season to finish 12-19 overall, and just 3-13 in conference play. Three players transferred after the season, and Malik Story (16.7 ppg) used up his eligibility. One reason for hope in Reno is the return of guard Deonte Burton, one of the best guards on the west coast and an all-conference player. Carter needs to bounce back with a strong season this year – back-to-back last-place finishes won't cut it, especially with a new athletic director in town.
The Falcons flirted with the NCAA tournament bubble last season, finishing .500 in the Mountain West – including wins over Boise State, New Mexico, UNLV and San Diego State. Their inability to get victories away from home ultimately did them in, but head coach Dave Pilipovich made Air Force a tough out. It will take a miraculous effort from Pilipovich to get the Falcons back to that point again. They lose their top six scorers from a year ago, leaving junior DeLovell Earls and his 3.9 ppg as the leading returning point producer. There are nine freshmen on the roster, but returnees Marel Olesinski, Kamryn Williams and Tre Coggins do bring some experience.
George Nessman finished above .500 just once during his eight seasons at San Jose State – and was fired back in March as a result. The Spartans now enter their inaugural season in the Mountain West with a new head coach, former Boise State associate Doug Wojcik. Wojcik returns just two key players from last season, Chris Cunningham and D.J. Brown. While that means the team will lack experience in 2013-14, it also means Wojcik can basically start fresh. Six freshmen and nine newcomers are being welcomed into the program – and they will look to gradually change the culture.
Our Preseason All-Mountain West Team
G: Kendall Williams, New Mexico
G: Anthony Drmic, Boise State
G: Derrick Marks, Boise State
G: Deonte Burton, Nevada
C: Alex Kirk, New Mexico
Our Preseason Mountain West Player of the Year

Kendall Williams, New Mexico
The 6-foot-4 guard was the Player of the Year last season, and enters the season as the favorite to repeat the honor. He scores effectively, distributes very well, and takes care of the ball. Williams was slightly inconsistent down the stretch, but knows how to come up big when it matters – as evidenced by his 46-point performance at Colorado State, in which he knocked down 10 3-pointers.
Our Preseason Mountain West Newcomer of the Year
Josh Davis, San Diego State
San Diego State loses three starters from a year ago, including NBA draft pick Jamaal Franklin. That's where Davis steps in, after the 6-foot-8 power forward transferred to the Aztecs from Tulane. He put up big numbers in Conference USA, averaging 17.6 points and 10.7 rebounds for the Green Wave. Davis is eligible immediately for Steve Fischer, and he is going to need a lot of 20-and-10 nights from the big man.
Our Preseason Mountain West Coach of the Year
Leon Rice, Boise State
If Boise State does indeed win the Mountain West, Rice is going to be the pick to win Coach of the Year. He led the Broncos to a surprising year last season, winning nine games in the league and getting a bid to the NCAA tournament. Rice won't have to do much tinkering from last season, as most of the key parts return. However, the Broncos overcame poor defense and a relative lack of size last year; can they do it again?
Three Numbers to Know
1: That was the Mountain West's rank in the conference RPI for the 2012-13 season.
4: The 2013 NBA draft set a record for the league, with four players being drafted – including No. 1 overall pick Anthony Bennett and No. 20 pick Tony Snell. Jamaal Franklin and Colton Iverson were also selected.
14: Utah State has won at least 20 games in 14 straight seasons – can the Aggies continue the streak in a new conference?
CBSSports.com staff Mountain West Predictions