St. Francis (NY) upsets Miami in first game of the season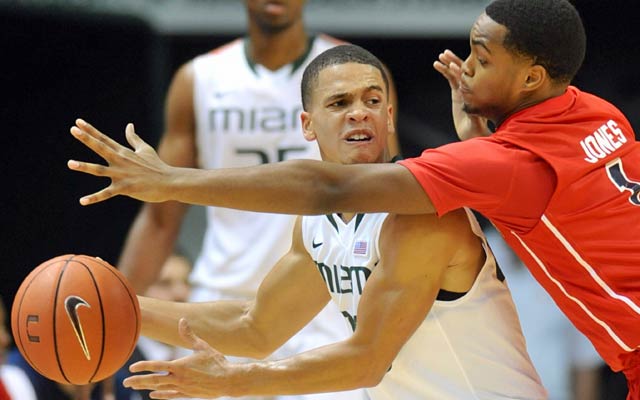 It took an extra five minutes, but boy was it worth it for St. Francis of New York.
The Terriers, who won 12 games last season, went into Miami and beat a Hurricanes program that won 29 a year ago. The overtime final from Friday night: 66-62, St. Francis on top of a Miami team that will very much be rebuilding now that point guard Shane Larkin and five seniors from last year's group are gone.
The Terriers were led Friday night by Wayne Martin's 17 points. Jalen Cannon had 14. Donnavan Kirk's 16 points led the way for the new-look Canes, and Garrius Adams added 15 more. It was Adams' layup with less than 3 seconds to go that got Miami to an extra session, but once overtime came St. Francis led the entire way -- and will fly home happy because of it. It just wasn't Miami's night, evidenced by the fact the U took 15 3-pointers -- and missed all of them.
The first night almost always gives us at least one mild upset, and that qualifies here. It's not quite as bad as K-State falling at home to Northern Colorado. When we're talking bubble come February, these kind of losses will have an impact, absolutely. Bad home losses often can cost team a seed line.
For more on what was a loaded first night of college basketball, check out our inaugural 2013-14 edition of Night Court, which has everything you need to know.