Viewer's Guide: Get ready to watch 30 hours of hoops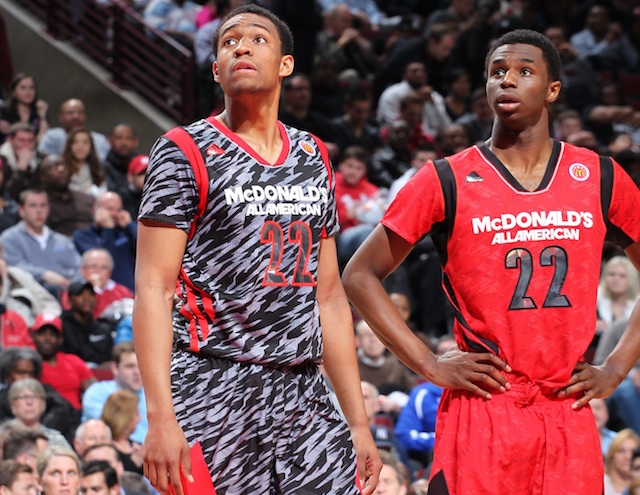 That opening weekend felt good, didn't it? After seven months of no college basketball, we had some upsets, some buzzer-beaters, some games between future NCAA tournament teams – it was perfect. And now we enter two more early-season staples: the 24-hour marathon and the Champions Classic. Between 7 p.m. on Monday night and Wednesday morning around 1 a.m., there will be nonstop college hoops on your TV. It will feel like a blur. As a result, we're combining those 30 hours into one Viewer's Guide.
Note: All times are Eastern, and the rankings are according to the AP Poll.
Best game: No. 2 Michigan State vs. No. 1 Kentucky (Tuesday, 7:30 p.m., ESPN). Not bad for five days into the season. No. 1 vs. No. 2. The freshmen vs. the veterans. Kentucky looked very good in its two games over the weekend, with Julius Randle leading the charge by looking absolutely dominant. Michigan State had three players with double-doubles in its easy win over McNeese State. The individual battles in this one could be intriguing. How will Tom Izzo guard Randle? Will he use the 6-foot-6 Branden Dawson? Or will he try the long and tall Adreian Payne -- which leaves Willie Cauley-Stein being guarded by Dawson? The point guard battle could decide it, though. Andrew Harrison is still getting his feet wet at the college level, but will Keith Appling play consistently? This one will be terrific.
Second-best game: No. 5 Kansas vs. No. 4 Duke (Tuesday, 9:30 p.m., ESPN). Anytime you have two top-five teams facing off and it's not the best game of the night, you know you've got a big-time night of college hoops ahead. With that said, there are certainly people that are more excited about this one. First, there's the touted matchup between freshmen Andrew Wiggins and Jabari Parker. Wiggins had more hype throughout his high school career, but Parker was the No. 1 player in the country before Wiggins reclassified into 2013. Outside of that, I'm also interested in seeing what Duke's lineup will look like against a team with size like Kansas. When the Blue Devils put five perimeter players on the floor, they're borderline unguardable. However, it might be hard to use it against the Jayhawks, which have Perry Ellis, Joel Embiid and Tarik Black.
Another one to watch: No. 14 VCU at No. 24 Virginia (Tuesday, 7 p.m., ESPN2). A contrast of styles. VCU wants to force turnovers and get points in transition, while Virginia would prefer to slow it down and get the ball to its talented collection of big men down in the post and work from there. The battle inside between Virginia's trio of Anthony Gill, Akil Mitchell and Mike Tobey against VCU's Juvonte Reddic will be interesting, but the Cavaliers' point guard situation will also be tested. Will Malcolm Brogdon and London Perrantes be able to handle Briante Weber and the Rams' HAVOC?
And another top-25 battle: No. 10 Florida at No. 20 Wisconsin (Tuesday, 9 p.m., ESPN2). If Florida was at full-strength, this game would probably be ahead of VCU-Virginia in the pecking order. However, the Gators are still without multiple players due to suspension or ineligiblity, and the Badgers are coming off a very convincing performance against St. John's. The Badgers shot extremely well against the Johnnies, and Florida can't allow them to get open shots. North Florida got hot from behind the arc against the Gators on Friday. Can Casey Prather have another big game for Florida?
Guaranteed win: Colorado State at No. 15 Gonzaga (Monday, 9 p.m., ESPNU). Last season, this game would have been terrific. Colorado State won 26 games and Gonzaga was a No. 1 seed. This season, not so much. Gonzaga is still working the kinks out and Colorado State lost all five starters from a year ago. The Rams beat non-D1 Colorado Springs on Friday, but that won't happen against the Zags on the road.
Two more marathon games to watch:
BYU at Stanford (Monday, 11 p.m., ESPN2): Both teams have NCAA tournament hopes, and BYU looked better on Friday. The Tyler Haws-Chasson Randle backcourt battle could be fun.
LSU at Massachusetts (Tuesday, 11 a.m., ESPN2): Another game between two teams that could end up on the bubble come March. Can Cady Lalanne follow up his big game against Johnny O'Bryant?
Five non-marathon games to keep an eye on:
Rhode Island at SMU (Monday, 8 p.m., ESPN3): A couple of very talented teams who are looking to make jumps in their conferences this season. URI soph Ifeanyi Obyekaba looked good against Maine.
Long Beach State at No. 6 Arizona (Monday, 10 p.m., Pac-12 Network): Arizona didn't look consistent against Cal Poly, and Long Beach State has guys who can score the ball. A decent test.
Georgia State at Vanderbilt (Tuesday, 8 p.m.): Vanderbilt is going to be one of the worst teams in the SEC, but a road win for Georgia State would be positive. The Panthers have talent.
Tennessee at Xavier (Tuesday, 9 p.m., FOX Sports 1): This one could be good. Tennessee probably has the edge down low with Jarnell Stokes and Jeronne Maymon, but Semaj Christon is key for Xavier.
Denver at California (Tuesday, 11 p.m., Pac-12 Network): The perimeter attack for California looked effective against Coppin State, but Denver will look to slow it down and force tempo on the Golden Bears.
Other games to watch:
Full Marathon Schedule:
Kent State at Temple (Monday, 7 p.m., ESPNU)
Colorado State at No. 15 Gonzaga (Monday, 9 p.m., ESPNU)
BYU at Stanford (Monday, 11 p.m., ESPN2)
Western Kentucky at No. 16 Wichita State (Tuesday, 1 a.m., ESPN2)
Akron at Saint Mary's (Tuesday, 3 a.m., ESPN2)
New Mexico State at Hawaii (Tuesday, 5 a.m., ESPN2)
Hartford at Florida Gulf Coast (Tuesday, 7 a.m., ESPN2)
Quinnipiac at La Salle (Tuesday, 9 a.m., ESPN2)
LSU at Massachusetts (Tuesday, 11 a.m., ESPN2)
West Virginia at Virginia Tech (Tuesday, 1 p.m., ESPN)
South Carolina at No. 25 Baylor (Tuesday, 3 p.m., ESPN)
North Carolina State at Cincinnati (Tuesday, 5 p.m., ESPN)
No. 14 VCU at No. 24 Virginia (Tuesday, 7 p.m., ESPN2)
No. 2 Michigan State vs. No. 1 Kentucky (Tuesday, 7:30 p.m., ESPN)
No. 10 Florida at No. 20 Wisconsin (Tuesday, 9 p.m., ESPN2)
No. 5 Kansas vs. No. 4 Duke (Tuesday, 9:30 p.m., ESPN)