Who's left? Breaking down the top uncommitted 2014 prospects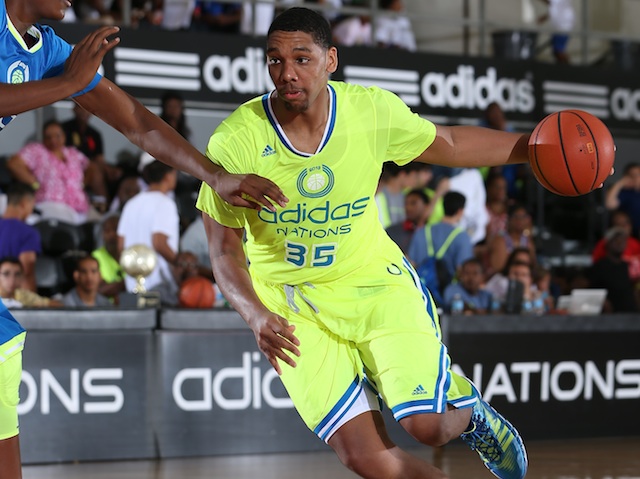 After a slow start to the 2014 class in terms of commitments, we've seen an extended flurry of pledges over the past several months – and now we sit here on the first day of the early signing period with just 12 players remaining in the 247Sports Composite. Moreover, with four of them announcing on Friday, another two expected to choose in the early signing period, and another one probably going pro, the late signing period could be quiet in terms of high-level prospects. When all is said and done, we might have only five top-100 players dragging their recruitments out until the end of the high school season.
Where do the 12 uncommitted players in our top 100 stand? Here's a look at their recruitments – as well as where we think they will end up.
1. Jahlil Okafor (No. 1 overall)
Okafor is one of four players announcing on Friday, and he is still expected to go to college with package deal partner Tyus Jones. Duke and Kansas are the frontrunners.
Considering: Duke, Kansas, Baylor
Crystal Ball: 53 predictions – Duke (92%), Kansas (8%)
Prediction: Duke
2. Cliff Alexander (No. 3 overall)
Alexander will also announce at the end of this week. Kansas was thought to be the favorite for most of the past several months, but Illinois and DePaul have made up ground recently.
Considering: Kansas, Illinois, DePaul, Memphis
Crystal Ball: 45 predictions – Illinois (53%), Kansas (42%), DePaul (4%)
Prediction: Illinois
3. Myles Turner (No. 4 overall)
Turner is not close to making a decision, so expect this one to drag out for a few more months. He's visited Ohio State. If Kansas misses on Okafor and Alexander, they will turn up the heat.
Considering: Texas, Kansas, Duke, Ohio State, Kentucky, Oklahoma State, SMU, Arizona
Crystal Ball: 26 predictions – Kansas (69%), Oklahoma State (27%), SMU (4%)
Prediction: Kansas
4. Tyus Jones (No. 5 overall)
Along with Okafor, Jones is going to pick his school on Friday. Like Okafor, Duke and Kansas are the frontunners – although Jones has seemed to always lean toward the Blue Devils.
Considering: Duke, Kansas, Baylor
Crystal Ball: 54 predictions – Duke (94%), Kansas (6%)
Prediction: Duke
5. Stanley Johnson (No. 6 overall)
Once thought to be waiting until January to make a decision, Johnson decided this week to announce on Friday. Kentucky made a run earlier in the fall, but this is Arizona's race to lose.
Considering: Arizona, Kentucky, USC
Crystal Ball: 38 predictions – Arizona (63%), Kentucky (32%), USC (5%)
Prediction: Arizona
6. Justise Winslow (No. 11 overall)
Winslow continues to take visits, both official and unofficial, and has no indication of when he will decide. Many think a choice could be coming soon. Arizona and Duke have been involved the longest.
Considering: Arizona, Duke, Florida, Stanford, Texas A&M, UCLA
Crystal Ball: 31 predictions – Duke (61%), Arizona (35%), UCLA (3%)
Prediction: Duke
7. Rashad Vaughn (No. 13 overall)
At first, it looked like North Carolina and Kentucky were the big hitters for Vaughn. As it's progressed, though, Iowa State and UNLV emerged as the favorites, with Baylor in there. Vaughn visits Iowa State and UNLV this month.
Considering: UNLV, Iowa State, Baylor, North Carolina, Minnesota, Kansas, Arizona
Crystal Ball: 38 predictions – Iowa State (42%), UNLV (37%), North Carolina (13%), Minnesota (5%), Kentucky (3%)
Prediction: Iowa State
8. Jaquan Lyle (No. 22 overall)
Lyle decommitted from Louisville only a few months after pledging to the Cardinals, and he's had a fluctuating list lately. However, Indiana has emerged as a potential landing spot for him recently. He's unofficially visited Memphis, UConn and West Virginia.
Considering: Memphis, Indiana, Connecticut, West Virginia
Crystal Ball: 37 predictions – Indiana (70%), Memphis (14%), Louisville (11%), Kansas (5%)
Prediction: Indiana
9. Jonah Bolden (No. 49 overall)
Bolden is another player with plenty of schools on his list, and one that doesn't look to be ending soon. UCLA could be tough to beat here, although it will be interesting if other schools get involved.
Considering: UCLA, Michigan, Louisville, Vanderbilt, Arizona, UNLV, SMU, LSU, Oregon State, Auburn
Crystal Ball: Two predictions – Louisville (100%)
Prediction: UCLA
10. Thomas Welsh (No. 69 overall)
Welsh is expected to decide in the coming weeks. He's visited California, Stanford and UCLA recently, and all three schools are heavily involved. The Bruins could be the favorite, but look out for Stanford.
Considering: UCLA, California, Stanford, Colorado
Crystal Ball: 12 predictions – UCLA (100%)
Prediction: UCLA
11. Dorian Pickens (No. 98 overall)
Pickens recently said that Stanford, Louisville and Oregon were the three schools he was focusing on, but it looks like the Cardinal are the team to beat. It will come down to whether his academics are good enough.
Considering: Stanford, Louisville, Oregon
Crystal Ball: Six predictions – Stanford (100%)
Prediction: Stanford
BONUS: Dante Exum
Exum has five schools on his list, but it's the NBA that seems like the most likely landing spot for him. The Australia native is a projected top-five pick in June's NBA draft if he makes the jump.
Considering: Indiana, North Carolina, Kentucky, Michigan, Oregon, NBA
Crystal Ball: Four predictions – Indiana (100%)
Prediction: NBA