Night Court: Joseph Young lights it up for Oregon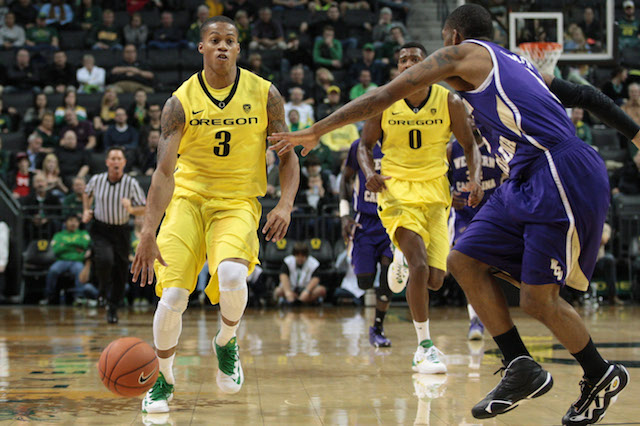 Here's everything you need to know from college basketball's Wednesday night …
Game of the Night: Southern Miss holds on to beat DePaul in the CBE Classic, 75-68.
Southern Miss is among the contenders to be the Conference-USA favorite, but the Golden Eagles struggles against DePaul on Wednesday. The Blue Demons led for most of the first half, then cut the Southern Miss lead to two with five minutes remaining in the game. However, Temple transfer Aaron Brown made several big baskets down the stretch to give the Golden Eagles the win. He finished with 13 points -- all in the second half. DePaul's Tommy Hamilton followed up his double-double opening with just eight points and four boards.
What else we'll be talking about in the morning: Full-strength Oregon could be something.
Oregon has some serious scorers. The Ducks destroyed Western Carolina in the second half on Wednesday, scoring 66 en route to a 107-83 win. Houston transfer Joseph Young absolutely stole the show, with an astounding offensive performance. He took just 12 shots from the field, yet finished with 36 points. He was 9 for 12, made three 3-pointers -- and shot 15-for-16 from the free-throw line. UNLV transfer Mike Moser looked like the 2011-12 version of himself. He had 26 points and was able to get points in different ways. The loss of Dominic Artis was supposed to be an issue, but Oregon has looked fantasy offensively through two games.
Colorado has been tough to read: Colorado has started the season 2-1, which is obviously nothing to be ashamed of. However, the Buffaloes aren't playing as well as many expected them to heading into the season. They beat Wyoming on Wednesday night, but it wasn't an overly impressive showing. Spencer Dinwiddie shot just 2-for-9 from the field, but he hit four clutch free throws and was able to get into the lane when it mattered. Through three games, Dinwiddie is just 6-for-24 from the field -- and 2-for-9 from 3-point range. Backcourt partner Askia Booker hasn't been much better, going just 11-for-33 from the field so far. As a team, Colorado is struggling to distribute effectively and the shooting from the perimeter has been terrible. With the talent the Buffaloes have -- and Tad Boyle's coaching -- that should change soon.
That's a good win: Beating Wright State at home isn't going to garner many headlines, but the Raiders did bring back five starters from a team that was one win away from the NCAA tournament. And Georgetown handled them with ease. The backcourt of Markel Starks and D'Vauntes Smith-Rivera combined to score 48 points as the Hoyas cruised, 88-70. Josh Smith didn't dominate like he did in the opener against Oregon, but Georgetown's perimeter shooting picked up the slack. The Hoyas went 10-for-22 from behind the arc, including freshman Reggie Cameron knocking down his first three attempts.
But that's a bad loss: After Penn State's season-opening win over Wagner, there was some optimism in State College -- especially about the backcourt of Tim Frazier and D.J. Newbill. Both players were solid against Bucknell on Wednesday, but the Nittany Lions couldn't stop the Bison whatsoever. Steven Kaspar had 25 points as Bucknell shot 61 percent from the field and 67 percent from behind the arc. The Bison might not take as big a step back as expected without Mike Muscala. They went to Stanford in the opener and only lost by four. This won't end up looking like that bad a loss.
Players with impact
Numbers to figure:
4: Colorado had just four assists on its 18 field goals on Wednesday against Wyoming. The Buffs won, but a 22 percent assist percentage is terrible.
122: Holy Cross set a Patriot League record for points in a game, beating Sacred Heart, 122-118 in double overtime.
109: Purdue hadn't scored this many points since going for 119 against LIU Brooklyn back in 1997. The Boilermakers beat Central Connecticut State, 109-73.
Other outcomes of note:
Notebook:
-- Ryan Spangler is becoming a legitimate option inside for Oklahoma, going for 13 points and four boards against Idaho after totaling 26 points and 21 boards in his first two games.
-- Looks like Seton Hall is suiting Sterling Gibbs pretty well. The Texas transfer has excelled back in his home state, scoring 43 points and dishing out 10 assists in two games. The Pirates held on to beat Kent State on Wednesday.