Guard Denzel Valentine unsung presence for No. 1 Michigan State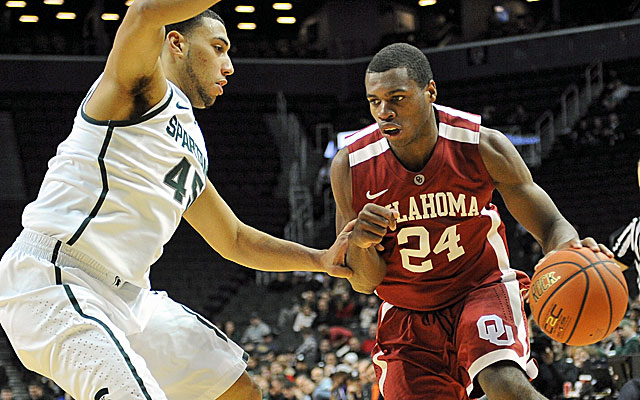 NEW YORK -- Michigan State is ranked number one in the country for a plethora of reasons.
The Spartans have two cornerstone seniors in Keith Appling and Adreian Payne who have been through college basketball's gamut for three consecutive seasons.
Sophomore Gary Harris is one of the nation's most potent shooting guards, and versatile forward Branden Dawson is finally healthy after suffering a knee injury two years ago.
That quartet gives Michigan State a foursome that can match up with any team in the country.
But the unsung presence for the Spartans and the guy whose intangibles will pay major dividends in the Big Ten and beyond is silky smooth sophomore forward Denzel Valentine.
Trailing Oklahoma 20-11 in the first half of the Coaches vs. Cancer Classic Saturday night at the Barclays Center in Brooklyn, Michigan State needed a lift and they got it from Valentine.
The 6-5 wing handed out two assists within a 30 second span that gave the Spartans their first lead of the game at 30-29.
Valentine then made a key defensive play to get possession back with 2:32 left in the half and Michigan State leading 37-31.
He ended the first 20 minutes with a huge three-pointer as time was expiring and the shot clock was winding down to extend the Spartans' led to 45-31.
Game. Set. Match.
Michigan State never trailed in the second half and Valentine added an exclamation point with a breakaway dunk that iced the game with a minute and a half left in regulation.
The sophomore finished with seven points, six rebounds, and five assists in the Spartans' 87-76 win over Oklahoma.
"He played a huge role in that pivotal stretch at the end of the first half," Oklahoma coach Lon Kruger said of Valentine. "He made a couple of buckets and a couple of really nice feeds to his teammates. He made big plays."
Valentine isn't the first person that's going to be listed on an opponent's scouting report when they're getting ready to play the Spartans, but his role is going to have to be a big one if Michigan State is to reach its goals this season.
"His role is huge for us," Michigan State coach Tom Izzo said of Valentine. "He plays so many positions for us. He's going to have a big hand in what we do."
Glue Guy?
You better believe it.
Valentine isn't going to score the ball like Appling, Harris, Dawson, or Payne but he doesn't have to.
His ability to be a ball mover and also add balance to both sides of the floor are going to be huge in the realm of Michigan State's season.
"Everyone can't be the scorer," Valentine said. "I try just try to do a little bit of everything. I try to rebound and defend as well as get everyone involved."