Viewer's Guide: Maui and much more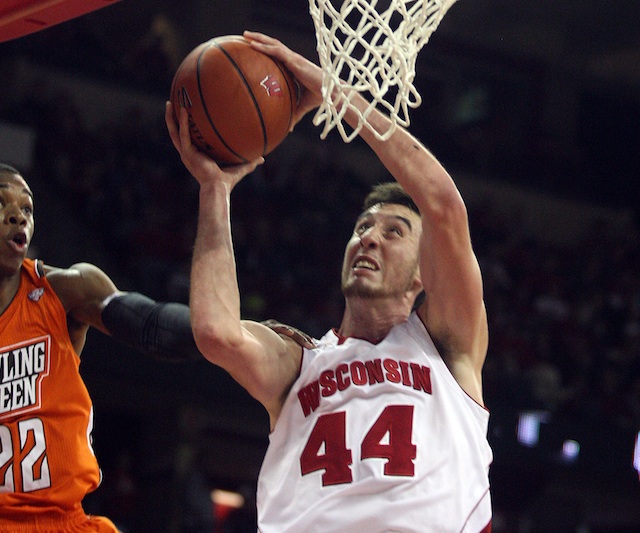 Monday had great action all the way until 2:30 a.m. Eastern, when Dayton finally pulled out a win over Gonzaga. Tuesday could be more of the same, as the Maui Invitational continues – and only gets better. The schedule brings multiple battles between future NCAA tournament teams.
Note: All times are Eastern, and the rankings are according to the AP Poll.
Best game: Saint Louis at No. 10 Wisconsin (8:30 p.m., CBS Sports Network). A couple of disciplined, half-court teams. Saint Louis is expected to contend for the Atlantic 10 championship once again this season, and the Billikens are 5-0 – although the best win came over Oral Roberts. Wisconsin has been better than expected, including three season-opening wins over St. John's, Florida and Green Bay. The Badgers are 6-0 and have been getting tremendous play from junior big man Frank Kaminsky. The battle between Wisconsin's versatile offense and Saint Louis' physical, dominant defense is going to be interesting.
Second-best game: California vs. No. 8 Syracuse (7 p.m., ESPN). This one is going to be fun. California is 5-0, and looked good against Arkansas' fast-paced operation on Monday afternoon. Meanwhile, Syracuse also sits at 5-0, coming off a win over Minnesota in the opening round of the Maui Invitational. Syracuse's perimeter defense hasn't been very good this season, and Cal has shooters to test the Orange zone. Freshman Jabari Bird could be a major key. Offensively, Syracuse needs to get something of its big guy trio of Rakeem Christmas, Baye Keita and DaJuan Coleman. If Cal's big guys get in foul trouble, it could have some difficulties.
Another one to watch: BYU vs. No. 12 Wichita State (10 p.m., ESPN2). Two of the best "non-BCS" teams in the country, it's going to be a contrast of styles. BYU plays the fastest tempo in the country, while Wichita State will look to slow it down and get baskets in the half-court. Wichita State point guard Fred Van Vleet could be a factor, as he needs to make sure Matt Carlino and Tyler Haws don't get out and run all game long. On the other side, who guards Cleanthony Early for BYU? He's going to be a difficult matchup for the Cougars.
Guaranteed win: The easiest pick is Cincinnati hosting UMass-Lowell (7 p.m., ESPN3), and the Bearcats will certainly continue their undefeated season. However, I'm more curious to see St. John's hosting Longwood (7 p.m.) – mainly because of the availability of freshman guard Rysheed Jordan. He was suspended last game and there were rumors he might be out longer than expected, but sources indicated that he could come back on Tuesday.
Potential upset: There are a couple of West coast games that could produce some surprises. First, Montana trips to Washington (9 p.m., Pac-12 Network) – and I think the Grizzlies could pull off the upset. Washington is struggling mightily this season, including a 14-point home loss to UC-Irvine. Kareem Jamar is a stud for Montana. Next is an upset that doesn't look like an upset. UNLV has been very inconsistent this season, but the Runnin' Rebels looked better last week against Arizona State. They are a four-point underdog at home against Illinois (10:45 p.m., CBS Sports Network).
Three things to keep an eye on:
Pittsburgh and Stanford (9:30 p.m., ESPNU) could both find themselves on the bubble come March – and the title game of the Legends Classic could play a role.
Dayton picked up the most impressive win of the night on Monday, beating Gonzaga in Maui. Can the Flyers keep it going against Baylor (9:30 p.m., ESPN)?
Guess what? Incarnate Word is 5-0. They go on the road against North Texas on Tuesday (8 p.m.).
Other games to watch: