Night Court: Baylor's comeback highlights slew of close finishes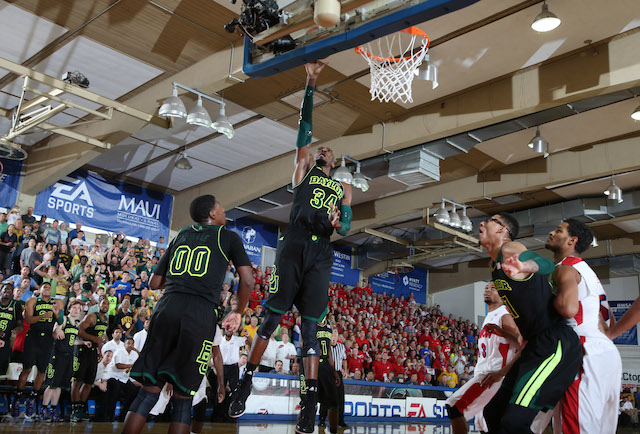 Here's everything you need to know from college basketball's Tuesday …
Game of the Day: Baylor comes back to beat Dayton in Maui.
Dayton looked like it was going to be the biggest storyline coming out of Maui for most of Tuesday's game against Baylor. The Flyers had defeated Gonzaga in the opening round, and owned a double-digit lead on the Bears with just over seven minutes left. However, Dayton managed just seven points in the final 7:26 and Baylor's Cory Jefferson finished a putback with 16 seconds left to give Baylor a one-point win. Vee Sanford's drive and Devin Oliver's tip-in didn't fall for the Flyers in the final seconds.
Either way, Dayton is much better than most anticipated. The Flyers are 5-1 and are getting balanced scoring from a variety of weapons. Jordan Sibert is really starting to become a go-to player offensively, and Archie Miller has plenty of other scorers. Baylor, despite only leading for 2:08, stays undefeated. Royce O'Neale came off the bench to score 13 points – one of five Bears in double-figures.
What else we'll be talking about in the morning: Wisconsin might be playing some of the best basketball in the country right now.
Wisconsin was supposed to have some growing pains early in the season after losing Ryan Evans, Jared Berggren and Mike Bruesewitz from a year ago. Sure, the Badgers would end up in the top 25 because that's what Bo Ryan does, but it might not happen right away. Well . . . it's happening right away. And the Badgers are better than expected. They improved to 7-0 on Tuesday night, knocking off previously-unbeaten Saint Louis, 63-57, in Cancun. Frank Kaminsky continued his stellar play, going for 12 points, eight rebounds and four blocks, while Traevon Jackson had 16 points. Wisconsin has shown the ability to play at different tempos, score in different ways – and the defense is going to keep getting better.
That's a good win: Tuesday's matchup between BYU and Wichita State had some weird trends. Tyler Haws and Cleanthony Early, the star player for each team, only had four points apiece at halftime. BYU's Matt Carlino, who had 18 points in the first half, didn't make a shot from the field after halftime. In the end, though, Wichita State made the plays late in the game en route to a 75-62 win. The margin of victory doesn't indicate how close it really was, though. Arguably the most important player for the Shockers was sophomore point guard Fred Van Vleet, who finished with 12 points, three assists and one turnover.
But that's a bad loss: Things are clearly going to be bad at Rutgers this season. The Scarlet Knights already lost at home to William & Mary (and also dropped games to Drexel and UAB). But Tuesday night took it to a new level – Fairleigh Dickinson, one of the worst teams in college basketball, went into Piscataway and came out with a 73-72 win. Fairleigh Dickinson hadn't won a Division-I game this season. The last Division-I team the Knights defeated was January 12 of last season. Eddie Jordan is in for a long year.
Players with impact
Numbers to figure:
11: Baylor has the nation's longest winning streak, at 11 games.
20: That was Fairleigh Dickinson's D-I losing streak before beating Rutgers on Tuesday.
15: St. John's blocked 15 shots in its 65-47 win over Longwood, a school record. Chris Obekpa had six of them.
Other outcomes of note:
Freshman Tyler Ennis had 28 points to lead Syracuse to a 92-81 win over California in the Maui Invitational. The Golden Bears played without big man Richard Solomon, who had a right corneal abrasion.
Illinois is now 6-0 after coming back to beat UNLV on Tuesday. Rayvonte Rice (25 points, 10 boards) got a bucket to put the Illini up 61-59 and then UNLV's botched final possession ended in a missed Kevin Olekaibe 3-pointer.
Pittsburgh comes out of Brooklyn at 6-0 with a Legends Classic title after blowing out Stanford by 21. Lamar Patterson stood out again with 24 points.
Gonzaga bounced back with a 113-81 win over Chaminade.
Connecticut is now 7-0 after getting past Loyola (Md.), 76-66. Ryan Boatright and Shabazz Napier combined for just 11 points, but DeAndre Daniels had 21 and eight.
Ole Miss and Texas A&M stayed undefeated with wins over North Carolina A&T and Arkansas-Pine Bluff, respectively. Cincinnati also remains unblemished after beating UMass-Lowell.
Virginia rolled past Hampton, 69-40, behind Joe Harris' 20 points.
Maybe Texas isn't so bad after all? The Longhorns nearly beat BYU on Monday, then blew out DePaul by 18 on Tuesday.
Indiana handed Evansville its first loss of the season, with Noah Vonleh getting back on his double-double grind: 13 points, 12 rebounds.
Notebook:
-- Rico Gathers falling!
-- Random announcement from San Francisco on Tuesday afternoon: senior guard Cody Doolin won't play the rest of the season for personal reasons. He averaged 13.0 points and 7.0 assists this season. Tough loss for the Dons.
-- D-2 Metro State went 3-1 against Division-I teams this season. They beat Canisius on Tuesday, adding to Elon and Fairleigh Dickinson. The lone loss came to Rhode Island by three.
-- Texas Tech looked putrid on Monday night, but the Red Raiders bounced back to beat a talented Houston team in the consolation game of the Legends Classic.
-- Arkansas' up-tempo style was greater than Minnesota's full-court press. The Razorbacks dominated the second half en route to an 87-73 win.
-- Fordham has some optimism with Jon Severe on the roster and Eric Paschall coming in next year. On Tuesday, the Rams beat Manhattan – who could be an NCAA tournament team.
-- Incarnate Word came into Tuesday undefeated. They lost to North Texas.