UNC continues its weird season, beats No. 1 Michigan State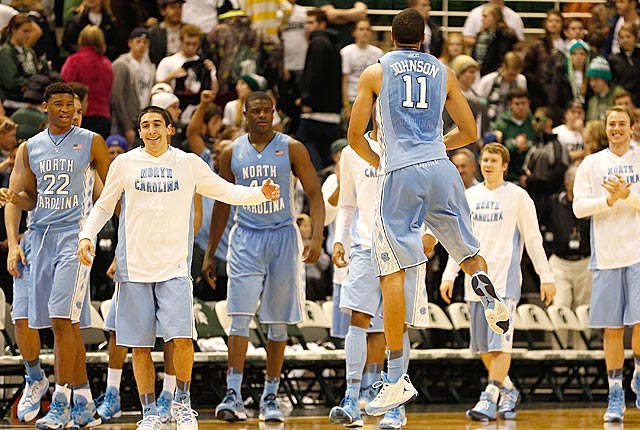 With time running out late Wednesday and it becoming a little more clear with each offensive rebound and stickback that North Carolina would upset top-ranked Michigan State at the Breslin Center, Dan Shulman, ESPN's terrific play-by-play voice, asked analyst Jay Bilas a simple question. Shulman asked Bilas to explain how the Tar Heels could lose to Belmont and UAB but beat Louisville and Michigan State.
"It's really inexplicable," Bilas said.
They don't call Jay Bilas smart for nothing!
My job, loosely defined, is to watch things, talk to people and try to make sense of notable developments within the sport of college basketball, then write about them. (I also rank schools on the side. Daily.) But there's no way to make sense of what's happening right now with UNC -- this historically relevant program that's playing short-handed and winning as many improbable games as it's losing unlikely ones.
Has a team ever been this confusing in the first month of a season?
Here are the details for those unfamiliar:
11/17/13: Loss to unranked Belmont despite being a 14-point favorite
11/24/13: Win over No. 3 Louisville despite being a 10-point underdog
12/1/13: Loss to unranked UAB despite being an 8-point favorite
12/4/13: Win over No. 1 Michigan State despite being a 10-point underdog
UNC has paired victories over schools ranked No. 3 (Louisville) and No. 1 (Michigan State) with losses to schools from the Ohio Valley Conference (Belmont) and C-USA (UAB). For you college football fans, this would basically be like Auburn losing to Arkansas State, then beating LSU, then losing to Florida Atlantic, then beating Alabama. It would make no sense ... even for a team that advances to the SEC Championship Game by returning missed field goals with no time left on the clock. That's how strange all of this is.
And Bilas and I aren't the only ones who can't explain it.
Roy Williams can't explain it, either.
"I don't know. I don't know. I don't know."
That's how UNC's Hall of Fame coach began his press conference after his Tar Heels' surprising and illogical 79-65 victory, according to ESPN.com's Chantel Jennings. And I think it's best to leave it right there for right now because, let's be honest, who are we kidding?
I could offer some instant analysis, I guess.
That's what I did after the Belmont loss and after the Louisville win.
Each time, I tried to explain what those equally surprising developments meant, and, each time, they turned out to mean something different than what I (or anybody else) thought. The Belmont loss didn't mean UNC was doomed to struggle without P.J. Hairston and Leslie McDonald, and the Louisville win didn't mean Williams had figured something out with his roster that would prevent future slipups. They were both just very weird 40-minute basketball games, and, I suspect, that's what this was, too.
"I don't know. I don't know. I don't know."
Yeah, I think it's best to just let Roy have the final word for now.