Q & A: St. John's Steve Lavin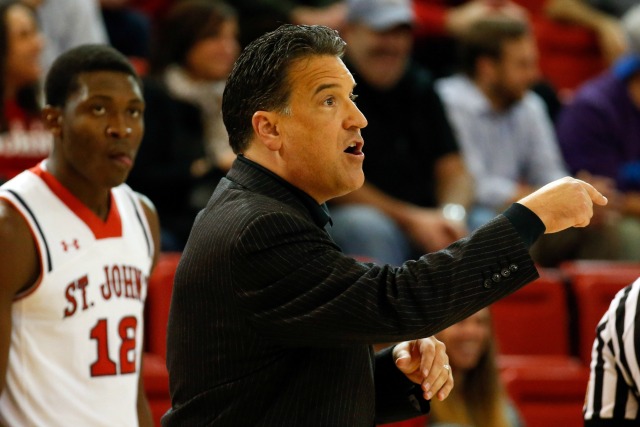 St. John's is coming off a 46-point win against Fordham last Saturday and is 6-2 heading into Sunday's matchup vs. Syracuse at Madison Square Garden. CBS Sports Network and CBSSports.com's Jon Rothstein sat down with Red Storm coach Steve Lavin to discuss the overall talent of the St. John's roster, Chris Obekpa's early defensive dominance, and what the Red Storm need to do to ensure that they're playing their best basketball towards the latter part of the 2013-14 season.
Jon Rothstein, CBSSports.com: Your win last Saturday against Fordham was a breathtaking performance from start to finish. Did that type of victory come maybe a little sooner this season than you anticipated it might?
Steve Lavin: Saturday was one of those unique or rare games where every player that stepped on the floor for St. John's performed at a high level. As a result the numbers against Fordham are skewed. I do believe our performance against Fordham is an indication that we're making gradual progress. As you know, I've never been one to overreact to either a big win or a tough loss. Instead, I've tried to focus on the path of incremental progress because that's what ultimately positions a team to do something special come March. Focusing on growth doesn't guarantee success, but it's proved to be the most effective approach to enhance the percentages or probabilities of playing our best basketball in the postseason. While we were pleased with the performance against Fordham, we realize we are a work in progress. We have a long way to go on both sides of the ball in terms of developing to a level that will allow us to be competitive in the Big East and beyond.
CBSSports.com: Where would you put this roster against some of the most talented ones you've ever had?
Lavin: This is the most balanced team that I've coached in terms of size, strength, skill, quickness, and depth. There were teams at UCLA where we had five or six players that were as impressive as any I've coached, yet this squad may be the deepest. When considering that this roster at St. John's currently has 13 players on scholarship, it gives us the necessary balance to be a special team.
CBSSports.com: Your team struggled early on at home against Bucknell and Monmouth but got wins in those games thanks in part to Chris Obekpa's tremendous defense at the rim. What is it like to have a player like that who can transcend the game without needing the ball?
Lavin: Chris is a rim protector. Analogous to a great goalie in soccer or hockey, he gives us the opportunity to hang tough if our offense is not generating in a productive manner. Against Fordham, we had the best of both worlds. We defended at a high level which fueled our offense, and that allowed us to put up big numbers. Chris has improved his strength and conditioning and therefore has a greater stamina capacity which will allow us to keep him in the game for longer stretches. He's made a big jump physically from last year to this year and as a result, he can play for sustained stretches without getting fatigued.
CBSSports.com: Last year when you guys got into a nice rhythm in the middle of the season, Sir'Dominic Pointer's minutes increased significantly. How much did his performance against Fordham (12 points, nine rebounds, 11 assists, four steals, three blocks) reiterate how important he is to your team?
Lavin: Dom is our Batman. He has been the most productive player we've had in my time at St. John's. In terms of the metrics or mathematics he's our best player and the numbers bear that out. His double-doubles, or close to triple-doubles are indicative of his versatility. He's been a catalyst at both ends of the floor for our team.
CBSSports.com: So many elite players have carte blanche in AAU and high school and then they come to college and have to play with other elite players. Has that been what's happened with Rysheed Jordan?
Lavin: I think with Rysheed it's been a case of a freshman going through a natural maturation process on all fronts. It comes with territory when transitioning from high school to college. He missed six weeks with a back injury over this past summer. That was a critical chunk of time in the development process he missed as he made the jump from high school to college. He also has had to deal with both his mother and grandfather's illnesses. In terms of the big picture he's on track to have an outstanding freshman season. He has an outstanding future in basketball at both St. John's and the next level.
CBSSports.com: Phil Greene has played 209 minutes so far this season and only committed three turnovers. How calming an influence has he been on your entire team as a stabilizer?
Lavin: Phil's ballhandling numbers are unprecedented in my coaching career. He is another example of a success story within our team. The upside of this team is intriguing. We want to win every game and wish we were 8-0 instead of 6-2, yet we know our team has a bright future. Phil Greene missed five months in the off season with a hip injury and has still elevated his play. Orlando Sanchez also had an offseason shoulder surgery and is just now gaining a better comfort level. God'sgift Achiuwa sat out last year. Rysheed's had a natural freshman year adjustment period. We'll likely be a team that plays its best basketball between late January and mid-February and will be capable of doing something special in March. We need to stay injury-free and there's always the challenge of building chemistry, but given all the variables, I think we'll be a team that's going to continue to develop to a point where we can put a winning brand of basketball on the floor.
CBSSports.com: In your first year at St. John's, you were 11-8 and beat Duke in late January in what was really the turning point of your season. Do you think that's a good time frame in terms of what people can look at in terms of where a season can turn?
Lavin: Our teams have a pattern of improving as the season progresses. At UCLA we played our best basketball late in the season. In five of the six years we advanced to the regional semifinals. I was influenced by some strong teachers who believed in process -- my mother and father, Pete Newell, Coach Wooden, Coach Keady, Jim Harrick, Coach Knight, Coach Krzyzewski -- what I learned from the masters of the game was to stay the course of incremental development and taking baby steps. With that said, we realize we have to win enough games along the way to make the NCAA tournament. But the best way you increase the odds of making the tournament is by staying on the grind or put the hammer to rock. It's critical to continue building on your strengths and addressing the areas where your team is challenged. We try to maintain that balance and perspective. I don't know any other way.
CBSSports.com: Is the timing good for the Syracuse game on Sunday?
Lavin: At the end of the day when we play teams like Wisconsin or Syracuse we find out where we are as a team. From every win or loss we learn. I'm not as caught up on the timing because at the end of the day if we win it's great timing and if we lose it's bad timing. The more important aspect is what do we learn from each experience whether it's a game or practice. Win or lose, how do we move forward with the objective being how do we enhance our level of play.
CBSSports.com: You've regularly mentioned making the NCAA Tournament this season as a goal. Should this year be considered a disappointment if you don't advance to the field of 68?
Lavin: No question. This is a team that we think is capable of making the NCAA tournament. If we stay injury-free and continue to improve at an incremental pace, this is a team that can make the NCAA Tournament and do something special in March.
CBSSports.com: You've made no secret throughout the years about your close relationship with Coach Wooden. If he could somehow be with you this weekend in New York, what would the itinerary be aside from the game on Sunday?
Lavin: On Friday night I'd take Coach Wooden to see the Jersey Boys musical. Naturally, on Saturday he'd speak to our team. If we could find a Back to the Future time machine, Coach would want to sit in on a Mills Brothers jam session at the Cotton Club. He had an appreciation for comedy as well so if Bob Hope, Bing Crosby, or Jack Benny were performing at Radio City we'd have to make a stop there as well. He was a renaissance man with an interest in so many aspects of life other than basketball, so his itinerary would feature a myriad of other NYC stops.