Observations: Big 12 commanding respect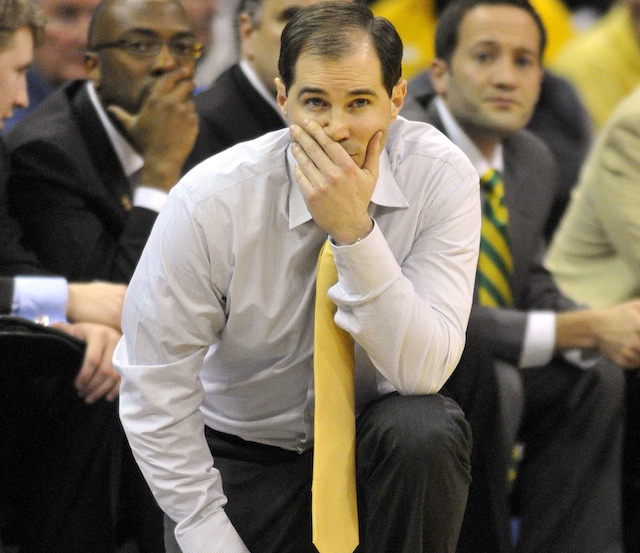 My five observations from this week and the five games I'll turn my attention to this weekend:
Five observations from the week...
1. The Big 12 is much better than people anticipated.
This league is much more than just Kansas and Oklahoma State. Baylor and Iowa State have cemented themselves as Top 25 teams with a slew of quality early season wins, while Oklahoma also looks like an NCAA contender. Meanwhile, Texas is getting terrific guard play from freshman Isaiah Taylor and appears to have significantly better chemistry than last season. Bob Huggins and West Virginia missed a chance to earn a quality non-conference victory on Tuesday night when they lost at home against Gonzaga, but the Mountaineers are noticeably more formidable than they were last year when they finished 13-19. Kansas State has struggled a bit out of the gate, but should receive a boost in two weeks when freshman point guard Jevon Thomas becomes eligible to play. The Big 12 looked like a potential four-bid league prior to the season. That number definitely feels a tad low right now.
2. Florida's Dorian Finney-Smith has vastly improved his perimeter game.
Who says sitting out a year isn't a good thing? The versatile Finney-Smith is a completely different player on the perimeter than he was before he transferred from Virginia Tech. The 6-8 forward made four-of-six three-point attempts in Florida's win over Kansas Tuesday night and looks like a legitimate pick-and-pop threat who will be able to extend defenses on a nightly basis. Finney-Smith worked relentlessly on his outside shot during his redshirt year and is shooting just over 39% from three-point range on the season. Billy Donovan told me prior to the season that Finney-Smith had the ability to join the likes of Mike Miller, Corey Brewer, Erik Murphy, and Chandler Parsons as the type of skilled combo forward the Gators have had in the past. He certainly looked the part against the Jayhawks. Finney-Smith is currently averaging 11.0 points and 7.7 rebounds per game.
3. Providence can't catch a break.
Just once, I'd like to see the Friars have their full assortment of players at their disposal. Ricky Ledo didn't play a game last season for Providence due to eligibility issues and now one year later, Ed Cooley's team will again be shorthanded on the perimeter. It was announced earlier this week that point guard Kris Dunn will miss the remainder of the season with a shoulder injury, and sources have told CBSSports.com that's it's unlikely that freshmen Brandon Austin and Rodney Bullock will play this year after being suspended indefinitely prior to the season. Those defections mean the Friars won't have a backcourt substitute for Bryce Cotton, who will now have to log close to 40 minutes on a nightly basis.
4. Colorado is a different team when Xavier Johnson slides to power forward.
Tad Boyle used the talented sophomore there a great deal last season when Andre Roberson was out of the lineup and it may be the best way for the Buffaloes to keep their opponents on their heels. Skilled and versatile, the 6-7 Johnson is a matchup nightmare because he's too quick for traditional power forwards. The California native has produced at a high level this season when Colorado has had big wins over Kansas and Harvard, and should see more time at the "four" when this team begins play in the Pac-12.
5. George Washington will be a major factor in the Atlantic 10.
Transfers, transfers, transfers. Winning in the Atlantic 10 is often directly tied to landing good transfers. La Salle did it last year with Ramon Galloway and now UMass is doing it this season with Chaz Williams. The Colonials' two main guns -- Isaiah Armwood and Maurice Creek -- started their college careers at Villanova and Indiana respectively but have now returned home to their DC roots to help Mike Lonergan's squad to a surprising 9-1 start. George Washington has quality resume wins over Manhattan, Creighton, Maryland, and Boston University and should be right in the mix along with VCU, Saint Louis, Dayton, and UMass at the top of the Atlantic 10.
Five games I'll be watching this weekend...
Arizona at Michigan (CBS, Saturday 12 ET)
The Wildcats put their No. 1 ranking on the line against a Wolverines team that is trying to hit their stride. Michigan is breaking in a completely new backcourt this season and one of its new starters -- freshman Derrick Walton -- will have to be at his best on Saturday to give John Beilein's team a chance against Arizona. Walton will be responsible for running the Michigan offense against an experienced floor general in T.J. McConnell and will also have to find ways to get his teammates good shots against the Wildcats' freakish length. We'll find out a lot about Michigan's backbone after this one.
VCU at Northern Iowa, Saturday
Talk about a complete contrast in styles. The Rams want to accelerate the pace every chance they get while the Panthers want their opponents to feel like they're spending two and a half hours at the dentist. This isn't a vintage Ben Jacobson Northern Iowa team but is still good enough to upset VCU. It will be interesting to see how Rams freshman point JeQuan Lewis adjusts to life on the road.

Cincinnati vs. Xavier, Saturday
The annual Crosstown Shootout is almost certain to be a rock fight of epic proportions. Both Xavier and Cincinnati could use a quality non-conference win and that will only enhance the stakes in one of college basketball's best rivalries. Neither of these teams is overly effective offensively, but the Musketeers have shown a little more pop early on than the Bearcats. For Cincinnati to win, it has to eliminate three-point opportunities for both Myles and Dee Davis. In Wednesday night's win over Evansville, the duo made a combined five three-pointers and allowed the floor to be spaced for Semaj Chiston to penetrate to the rim.
Syracuse at St. John's, Sunday
Are the Red Storm a legitimate contender in the Big East? We'll find out on Sunday at Madison Square Garden. St. John's played its best game of the season last week in a 46-point win over Fordham and it will be interesting to see if that will carry over to this game against the Orange. St. John's will need a strong game from sharpshooter D'Angelo Harrison against Syracuse's vaunted 2-3 zone, but also keep an eye on sophomore JaKarr Sampson. The 6-8 forward is an incredibly accurate mid-range shooter and could be an effective option within the scheme of the Red Storm's zone offense.
La Salle at Villanova, Sunday
The Explorers reached the Sweet 16 last March thanks to a four-guard lineup and that's just what they'll have to try and stop when they head to the Main Line to take on the red-hot Wildcats. Jay Wright's squad has been incredibly pesky to match up with early on in the season and La Salle may be forced to go away from the traditional lineup they've been using early in the year with big men Jerrell Wright and Steve Zack on the floor at the same time. The Explorers are 5-4 and could really use a marquee non-conference win before they hit the Atlantic 10.