Viewer's Guide: Return of Davon Saddler highlights slow night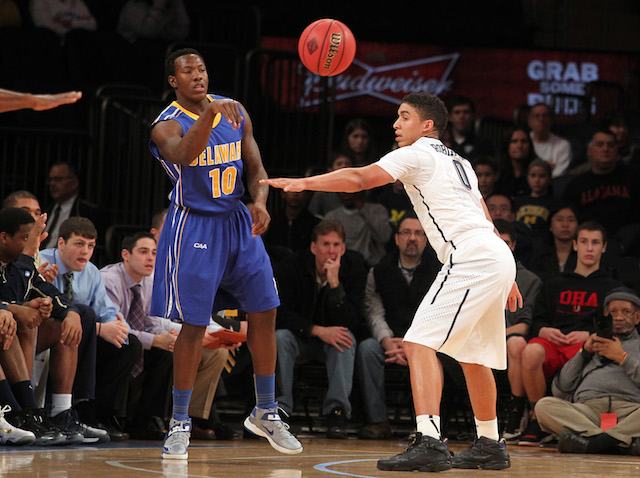 Saturday was jam-packed with quality college basketball games, and this week has some big-time matchups. Monday isn't loaded, though. But we'll give you a quick look at the two best games.
The best game of the night comes between two talented mid-major teams: Delaware at North Dakota State (8 p.m., Regional TV). If either team makes the NCAA tournament, they could be a threat in the Round of 64. North Dakota State is coming off a 17-point loss to Ohio State, but the Bison had won five in a row prior to Saturday – including a road victory over Notre Dame. Taylor Braun is a dangerous offensive player, and Marshall Bjorklund has been a load down low for most teams. On the other side, Delaware is one of the more talented teams in the CAA. The Blue Hens took Notre Dame and Villanova to the wire on the road – and those games came without Devon Saddler, who was suspended for a month. Sources indicate he is expected to return on Monday night, though, after missing the past seven games. Combined with scorers Davon Usher and Jarvis Threatt, and Monte Ross has a trio that can win a lot of games.
The lone ranked team in action is No. 8 Duke, which hasn't taken the court since beating Michigan by 10 at home in the ACC/Big Ten Challenge. The Blue Devils will travel to New York City to face UCLA on Thursday, but first up is Gardner-Webb (7 p.m., ESPNU). Duke has looked like a Final Four team at times, but it has also struggled with consistency for long stretches – at both ends of the floor. One thing to watch this week could be Rasheed Sulaimon. He didn't even get off the bench against Michigan, but might need to emerge as a necessary third scorer for the Blue Devils at some point. After two weeks of practice, could he come out of the doghouse? Gardner-Webb is 4-5 against Division-I teams, with the best win coming over Morehead State. Could be a nice time for a breakout game.