Polls: Kentucky still ranked; UNC not in top 10 after latest big win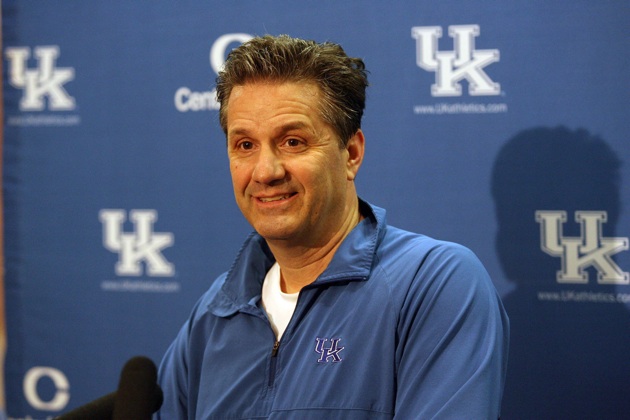 The top eight of this week's Associated Press men's basketball Top 25 Poll remains unchanged from a week ago. That'll happen during a week of finals, when fewer games are played. In fact, no teams left the rankings within this week's top 25 in the AP, a rarity for sure. But that doesn't mean we didn't have some big shifts within the ranks, however.
UNC's jump to No. 14 was the biggest leap this week in the polls (four spots), while Kentucky's fall to No. 19 signified the biggest dip (eight). Meanwhile, Saint Mary's, Tulane and Pittsburgh remain undefeated teams who've yet to crack either poll this season.
In the Coaches Poll, Syracuse and Ohio State swapped positions. And despite beating the top three preseason teams in the AP Poll, North Carolina sits at an average of No. 16 between this weeks' rankings.
AP Poll
Arizona (63)
Syracuse (2)
Ohio State
Wisconsin
Michigan State
Louisville
Oklahoma State
Duke (tie)
Villanova (tie)
Connecticut
Wichita State
Baylor
Oregon
North Carolina
Memphis
Florida
Iowa State
Kansas
Kentucky
Colorado
Gonzaga
UMass
Missouri
San Diego State
Iowa
Jumped in: None
Dropped out: None
Coaches Poll
Arizona (30)
Syracuse (1)
Ohio State (1)
Louisville
Michigan State
Wisconsin
Oklahoma State
Duke
Wichita State
Connecticut
Oregon
Villanova
Iowa State
Memphis
Baylor
Gonzaga
Florida
North Carolina
Kansas
UMass
Kentucky
UCLA
San Diego State
Colorado
Missouri
Jumped in: Colorado, Missouri
Dropped out: Iowa (22), Indiana (25)