Wayman Tisdale Watch: Jordan Woodard Frosh of Week, Ennis rises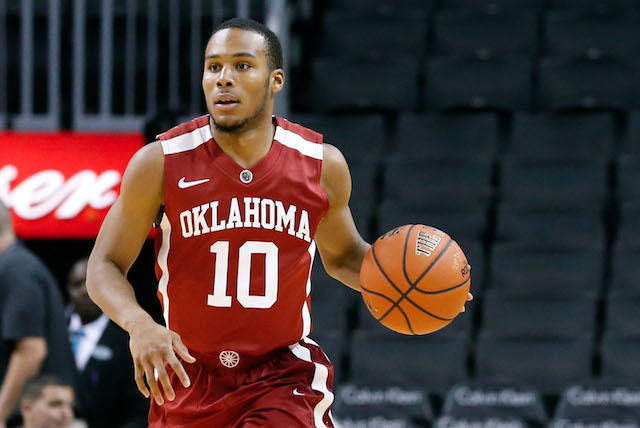 You might notice a bit of a change in our Freshman Watch column this season. We have teamed up with the Wayman Tisdale Award, and so our Freshman of the Week is now the Wayman Tisdale National Freshman of the Week. And our Freshman of the Year rankings are now the Wayman Tisdale Award Watch. What is the Wayman Tisdale Award? It's selected annually by the United States Basketball Writers Association and given to the best freshman in the country. The award will be announced in March, and handed out in April in Oklahoma City.
All it took for Oklahoma's Jordan Woodard to get Freshman of the Week honors was the presence of his brother and sister.
On Saturday afternoon, it was certainly a family affair when the Sooners welcomed Tulsa to town. Jordan's older brother, James, plays for the Golden Hurricane – and their older sister, Jasmyne Walker, sang the national anthem before the game. Once the game started, though, the youngest sibling took center stage.
Jordan only took four shots from the field, but still managed to finish with 24 points – with 17 coming from the free-throw stripe. Woodard consistently got into the lane and was sent to the charity stripe 22 times. He dished out eight assists and hit one 3-pointer, helping Oklahoma overcome James Woodard's 19 points in a 101-91 Sooners' win.
Oklahoma is now off to an impressive 9-1 start, with the lone loss coming in Brooklyn to Michigan State. Woodard has been a primary reason for the early-season success. He has scored in double-figures on six separate occasions, and also dished out at least six assists in five games. He has gotten to the rim on a consistent basis, and is also one of the most effective players in the country and drawing contact and getting to the free-throw line.
On the season, Woodard is averaging 11.9 points and 4.9 assists, while shooting nearly 43 percent from 3-point range.
Other standout freshmen performances this past week included: Jordan Mickey, LSU (25 points, nine rebounds, five blocks vs. UL-Monroe); Tyler Ennis, Syracuse (21 points, six assists vs. St. John's); Andrew Wiggins, Kansas (18.5 points, 7.5 rpg in two games); Milton Doyle, Loyola-Chicago (32 points, five boards vs. Campbell); Alec Peters, Valparaiso (30 points, eight rebounds vs. Loyola Marymount); James Young, Kentucky (18.5 ppg, 7.0 rpg in two games); and Iverson Fleming, LIU-Brooklyn (22 points in 19 minutes vs. NJIT).
Past winners:
Wayman Tisdale Award Watch
Stats: 22.1 ppg, 7.8 rpg, 54.8 FG%, 46.7 3PT%
Comment: Parker didn't have any games last week, making him ineligible for Freshman of the Week. However, Duke did face Gardner-Webb on Monday night – and Parker did show any signs of rust from a 13-day break. He went for 21 points and six rebounds, shooting 6-for-6 from the free-throw line.
---
Stats: 17.4 ppg, 11.4 rpg, 52.2 FG%
Comment: Randle had an up-and-down week for the most part. He started with 17 points and 11 rebounds against Boise State, but did turn it over four times. Against North Carolina, though, he only had two paint catches in the second half, and struggled his way to 11 points and five boards. He'll be fine.
---
Stats: 15.9 ppg, 5.9 rpg, 48.1 FG%
Comment: Wiggins seems to be coming out of his shell a little bit. He followed up his strong game against Colorado with 26 points and 11 boards against Florida – while also shutting down Casey Prather. His weekend performance only netted 11 points and four boards, but I think we'll see him start to take off.
---

4. Aaron Gordon
Stats: 12.1 ppg, 8.9 rpg, 48.6 FG%
Comment: Gordon still isn't putting up eye-popping numbers and he probably won't all season, but he had a couple of solid lines last week, averaging 12.5 points and 4.5 rebounds in two wins. However, he also played very solid defense – especially on Michigan's Glenn Robinson III in Saturday's game.
---

5. Tyler Ennis
Stats: 12.3 ppg, 3.2 rpg, 5.0 apg, 43.5 3PT%
Comment: Ennis might be more important for his team than any freshman in the country, as he is essentially the only point guard on Syracuse's roster. And he's been terrific, scoring, distributing – and not turning it over. He has 50 assists to just 11 turnovers this season, and is coming off a 21-point, six-assist effort vs. St. John's.
---
Next in line: Jordan Mickey, LSU; Eric Mika, BYU; Noah Vonleh; Nigel Williams-Goss, Washington; Joel Embiid, Kansas
Freshman leaders: Points: Jabari Parker, Duke (22.1 ppg); Rebounds: Julius Randle, Kentucky (11.4 rpg); Assists: Kareem Canty, Marshall (6.9 apg).