Viewer's Guide: Toledo puts unbeaten record on line at Kansas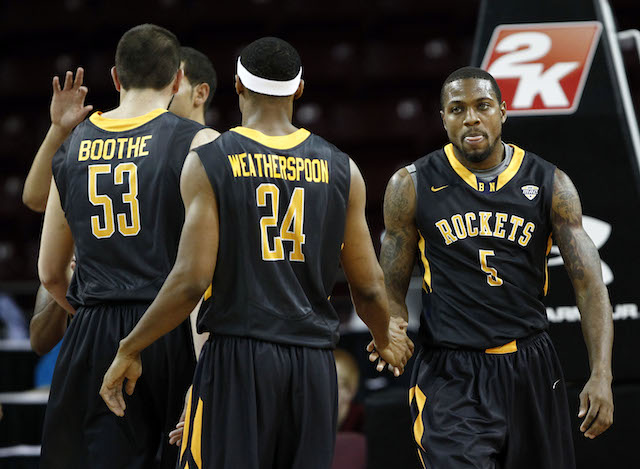 It's almost time to get the meat and potatoes of the college basketball season. We've had a great two months to start – including Saturday's two marquee games – but that was just an appetizer. Conference play is beginning in most leagues this week, but Monday brings about some interesting non-conference battles to close things out.
Note: All times are Eastern, and the rankings are according to the AP Poll.
Best game: Toledo at No. 16 Kansas (8 p.m., ESPN3). Could this be the end of the unbeaten run for Toledo? Or will be an eye-opener for the rest of the country that this could be a special year for the Rockets? Toledo is 12-0 so far, but the best wins are over Boston College, Stony Brook and Cleveland State, so the Rockets have continued to fly under the radar. Kansas is a slight step up in competition. The Jayhawks handled New Mexico and Georgetown in their last two games, although they haven't played in nine days. Toledo has been excellent offensively, but the Rockets' defense has left something to be desired. They need to defend the perimeter more effectively, while also keeping Kansas off the free-throw line.
Second-best game: Virginia at Tennessee (7 p.m., ESPN2). Two teams that could really use a win and some momentum heading into conference play. Virginia was expected to push for a top-four finish in the ACC, and while that's still certainly attainable, the Cavaliers haven't looked great so far. Meanwhile, Tennessee has lost two of its last three, and is only 7-4 on the season. Both teams need to start piling up some good wins to boost a potential at-large resume. On Monday, it's going to be a half-court battle. Virginia has to keep the Volunteers off the offensive glass, while the Cavaliers need to take care of the ball at the other end.
Another one to watch: Louisiana Tech at Oklahoma (8 p.m.). One of the quieter one-loss teams around the country is Oklahoma, which is off to an 11-1 start – with the loss coming on a neutral court to Michigan State. The Sooners don't have any marquee wins, although that could change with Texas-Kansas-Iowa State-Kansas State-Baylor to open Big 12 play. Louisiana Tech doesn't begin its first slate of Conference-USA play for another 10 days, but the Bulldogs are looking for a noteworthy win. Expect an up-tempo matchup, with both teams loving to push the ball on offense.
Guaranteed wins: Let's go to the Big 12 for a couple of expected victories. First, there's a nice early afternoon matchup between Rice and Texas (2 p.m., Longhorn Network). With a victory, the Longhorns will enter Big 12 play with an 11-2 record – better than most people anticipated heading into the season. At night, No. 7 Oklahoma State will move to 12-1 as Robert Morris comes to town (7 p.m., ESPNU). Are the Cowboys the Big 12 favorite?
Potential upset: After starting 6-0, Ole Miss has lost three of its last five, including a home defeat last Sunday to Mercer. The Rebels need to be on alert on Monday as well, as they take a trip to Western Kentucky (8 p.m., ESPN3). The Hilltoppers are 7-0 at home this season, highlighted by a win over Southern Miss. T.J. Price has been filling it up lately for WKU, but the key will be guarding the perimeter. The Hilltoppers have struggled there this season, and Ole Miss relies heavily on the 3-ball.
Three other things to keep an eye on:
Both BYU and Saint Mary's are struggling, each losing three in a row. They need to bounce back on Monday night, with BYU at Pepperdine (10 p.m.) and Saint Mary's at Pacific (11 p.m.).
Vanderbilt hasn't lost at home this season, but the Commodores face a tough test when Saint Louis comes to town (9 p.m., ESPNU).
Charleston Southern has beaten only two D-I teams this season, but the Buccaneers are the likely Big South favorite. Can they hang with Florida State (7 p.m., ESPN3)?
Other games to watch: