Wayman Tisdale Watch: Marcus Foster wins award, Parker still No. 1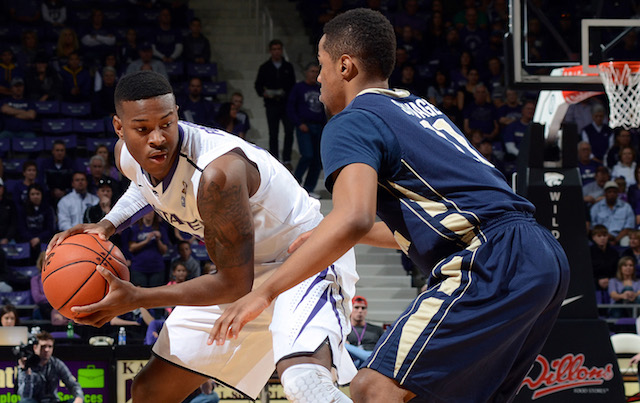 You might notice a bit of a change in our Freshman Watch column this season. We have teamed up with the Wayman Tisdale Award, and so our Freshman of the Week is now the Wayman Tisdale National Freshman of the Week. And our Freshman of the Year rankings are now the Wayman Tisdale Award Watch. What is the Wayman Tisdale Award? It's selected annually by the United States Basketball Writers Association and given to the best freshman in the country. The award will be announced in March, and handed out in April in Oklahoma City.
Kansas State's Marcus Foster has been knocking on the door for Freshman of the Week honors a few times this season. He had 25 points against Oral Roberts earlier this season, as well as several other impressive outings. However, Foster has been overshadowed at times.
This past week, though, Foster made sure he received the proper recognition. Kansas State had a banner week, knocking off George Washington and Oklahoma State in back-to-back games, a couple of teams that each had one loss going into the week. The Wildcats have now won nine in a row – and much of it had to do with Foster's performance. He averaged 16.0 points and 5.5 rebounds in the two games, shooting 12-for-23 from the field.
It started with a New Year's Eve win over George Washington, in which Foster went for 15 points and three rebounds, going 6-for-10 from the field and also dishing out two assists. Over the weekend, the Wildcats followed that up with a 74-71 victory over Oklahoma State – where Foster stepped it up with 17 points and eight rebounds, along with two assists.
Foster has been one of the best freshmen in the country, despite not getting enough attention. He has scored in double-figures in all but two games, and has put up at least 14 points in six of the last seven contests. His efficiency and percentages aren't eye-popping, but he's provided much-needed production for a Kansas State that started off the season just 2-3. With Foster leading the way on the perimeter, the Wildcats have entered the top 25 and are pushing for an upper-half finish in the Big 12.
On the season, Foster is now averaging 14.0 points and 3.9 rebounds, while shooting 38.9 percent from the field, 34.5 percent from 3-point range and 72.5 percent from the free-throw line.
Other standout freshmen performances this past week included: E.C. Matthews, Rhode Island (21.0 ppg, 7.0 rpg in two games); Bobby Portis, Arkansas (19 points, 10 rebounds vs. UTSA); John Egbunu, South Florida (20 points, 14 rebounds vs. Memphis); Cameron Payne, Murray State (25.0 ppg, 5.0 apg in two games); Tim Kempton, Lehigh (25 points, 13 rebounds vs. Colgate); Andrew Rowsey, UNC-Asheville (28 points, six boards, six 3-pointers vs. Ohio); Zikiteran Woodley, Northwestern State (30 points vs. Lamar); Ryan Taylor, Marshall (17.3 ppg, 7.3 rpg in three games); Bryce Alford, UCLA (20 points vs. USC)
Past winners:
Nov. 12: Julius Randle, Kentucky
Nov. 19: Jabari Parker, Duke
Nov. 26: Jabari Parker, Duke
Dec. 3: Tyler Ennis, Syracuse
Dec. 10: Chris Perry, South Florida
Dec. 17: Jordan Woodard, Oklahoma
Dec. 24: Jabari Parker, Duke
Dec. 31: James Young, Kentucky
Wayman Tisdale Award Watch
Stats: 20.4 ppg, 7.7 rpg, 51.2 FG%, 42.9 3PT%
Comment: The biggest Parker headline from the past week involved his benching at the end of Saturday's loss to Notre Dame – when he sat the final 3:35 in a tight game. It was also his least productive offensive week of the season, totaling just 19 points and shooting 7-for-23 from the field.
---
Stats: 18.1 ppg, 10.6 rpg, 56.4 FG%
Comment: We haven't seen Randle since he left the second half of the Louisville game with cramps, as Kentucky has had off the last week. SEC play opens with Mississippi State on Wednesday, then a road trip to Vanderbilt for the weekend. Randle's dominance should continue in league competition.
---

3. Tyler Ennis
Stats: 11.6 ppg, 5.5 apg, 2.7 spg, 38.5 3PT%
Comment: For most players, going scoreless on four shots usually means a terrible game. For Ennis, it wasn't all that bad, as he still finished with nine assists against Eastern Michigan – then followed it up with 10 points, seven assists and three steals in a win over Miami. A matchup vs. Marcus Paige could be interesting on Saturday.
---
Stats: 15.8 ppg, 5.4 rpg, 45.2 FG%
Comment: It was an up and down week for Wiggins, who started off strong with 20 points, five rebounds and 7-for-14 shooting in a win over previously unbeaten Toledo. However, the Jayhawks struggled mightily against San Diego State, and Wiggins wasn't an exception: 14 points on 4-for-14 shooting.
---

5. Aaron Gordon
Stats: 12.4 ppg, 8.0 rpg, 51.0 FG%
Comment: Gordon has been mostly a rebounder and versatile defender this season, but he showed his offensive game against Washington over the weekend, finishing with 18 points and 11 rebounds on 8-for-11 shooting. Earlier in the week, Gordon had five points and 10 rebounds. UCLA awaits on Thursday.
---
Next in line: Jordan Mickey, LSU; Joel Embiid, Kansas; Bobby Portis, Arkansas; Marcus Foster, Kansas State; Aaron Harrison, Kentucky; Eric Mika, BYU; Noah Vonleh, Indiana
Freshman leaders: Points: Jon Severe, Fordham (20.5 ppg); Rebounds: Julius Randle, Kentucky (10.6 rpg); Assists: Kareem Canty, Marshall (6.9 apg).