Viewer's Guide: Plenty of intrigue on a packed Wednesday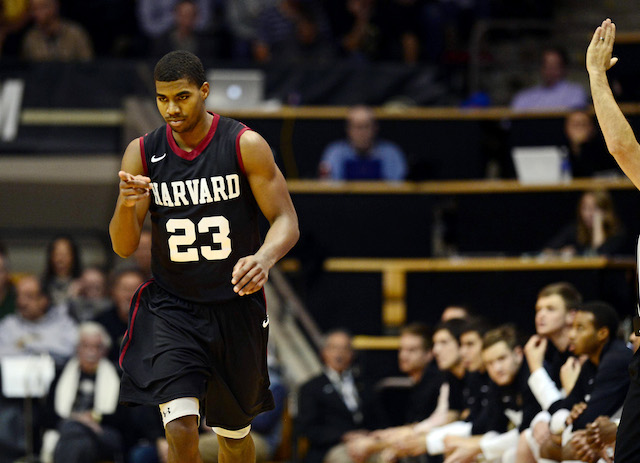 The first day without college football was outstanding, with Michigan State outlasting Ohio State in overtime, and Iowa State making a statement against Baylor. Wednesday is jam-packed with action, including a top-25 matchup in the Big Ten and some upset options.
Note: All times are Eastern, and the rankings are according to the AP Poll.
Best game: Harvard at Connecticut (7 p.m., ESPNU). This is a big one for both teams. Harvard is out to a 13-1 start, but the Crimson lost their toughest test (at Colorado), and their best win is a neutral-court showing against Green Bay. Beating the Huskies on the road would boost their resume. On the other side, Connecticut is struggling. The Huskies are 0-2 in the AAC after losing to Houston and SMU last week, and they have dropped three of their last five overall. The battle in the backcourt will be fun to watch, as Shabazz Napier and Ryan Boatright face off against Siyani Chambers and Wesley Saunders. The Crimson's edge on the offensive glass could be huge.
Second-best game: No. 23 Illinois at No. 4 Wisconsin (9 p.m., Big Ten Network). The lone top-25 battle of the day, it's another intriguing Big Ten matchup. Illinois is off to a 2-0 start in the Big Ten, and its only losses this season were by a combined 10 points to Georgia Tech and Oregon. Meanwhile, Wisconsin is one of five unbeatens remaining in college basketball – but the Badgers were pushed to the limit at home by Iowa over the weekend. If Illinois is to pull the upset, it will need to crash the offensive glass and take advantage of second-chance opportunities – while also guarding Wisconsin's versatile shooting lineup. Jon Ekey could be key at both ends.
Another one to watch: No. 18 Kansas at Oklahoma (7 p.m., ESPN2). This is a chance for Oklahoma to make a statement. The Sooners are 12-2 on the season, but they haven't beaten any sure-fire NCAA tournament teams yet. Kansas obviously would count. The Jayhawks are actually winless on the road this season, and are coming off a loss at home to San Diego State. Oklahoma has the offense to hang with Kansas, but can the Sooners stop the Jayhawks? The Sooners don't have anyone taller than 6-foot-8; they need to stop Joel Embiid and Perry Ellis in the post, while also keeping Kansas off the offensive glass.
Guaranteed win: Kentucky hasn't played since beating Louisville, but the Wildcats shouldn't show must rust in their SEC opener against Mississippi State (8 p.m., ESPN3). The Bulldogs are 10-3 this season, but the best wins are over South Florida and Florida Gulf Coast – winning in Lexington would be a big step up. No. 6 Wichita State is one of five unbeaten teams remaining in college basketball, and while Illinois State has some talent, the Shockers should survive Wednesday without a loss (8 p.m., ESPN3).
Potential upsets: The road hasn't really agreed with Arkansas the last few years in the SEC. The Razorbacks went 1-7 away from home in league play last season, including an 18-point loss at Texas A&M. On Wednesday, Arkansas heads on the road to face the Aggies (9 p.m., ESPN3). Can Mike Anderson break through and get a win? Meanwhile, Toledo lost its first game of the season last week to Kansas – and now the Rockets head to Western Michigan (7 p.m.), with the duo of David Brown and Shayne Whittington.
Three other things to keep an eye on:
Boise State's backcourt against San Diego State's length and size up front (11:05 p.m.). Can the Broncos be competitive on the road?
CBS Sports Network will have enhanced audio for Wednesday's matchup between No. 8 Villanova at Seton Hall (7 p.m., CBS Network). The Network will have 30 microphones at court level.
Georgetown has won nine of its last 10, including a blowout over St. John's over the weekend. The Hoyas head to Providence on Wednesday (7 p.m., FOX Sports 1).
Other games to watch:
South Carolina at No. 10 Florida (7 p.m., ESPN3)
Saint Joseph's at No. 19 Massachusetts (7 p.m.)
Murray State at Eastern Kentucky (7 p.m.)
Wake Forest at Virginia (7 p.m., ESPN3)
Minnesota at Penn State (7 p.m., Big Ten Network)
Georgia at No. 21 Missouri (8 p.m., ESPN3)
Texas at No. 11 Oklahoma State (9 p.m., ESPNU)
No. 15 Colorado at Washington State (9 p.m., Pac-12 Network)
Miami at North Carolina (9 p.m., ESPN2)
Utah at Washington (11 p.m., Pac-12 Network)