Updated Top 25 (and one)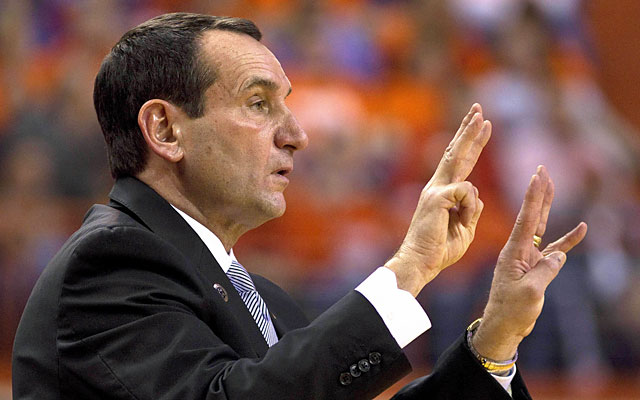 Duke has dropped two of its past three games and fallen to 12-4 on the season. But the Blue Devils still have just one loss outside of the top 40 at KenPom, no home losses at all, and wins over UCLA and Michigan, both of which are ranked in the top 35 at KenPom.
That's Duke's resume.
Is that a terrific resume?
No, that's not a terrific resume.
But are there 26 schools with better resumes?
I ask because Duke is still in the Top 25 (and one), and I know that's driving some of you crazy. But I spent at least an hour Sunday comparing Duke's body of work to other bodies of work, and I just don't think there are 26 schools with better bodies of work.
Simple as that.
Of the teams I left unranked, you could maybe make a case for Florida State, Virginia, Michigan or Xavier to take Duke's spot, if you wanted. Maybe. But, trust me, you'd run out of reasonable options quickly. So for now, for better or worse, the Blue Devils are in.
Anyway ...
The Top 25 (and one) updates every morning and also on Sunday nights.
Here's the latest version:
(Click this link to view each team's previous ranking, recent results, future schedule, etc.)
Arizona (17-0)
Syracuse (16-0)
Wisconsin (16-0)
Michigan State (15-1)
Villanova (15-1)
Iowa State (14-1)
Iowa (14-3)
Florida (13-2)
Baylor (13-2)
San Diego State (14-1)
Ohio State (15-2)
Kentucky (12-3)
Wichita State (17-0)
Oklahoma State (14-2)
Memphis (12-3)
Kansas (11-4)
UMass (14-1)
Saint Louis (15-2)
UCLA (13-3)
Creighton (14-2)
Cincinnati (15-2)
Pittsburgh (15-1)
Colorado (14-3)
Duke (12-4)
Louisville (14-3)
Oklahoma (13-3)
In: Oklahoma
Out: Oregon