Iowa State's DeAndre Kane to suit up vs. Kansas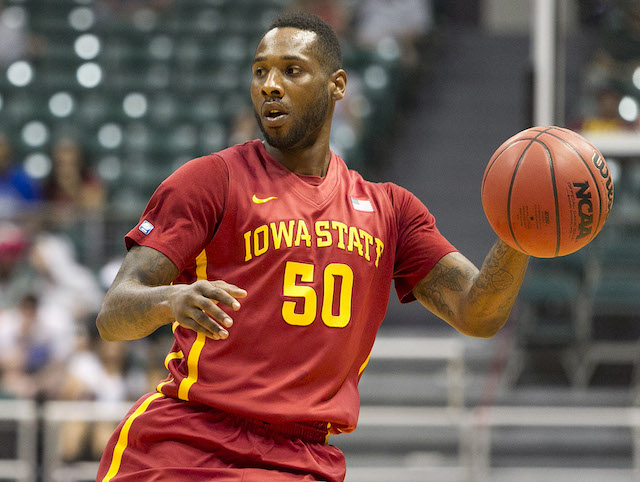 UPDATE: After participating in shootaround on Monday afternoon, Iowa State guard DeAndre Kane will suit up against Kansas.
DeAndre Kane when asked by reporters if he's going to play: "Count on it."

— Travis Hines (@TravisHines21) January 13, 2014
Earlier:
The availability of Iowa State's DeAndre Kane is still up in the air heading into the Cyclones' game Monday night against Kansas.
Kane went down with a left ankle injury in the final minutes of Iowa State's loss to Oklahoma on Saturday, and was seen leaving the arena with crutches. He avoided the dreaded high-ankle sprain and X-rays determined there was no break.
With that said, head coach Fred Hoiberg mentioned over the weekend that Kane would be a game-time decision. That didn't change when he spoke to reporters on Monday morning's Big 12 conference call.
"I've been messaging with him this morning and he will be in soon for treatment," Hoiberg said. "He wakes up sore, and that's normal. We'll see. The big thing is, seeing if he can run, and more importantly, seeing if he can cut. We'll take a cautious approach."
Kane did not practice on Sunday.
Sources told CBSSports.com that there is some optimism that Kane plays on Monday night, but there is also a question of effectiveness.
Kane has been playing at an All-American level this season, averaging 16.5 points, 7.3 rebounds and 6.1 assists for the 14-1 Cyclones. If the former Marshall transfer is limited or cannot play, Iowa State will have to rely more on freshman Monte Morris for point guard minutes.
"He's been a kid whose minutes have continued to increase," Hoiberg said. "We feel comfortable putting the ball in his hands. He's done a good job of making good, safe plays and initiating offense for us."
Morris scored in double-figures in three straight games before Saturday. Sophomore Naz Long can also handle the ball in spurts.