Last of the Unbeatens: Only three remain, which will go the longest?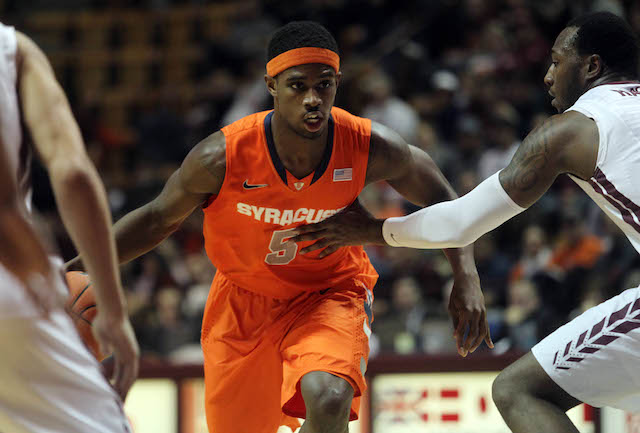 Welcome back to our feature, "Last of the Unbeatens," where we run through each of the undefeated teams remaining in the country – as well as where they might suffer their first loss.
Well, we have our final three unbeatens. The list continued to dwindle in the past seven days, as Iowa State dropped two games – at Oklahoma, and then home to Kansas – and Wisconsin fell at Indiana on Tuesday night. Neither team's first loss was a complete shocker, and both teams should be just fine.
Of the three teams remaining, two have already played their weekday game this week. Syracuse came back to knock off Boston College in the second half, and Wichita State cruised past Bradley.
We also added a new wrinkle this week – my prediction for where each team suffers its first loss.
What they've done recently: It wouldn't have been a shock to see Arizona lose its first game of the season last week, but the Wildcats pulled out a win at UCLA, and then blew out USC in the second half on Sunday. Up next are three home games for Sean Miller's crew. Arizona State comes on Thursday, then Colorado and Utah visit next week – can the Wildcats lose at home?
Next game: Jan. 16 vs. Arizona State
Next possible loss: Jan. 16 vs. Arizona State
First projected loss: Feb. 1 at California
What they've done recently: The Orange have played with fire a couple times in ACC play, surviving Miami at home two weekends ago and also needing a second-half comeback at Boston College on Monday. However, the Orange also steamrolled North Carolina on Saturday. Up next is a showdown with arguably the second-best team in the ACC right now, Pittsburgh. Syracuse scoring in the half-court will be huge.
Next game: Jan. 18 vs. Pittsburgh
Next possible loss: Jan. 18 vs. Pittsburgh
First projected loss: Feb. 12 at Pittsburgh
What they've done recently: It looked like the Shockers were going to be bounced from this list, as they were down 19 to Missouri State with less than 12 minutes left on Saturday night. A late-game comeback and some clutch plays in overtime helped Wichita State get the win, and then the Shockers returned home to dominate Bradley by 22. The first of two battles with Indiana State comes on Saturday.
Next game: Jan. 18 vs. Indiana State
Next possible loss: Jan. 18 vs. Indiana State
First projected loss: Feb. 5 at Indiana State