Night Court: UConn and Minnesota get statement wins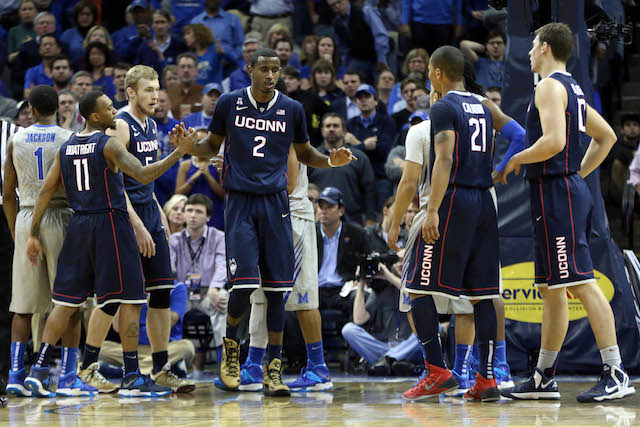 Here's everything you need to know from college basketball's Thursday …
Game of the Day: Connecticut gets a statement-making road win at Memphis.
When Connecticut lost at SMU a couple of weeks ago, questions started being raised about the Huskies. They had lost three of five, including defeats to Stanford and Houston, and the early-season shine was wearing off. On Thursday, UConn answered some of those questions with an impressive 83-73 win at Memphis. The Huskies outscored Memphis in the paint, and didn't rely too heavily on the 3-point shot. Shabazz Napier was fantastic down the stretch, hitting a few big shots late in the game, finishing with 17 points and 10 assists. DeAndre Daniels was key for the Huskies, though, as Memphis simply had no one to guard him. When the Tigers went with two bigs, Daniels took them out to the perimeter. When they had four guards, Daniels was too big. He finished with 23 points and 11 rebounds.
As for Memphis, that's now two home losses in conference play already; it's certainly a different ball game than Conference USA. The Tigers couldn't consistently get shots to fall in the paint, and while they shot the ball well from the perimeter, dribble-penetration is their bread and butter. Moreover, despite 15 Connecticut turnovers, Memphis only had two fast-break points. Forcing the Tigers to play in the half-court has proven to be a major key in beating them.
What else we'll be talking about in the morning: Minnesota hands Ohio State its third-straight loss, 63-53.
To start with, let's discuss Minnesota. This win clearly puts the Gophers among the second-tier teams in the Big Ten, along with squads like Michigan and Indiana, and gives them another nice win for the at-large resume come bubble time. They already owned a win over Florida State, but this one is a nice boost after a couple of close losses in Big Ten play. Game-wise, it's good to see Minnesota find ways to get a big win without getting huge nights from Austin and Andre Hollins. Elliott Eliason was terrific down low, taking advantage of Ohio State's post issues with 13 points and 12 rebounds. Deandre Mathieu had 13 points and five assists, and found ways to initiate offense against Ohio State's defensive backcourt.
On the other side, there are some serious problems with Ohio State. This is now three straight losses for the Buckeyes, who are having tons of issues scoring the basketball. LaQuinton Ross had 22 points, but Sam Thompson was the only other player in double-figures. They simply have difficulty scoring in a half-court setting. Aaron Craft and Shannon Scott aren't guys that can consistently break-down defenders, and Lenzelle Smith is mostly a catch-and-shoot guy. Ross is the only really capable of getting his own shot on a regular basis. Their defense will keep them in games, but the Buckeyes need to figure out ways to create offense in a half-court setting.
That's a good win: UCLA knocks off Spencer Dinwiddie-less Colorado.
It's unclear on how to weigh this win. Winning at Colorado isn't easy, so UCLA certainly gets a decent amount of credit. But the Buffaloes are simply not the same team without Spencer Dinwiddie, who will miss the rest of the season with an ACL tear. Only two players scored more than five points for Colorado, Askia Booker and Josh Scott. Those two combined for 40 points, but that wasn't nearly enough in the 69-56 loss. UCLA didn't shoot all that well and Kyle Anderson struggled, but Norman Powell stepped up with 19 points, while Jordan Adams contributed 14 points and 13 rebounds.
But that's a bad loss: Missouri falls to 1-2 in the SEC after losing at Vanderbilt.
There's just not a third-best team in the SEC right now. Missouri has had its chances, but the Tigers now have losses to Vanderbilt and Georgia in SEC play. Because they have Jordan Clarkson, Jabari Brown and Earnest Ross, the Tigers are going to be a dangerous opponent. On the flip side, though, when those three aren't hitting their shots, they can be beaten by anyone. On Thursday, that trio combined to shoot 18-for-44 from the field -- as the Commodores got 24 points and eight rebounds from Rod Odom in the 78-75 win. Moreover, can Frank Haith consistently win on the road? Missouri is 3-8 away from home in the SEC the past two seasons.
Players with impact
Big-time line from Quinnipiac's Ousmane Drame: 15 points, 21 rebounds, seven blocks.
It took Montana's Kareem Jamar just 14 shots to get 33 points – mainly because he shot 14-for-16 from the free-throw line.
Thirty-two points and seven rebounds for Will Neighbour in a key Arkansas-Little Rock win over Western Kentucky.
Julian Norfleet of Mount St. Mary's is on an absolute tear lately: after 28 points on Thursday night, Norfleet is averaging 26.8 points and 6.8 assists in his last four games.
Numbers to figure
10: That's the number of consecutive Big East losses for St. John's. The Red Storm's last league win was Feb. 20 of last season, against South Florida.
2009: That's the last time Ohio State had a three-game losing streak.
880: Vanderbilt has now made a 3-pointer in 880 straight games. That's second to UNLV.
Other outcomes of note:
Providence and St. John's went to double overtime, with the Friars ultimately prevailing on Bryce Cotton's runner with nine seconds left, 84-83. Cotton finished with 21 points; St. John's is now 0-5 in the Big East.
Arizona had absolutely no trouble dispatching of Arizona State, getting seven players in double-figures en route to a 91-68 win. Jahii Carson had 20 points, but it took him 19 shots to get there. The Sun Devils is 2-3 in the Pac-12.
Louisville destroyed Houston despite playing without Chris Jones. The Cardinals rolled to a 91-52 victory behind Wayne Blackshear's 23 points.
Sam Dower was a perfect 7-for-7 from the field, as Gonzaga rolled to a 70-53 win over Pepperdine.
Could BYU be turning it around? The Cougars have won four in a row since a four-game losing streak dropped them to 8-7. Thursday saw them go on the road and beat San Francisco.
Any loss by New Mexico State is going to raise eyebrows, so the Aggies falling to Chicago State was a surprise. Sim Bhullar didn't play for NMSU, but it's still a bad loss.
Delon Wright had 22 points, six rebounds, five assists and six steals to lead Utah to an 84-66 win over USC.
Notebook:
-- R.J. Hunter hit a shot with 11.1 seconds left to give Georgia State a 73-72 win over Arkansas State. The Panthers are now 4-0 in the Sun Belt.
-- Eastern Kentucky has bounced back nicely since its 1-2 Ohio Valley start, defeating previously-unbeaten Belmont on Thursday.
-- Elon came back from a 14-point deficit with 4:45 left to beat Davidson in overtime on the road. That could be a key result in the Southern Conference race.
-- Nice win for Montana State, who gave Northern Colorado its first Big Sky loss of the season on Thursday.
-- Couple of nice dunks from South Dakota State's Cody Larson (h/t @South_DaCody):