Syracuse tops Duke in 'great' game that lived up to hype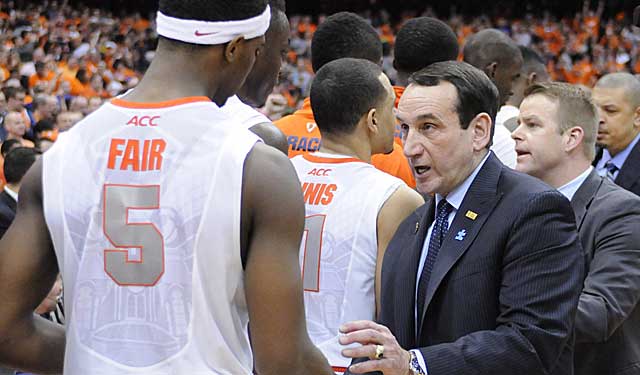 More Duke-Syracuse: Orange prevail in OT | Game of the season
SYRACUSE, N.Y. -- The circumstances surrounding Duke's first visit to the Carrier Dome always ensured Saturday's scene would be wild, which is why the build-up was nearly unprecedented for a regular-season game. No matter what happened, this would be an event unlike anything else the sport could produce. So seemingly every Syracuse fan in the world, plus their friends, traveled here for a scheduled 40 minutes of college basketball.
They got 45.
Final score: Syracuse 91, Duke 89.
In OT.
And, yeah, I wanted to go ahead and get that detail out of the way early in this column because the lasting memory of this game will not be that Syracuse (21-0) won and Duke (17-5) lost. It matters, sure. And it gives the Orange a three-game lead over Duke and four-game lead over North Carolina in the ACC, a conference historically dominated by Duke and North Carolina. So that's cool. But 15 years from now, when folks are telling this story, they won't focus on the final score. They'll instead go on and on about the atmosphere that was so good that Derrick Coleman, a Syracuse alum who has played many big games in this building, was snapping pictures of the crowd from the front row. And they'll talk about two Hall of Fame coaches matching wits -- specifically about the time Duke's Mike Krzyzewski showed zone to get Syracuse's Jim Boeheim to call a timeout, then abandoned the zone out of the timeout. And they'll talk about Syracuse senior C.J. Fair getting a career-high 28 points. And about Duke freshman Jabari Parker fouling out on a questionable charge call with 1:41 left in regulation. And about Rodney Hood's dunk attempt in a one-point game with 14.3 seconds remaining in overtime that was contested at the rim by Rakeem Christmas.
Hood's dunk attempt was violent.
It missed off of the back of the rim.
"I felt some contact," Hood said in the Duke locker room when I asked if he thought he was fouled on the attempt. "I got hit a little bit. But [that call] can go either way."
Parker was sitting to Hood's immediate left during this conversation.
Black tanktop.
No shoes.
Face filled with disappointment.
Parker had just watched the final 6:41 of this back-and-forth affair from the bench, having been reduced to the role of spectator despite having only one foul in the first half. His disqualification combined with the five fouls sophomore center Amile Jefferson committed left Duke shorthanded and small down the stretch, at which point Syracuse exploited a situation that had the Blue Devils trying to guard two 6-foot-8 forwards with two 6-5 guards.
The Orange got to the rim easily.
There were lots of layups and dunks.
It became clear that the Blue Devils' lone hope late was to try to trade 3-pointers for 2-pointers, and so that's what they did. They launched eight 3-pointers in the final eight minutes, including five in OT. They took 36 in the game. They made 15 -- none bigger than Rasheed Sulaimon's at the buzzer in regulation that swished and forced the extra period.
"We felt in the overtime that it was going to be their twos and our threes," Krzyzewski said. "It was about the only way we were going to win. And our guys did it. We had the lead."
With less than 75 seconds left in OT, Duke did have the lead. But then Jerami Grant made two free throws with 39 seconds remaining to give Syracuse an 88-87 advantage. Then Hood missed that dunk, and Duke never tied the score or took the lead again. The final buzzer sounded while Quinn Cook's rushed jumper missed wildly as a helpless Parker looked on.
"I wanted to be out there with those guys," Parker said. "But they kept fighting. Their hearts were in it. They kept fighting, and I owe them. I'll never forget that. I owe them."
So Syracuse won and Duke lost.
The updated records reflect as much.
But this night was less about the outcome than it was about all that orange in the crowd, about the two winningest coaches in Division I history hugging, about a hyped event somehow living up to its billing and giving college basketball fans something to cherish via an incredible game filled with storylines and drama and big shot after big shot after big shot.
That's what I'll remember about this night.
That's what everybody will remember about this night.
"I don't think I've ever been involved in a better game in here where both teams played at such a high level," Boeheim said. "Both teams just went after it. We've had a lot of games that have been here that are great. There's never been one as good as this one."