Poppin' Bubbles: Baylor helps cause with win over OK State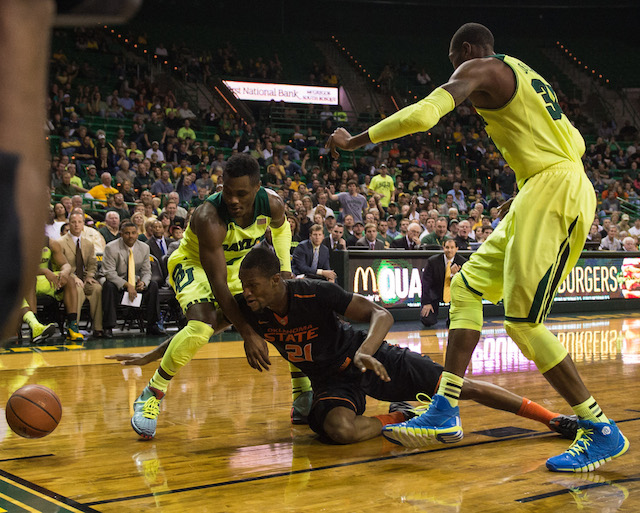 With Sunday marking exactly one month remaining until Selection Sunday, we figured there was no better time to bring back the daily feature from the past two seasons: "Poppin' Bubbles." If you're not familiar with it from past seasons, it's essentially a bubble breakdown of the day's action, going through the winners and losers and what each bubble outcome means going forward. Monday was the perfect start to the 2013-14 version.
For the most recent Bracketology updates from CBSSports.com, check out Jerry Palm's latest projected bracket.
Winner
Baylor: Despite Baylor starting out 2-8 in the Big 12, the Bears have played themselves right back into consideration for the NCAA tournament. They picked up a huge win on Monday in overtime over Oklahoma State, bring their winning streak to three games. Moreover, a sweep of the Cowboys could help come March with the pecking order of the Big 12. Baylor is still only 5-8 in the league, but it now has five top-50 wins overall -- including non-league wins over Kentucky and Colorado. There is only one sub-100 loss on the resume, and the way Texas Tech is playing lately, that might not be a sub-100 loss by the end of the season. Right now, the Bears are either "last four in" or "last four out" of most projected brackets, so a finishing stretch that includes three of five games on the road will determine their fate.
Losers
Oklahoma State: That's now seven losses in a row for the Cowboys, which went 0-3 while Marcus Smart was suspended. He returns for the Texas Tech game this weekend, but Oklahoma State is in a huge hole. They are just 3-9 against the top 50 after Monday's loss to Baylor, a game that also dropped Oklahoma State to 2-6 on the road. How will the committee view these three games without Smart, though? There will certainly be some consideration given to his absence, but Oklahoma State had lost four in a row with him before the suspension. The next two games -- Texas Tech, TCU -- should be wins, which likely puts them squarely on the bubble heading into their final three games: Kansas, Kansas State, Iowa State.
Florida State: The Seminoles are fading quickly. They weren't in most projected brackets heading into the day, and a loss to North Carolina was their sixth defeat in the past eight games. Florida State is just 2-7 against the top 50 of the RPI, with the wins coming in the non-conference portion of the season against Atlantic 10 foes VCU and Massachusetts. Leonard Hamilton's team needs to turn things around beginning this weekend at Pittsburgh -- and even that might not be enough. If Florida State wins the next three, it will have some momentum heading into the season finale against Syracuse.