Bracketology: Several big games this weekend, last call for 13 conferences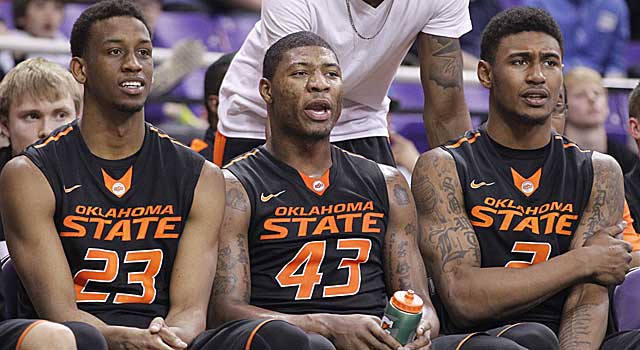 Bracketology: Latest projected bracket | Compare teams | Palm Reader
This will be a very busy weekend with regard to teams playing for seed and teams playing just to get into the NCAA tournament. Also, 13 conferences will wrap up league play and get ready for their conference tournaments.
Wichita State will try to be the first team to enter its conference tournament undefeated since St. Joseph's in 2004 when the Shockers host Missouri State on Saturday. The Bears gave the Shockers their biggest scare of the season, taking them to OT back in January. However, Missouri State is just 2-6 on the road in conference play.
Virginia can clinch the ACC title with a win at home over Syracuse on Saturday. Raise your hand if you had the Cavs as ACC champs before the season started. All of you with your hands up are lying. This would also be the biggest win of the season for Virginia's tournament resume. The Cavs benefitted from a league schedule that had them playing the Orange and Duke just once each.
Florida is already the SEC champ, but the Gators host LSU in an important game for the Tigers' borderline tournament hopes. LSU let a great chance get away last weekend at Kentucky. This might be its last chance.
In the American conference, co-leaders Cincinnati and Louisville take to the road to face tough opponents. The Bearcats are at UConn, while the Cards are in Memphis to play the Tigers.
Saint Louis is at VCU in the A-10, which is an important game for tournament seeding, but a bigger game is UMass at Dayton. The Flyers need to show they can beat the better teams in this league, but so far, they haven't had much luck.
Oklahoma State has a huge opportunity to show the committee that they are back to their old selves when they host Kansas. The Jayhawks already have won the Big 12, but are playing for a potential No. 1 seed in the NCAA tournament and don't have much of a margin for error.
Xavier hosts Creighton with a chance to may be play themselves off the bubble. The Musketeers have been playing hit and miss basketball lately and need to be more consistent.
Minnesota can get a huge road win for its tournament resume when it goes to Michigan today. Beating the Wolverines won't get the Gophers off the bubble, but it will provide some cushion.
Cal has lost two of its past three and looked very bad in both losses. The Bears are at Arizona State, hoping to at least be competitive, but they could really use a win for their tournament hopes.
There are two big SEC bubble games. Vanderbilt is at Tennessee, and it's must-win every time out for the Vols. They especially have to defend their home court.
Arkansas hosts Georgia coming off the Hogs big win at Kentucky. They can't assume that just because they beat Kentucky twice that they're in the field. Arkansas still has to finish the job, and that starts with taking care of business at home against the Bulldogs.
Finally, 13 conferences finish regular season play this weekend and get ready for their tournaments. Here is a look at how those are shaping up.
America East
Tournament: March 7-10, 15, Host: Albany, except for final, which is at higher seed.
Top Seed: Vermont
Atlantic Sun
Tournament: March 4, 6, 9 at campus sites
Top Seed: Mercer or Florida Gulf Coast
Big South
Tournament: March 5, 7-9 Host: Coastal Carolina
Top Seed: High Point
Colonial
Tournament: March 7-10 in Baltimore
Horizon
Tournament: March 4, 7-8, 11 Host: Campus sites for first round, Green Bay next two rounds, high seed for final.
Top Seed: Green Bay
Metro Atlantic
Tournament: March 6, 8-10 in Springfield, Mass.
Top Seed: Iona
Missouri Valley
Tournament: Arch Madness, March 6-9, St. Louis
Top Seed: Wichita State
Northeast
Tournament: March 5, 8, 11 at campus sites. Semifinals are reseeded.
Top Seed: Robert Morris
Ohio Valley
Tournament: March 5-8, Nashville
Top Seed: Belmont or Murray State
Patriot
Tournament: March 3, 5, 8, 12 at campus sites.
Top Seed: Boston U. or American
Southern
Tournament: March 7-10, Asheville, N.C.
Top Seed: Davidson
Summit
Tournament: March 8-11, Sioux Falls, S.D.
Top Seed: North Dakota State
West Coast
Tournament: March 6, 8, 10-11, Las Vegas
Top Seed: Gonzaga