Virginia completes turnaround, clinches first-place in the ACC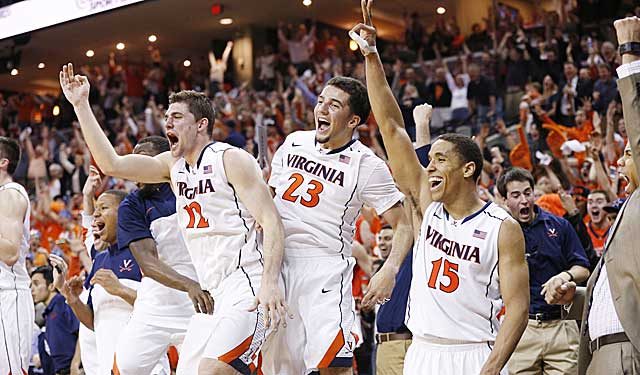 More hoops: Virginia 75, Syracuse 56 | Latest Bracketology | More news
On December 30, Virginia went to Knoxville and got run out of the gym by Tennessee, falling to the Volunteers by 35 points.
Two months later, and the Cavaliers are your 2013-14 ACC regular-season champions.
Virginia clinched the top seed in the ACC tournament on Saturday afternoon, handling Syracuse down the stretch en route to a 75-56 victory. Malcolm Brogdon led the Cavaliers with 19 points, while Akil Mitchell had 12 points on the inside. Syracuse couldn't get anything going offensively against Virginia's stingy defense, shooting 35.7 percent from the field. Tyler Ennis had 13 points before fouling out for the Orange.
The Cavaliers are now 16-1 in the league, winners of 13 straight, and one of the best teams in college basketball. But going into the weekend, people were questioning how good Tony Bennett's team really was. The best non-conference win was over SMU, and the best wins in the league came against North Carolina and Pittsburgh.
Well, I think Virginia answered many of those questions on Saturday. The Cavaliers are legit.
It starts with their defense, which ranks among the top-three nationally at KenPom. They slow teams down, forcing opponents to play in a half-court setting all game. The Cavaliers don't allow teams to get open shots in transition, and then make teams defend for 35 seconds at the other end. It's a grind-it-out style – but it's certainly effective. They are disciplined when contesting shots, guard the rim well, and limit teams to one shot. It's just brutal to try and score consistently against them.
The numbers bear that out, too: just one team has scored more than 58 points against them since Jan. 20. Virginia's 16 ACC wins have come by an average of 15.1 points.
Because they don't light up the scoreboard consistently, there are doubts about the Cavaliers' offense. But there a couple of things. One, Virginia doesn't need to score all that many points because of their defense; you won't see the Cavaliers ever needing to truly "outscore" an opponent. Two, despite their lack of explosiveness offensively, Virginia has a ton of weapons and skilled players at that end of the floor.
Joe Harris is the team's most dangerous offensive player, but he has scored 11 points or fewer in eight of his last 10 games. He had seven points on Saturday; and Virginia didn't miss a beat. Mitchell hasn't been the scorer he was on the inside last season, but he's still capable. Malcolm Brogdon might not scare teams, but he's the only player in the ACC to score in double-figures in every conference game. And the list of role players goes on and on, including Justin Anderson, Mike Tobey, and others. They know what they have to do offensively, and they don't play out of their element.
London Perrantes has been the big key for Bennett. The Cavaliers needed a point guard to step forward at the beginning of the season, someone steady to run an offense and take the pressure off the scorers. And Perrantes has been that player, as a freshman. Over the past 10 games, Perrantes has dished out 38 assists while turning it over just six times.
Virginia took its hits in non-conference play, figuring out Perrantes at the point guard spot, figuring out how to get on the same page defensively. But that was two months.
The Cavaliers are rolling now – and they're a threat in March.